Landmark's Guide to Marylebone
29th November 2019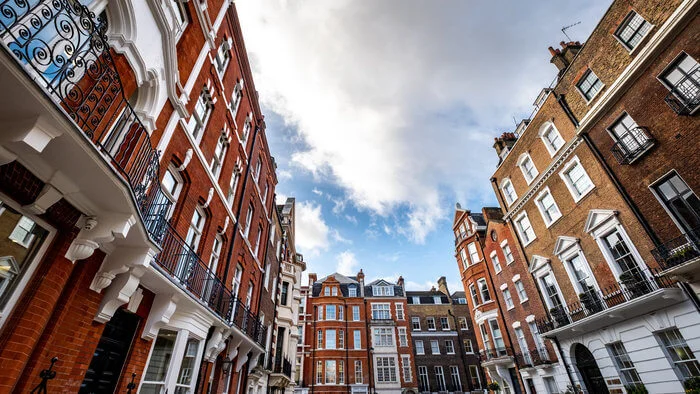 One of London's most fashionable areas, Marylebone is known for its world-class dining, drinking and shopping, and has also been home to famous residents including Paul McCartney, Jimi Hendrix and Charles Dickens. Aside from the glitz and glamour the area has to offer, Marylebone has become a premium modern business destination due to its central location in the capital, excellent transport links and exclusive W1 postcode. At Landmark, we offer two premium business centre in the area that are guaranteed to impress your clients.
JUMP TO
---
Area Information
Though the area was originally called Tyburn or Tybourne, Marylebone eventually got its name from St Marylebone Parish Church, a place of worship dedicated to St Mary that was built in 1817 on what is now the Marylebone Road. This unusual name is often a source of confusion for people who attempt to say it out loud—received pronunciation is "MARRY-le-bun" but "MAR—le-bone" is also commonly used.
Marylebone is a particularly popular part of London due to its proximity to some of London's most famous streets. As well as the elegant Marylebone Road, it is also close to Oxford Street, Edgware Road and Great Portland Street. The district's stunning Georgian and Victorian architecture enhances Marylebone's elegant aesthetic, while there are also leafy outdoor areas to enjoy like Cavendish Square and Portman Square. With such an upmarket reputation, it's no surprise that companies as prestigious as Coca Cola are based here, while Marylebone's vast appeal has attracted organisations across all industries, from law and property to media and fashion.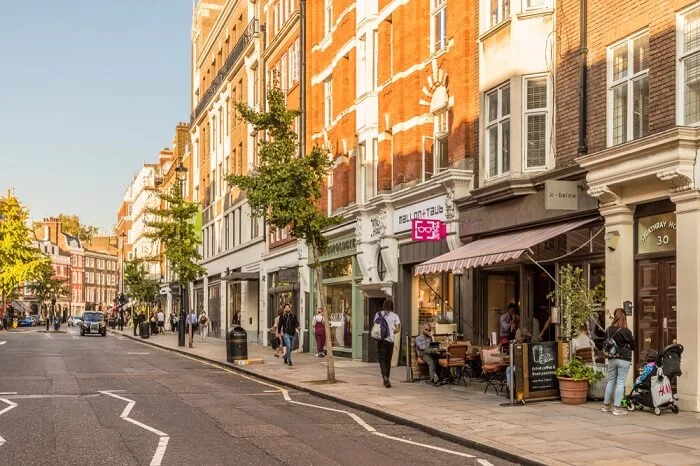 ---
Marylebone Transport
Marylebone is one of the best-connected areas to do business in. Not only does Marylebone have its own tube station, but Baker Street, Bond Street, Edgware Road, Marble Arch, Oxford Circus and Regent's Park stations are also within walking distance. This means you have easy access to almost every tube line, allowing you to travel around London with ease. If you need to venture outside of the capital, Marylebone railway station can transport you directly to major cities including Birmingham, Oxford and Warwick. The area is also served by 12 bus routes as well as two night routes, the N18 and N74.
---
Where to eat in Marylebone
Chiltern Firehouse
One of the most renowned dining establishments around, Chiltern Firehouse is a frequent celebrity haunt and the perfect place to schmooze clients or treat your team on those extra special occasions. The Grade II listed gothic Victorian building was once the site of Marylebone Fire Station, giving the restaurant a unique and rustic interior which includes firehouse doors, endless mirrors and an open kitchen. Owned by André Balazs, founder of the iconic Chateau Marmont in Hollywood, the relaxed yet creative menu is sure to tantalise your tastebuds. From opulent oysters and caviar to more laid back dishes like crispy chicken wings, glazed hake and Iberico pork pluma, this contemporary menu bridges the gap between Europe and the USA with a focus on healthy eating and seasonality.
Honey & Smoke
In what was previously a spacious tile shop by Great Portland Street Tube station, Honey & Smoke is a stylish mezze restaurant with a menu inspired by the grill houses of Jerusalem, Jaffa, and Istanbul. It's interior is simplistic, with plain walls, tiled floors and plastic chairs, but it's the menu that does the talking. Think lamb shawarma flatbreads, smoked aubergine, slow-cooked octopus and butternut squash & pine nut kibbeh. If you leave room for dessert, we'd recommend the feta and honey cheesecake or the coconut, lime and pineapple sorbet trio.
View this post on Instagram
Patty & Bun
Patty & Bun has earnt something of a cult following with many advocates hailing it as the best burger joint in London. The Marylebone branch, located on foodie-mecca James Street, is perhaps one of the chain's best. Its menu is one of pure indulgence – perfect comfort food for those rainy days at the office. The Smokey Robinson burger is a take on the classic cheeseburger, while the more exotic Lambshank Redemption burger stacks lamb patties with coriander, lettuce, feta, buttermilk courgettes, pickled aubergine, cumin aioli and chilli. There's something for the vegans too – the Whoopi Goldburger (tempeh and mushroom fritter) and the Pamela (plant-based cheeseburger).
---
Where to drink in Marylebone
The Ivy Café
You've probably heard of The Ivy in Covent Garden, famed for being a popular haunt of the rich and famous. The Ivy Café in Marylebone is a stylish offshoot of the renowned brand, set in a more relaxed and accessible environment. Open seven days a week, from 7.30am to 11pm on weekdays, the menu boasts a 60-plus strong wine list along with a range of cocktails, spirits, beers and soft drinks. While the café may be less exclusive than its Covent Garden cousin, it does bring the ceaseless chic of The Ivy brand to Marylebone Lane and makes the perfect location for impressing new clients.
View this post on Instagram
Vinoteca Marylebone
Inspired by the wine bars of Spain and Italy, Vinoteca falls somewhere between casual Mediterranean eatery, cosy after-work drinks spot and local village shop. It's atmospheric yet unpretentious, with entire walls of wine that belong in every oenophile's wildest dreams. This top-notch wine emporium has a private event space which can be booked for up to 32 guests. And it's not just the grape that is special here. Vinoteca also has a daily-changing food menu created by a different head chef, with a focus on using locally-sourced produce.
The Marylebone
While Marylebone is awash with chic cocktail bars and wine bars, it's pub scene is equally lively. The Barley Mow is perhaps one of the best, rumoured to be the longest standing in Marylebone. Established in 1790, this corner pub started life as a meeting place for farmers on their way to market. The pub is listed inside and out, meaning many of its original Edwardian features have been retained including the two wooden snugs at either side of the bar. A good range of lagers and bottled beers are on offer, along with ales, spirits and some gold old pies!
---
What to do in Marylebone
Regent's Park
Sometimes you need to escape the hustle and bustle of the city and beautiful Regent's Park is the perfect place to do just that. 410 acres of parkland full of fountains, rose gardens and green spaces make for a refreshing lunchtime stroll. Hire a pedalo and saunter across the Y-shaped boating lake, pick up soft-serve ice cream from one of the stands or, if you make it to the north of the park, try and catch a glimpse of one of the 760 species that live in the adjacent London Zoo. The giraffe, pygmy hippo and okapi enclosures are all visible from Regent's Park.
Daunt Books
A bookworm's paradise, Daunt Books is an original Edwardian bookshop with a grandiose interior that's a feast for the eyes. Though not exclusively a travel bookshop, the charming store will always be considered a travel specialist due to its three-level back room dedicated to guidebooks, maps, language reference, history and politics from around the world. Its high ceilings, oak balconies, viridian-green walls, stained-glass windows and regal skylights make this a destination in itself.
View this post on Instagram
Sherlock Holmes Museum
Nearby Baker Street is perhaps most famous for being the home of iconic fictional detective Sherlock Holmes and his trusty sidekick Doctor Watson. His address, 221B Baker Street, has been transformed into a museum dedicated to the character. A house of curiosities that catapults you into the imagination of Sir Arthur Conan Doyle, you'll find waxwork replicas of famous scenes, Victorian homeware, vintage props and a number of photo opportunities, including lounging in the armchair of Mr Holmes himself.
---
Guides to other London areas
Check out our list of guides to London neighbourhoods below:
King's Cross Farringdon Marylebone Liverpool Street Greenwich Mayfair Fenchurch Street Euston Chancery Lane Canary Wharf Bank and Monument Barbican Aldgate Victoria
---
Contact Landmark today and find out why our Marylebone business centres could be the perfect place to base your business.