Landmark's Guide to Aldgate
10th May 2018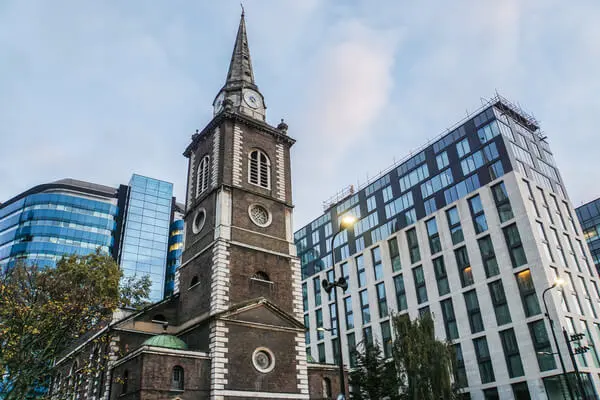 Located amongst the throng of one of the liveliest parts of London, Aldgate is at the heart of the UK's finance sector. It's also home to three of our premium business centres, all of which offer a wide range of professional workspaces, coworking areas and meeting rooms:
JUMP TO
---
Area Information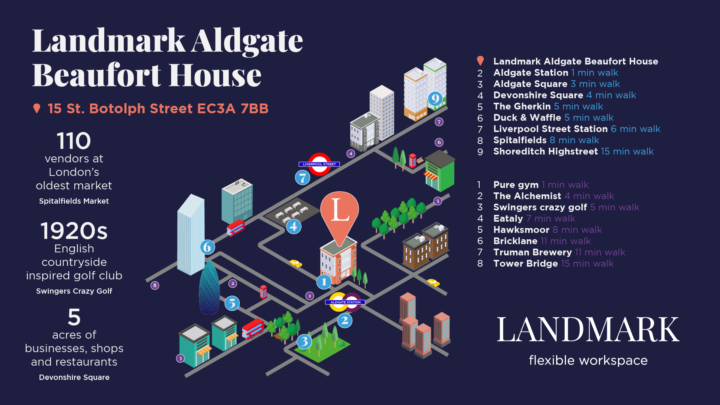 Aldgate may be most notable for being home to Uber's head office and the forty-storey office block known affectionately as The Gherkin, but the area hosts a whole host of businesses ranging from fledgling startups to international corporations.
While the area is now a focal point for finance, Aldgate's initial purpose was to serve as one of the seven defensive gates protecting London during the Roman era. Whilst the other six charged an entry fee to anyone passing through them, Aldgate did not, which may explain its original name of "Alegate", which translates into modern English as "open to everybody". In the 18th century, the area became a hub for the maritime industry, with Lloyd's Register and Baltic Exchange being founded there, the latter remaining in Aldgate to this day.
Beyond Aldgate itself lies some of London's most vibrant areas—particularly Shoreditch and Whitechapel—teeming with talent, and bursting at the seams with restaurants and bars where you can wine and dine potential clients or reward your staff.
By setting up your business at one of the three Landmark centres in the Aldgate area, you will be establishing yourself alongside London's biggest underwriters and brokers, making it the ideal base for insurance companies. With Old Street a mere fifteen minutes walk away, it is also the perfect location for tech startups who are looking to be close to the action in Tech City.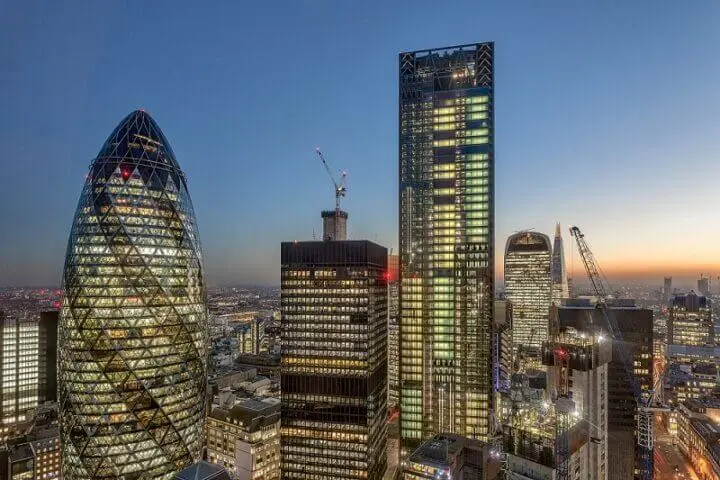 ---
Aldgate Transport
As one of the focal points of The City, Aldgate is extremely well-served when it comes to transport links to the rest of London, as well as the rest of the country. The area is flanked by Aldgate and Aldgate East tube stations, both of which can get passengers to Kings Cross St Pancras in ten minutes, allowing easy access for meetings outside of London. The Circle and Metropolitan line run through Aldgate, while Aldgate East is covered by the District and Hammersmith & City lines, the latter of which can get commuters to Liverpool Street in two minutes.
A four-minute walk takes you to Fenchurch Street station, which has regularly-running rail services to Essex and the south coast. Moorgate, Blackfriars and Cannon Street are also nearby, serving the Hertfordshire, Kent and East Sussex areas. Meanwhile, Liverpool Street station is a ten minute walk away, giving you and your clients access to further tube lines, including the London Overground, and trains to both Southend and Stansted Airports.
---
Where to eat in Aldgate
In keeping with the eclectic mix of people and businesses that work in the City, the cuisine on offer is equally diverse. We've found four of the most acclaimed restaurants in the area, all of which are just a short stroll from our Aldgate offices in Beaufort House.
City Social
A short walk away from our Aldgate offices is Tower 42, the eighth tallest skyscraper in London. On its 24th floor you'll find City Social, a bar-come-restaurant that lives up to its name, attracting workers who flock to this trendy spot to socialise and network after work or during their lunch hour. With truly spectacular views of some of London's most iconic buildings, City Social offers modern British fare in an art-deco setting. The brainchild of chef Jason Atherton, and part of the wider restaurant group, City Social also includes locations in New York, Hong Kong and Singapore. Highlights of the menu include Prawn & Orkney scallop tortellini and the Frenchman Creek oyster which includes dashi, melon and yuzu.
View this post on Instagram
Lupita East
One third of a London-based mini chain, Lupita East is located a short walk away on Commercial Street, and gives its patrons some of the finest and most authentic Mexican food in East London. Lupita serves up a varied selection of the usual suspects – expect tacos, tostadas, quesadillas, enchiladas and burritos, all of which can be washed down with a mezcal margarita or an ice cold cerveza.
View this post on Instagram
St John Bread & Wine
St. John Bread & Wine is located across the road from Spitalfields Market and is the smaller sister of the restaurant of the same name at Smithfield. The decor in this little deli/bakery is stripped back and basic, resembling an old fashioned canteen or soup kitchen, rather than a place offering some of the finest English ingredients. Not only is the location smaller than the Smithfield restaurant, the dishes are too. St. John Bread & Wine serve up delicious tapas style dishes with their own baked-bread. And there's further good news, they are also open in the mornings for "Breakfast Time Bites", serving up a mean bacon sandwich.
View this post on Instagram
---
Where to drink in Aldgate
Aldgate has no shortage of highly-regarded drinking establishments where you can take clients to talk business, or let off some steam with staff. From traditional London boozers to new, upscale bars, there's something for everyone in the area just minutes from our Aldgate serviced offices.
The Culpeper
Covering three floors, and armed with a rooftop garden that can be used all year round, The Culpeper is an Aldgate mainstay for good reason. Located on the corner of Commercial Street on the way to Brick Lane, the pub's three floors each serve different purposes; the ground floor is a high-quality drinking establishment, the first is home to a critically-acclaimed restaurant, and the top floor is a B&B. Named after herbologist and astrologist Nicholas Culpeper, the pub's roof garden is actually used as the source for many of the ingredients used in the kitchen. It's this literally fresh approach and attention to detail that has led The Guardian to describe the restaurant as having "substance…in spades", and the bar as "succeeding in every level". There is little higher praise you could want from a pub.
View this post on Instagram
The Hoop & Grapes
Even amongst the storied drinking establishments of Aldgate, The Hoop & Grapes remains the area's most historic pub. A Grade II listed building a mere stone's throw from the tube station, the pub is nearly 400 years old, and the building itself was a rare example of a timber-framed structures to survive the Great Fire Of London. Now run by Nicholson's, the Hoop & Grapes provides traditional, hearty British pub grub, alongside the trademark Nicholson's assortment of gins and local ales, which are regularly rotated. The pub can also be booked, which provides you with the perfect venue for scheduled Friday beers after work.
Patch East
A relatively recent addition to the Aldgate bar landscape, Patch East is the latest venture from the people who brought you Patch St. Paul's. The bar boasts an extensive menu of cocktails and food, a number of themed private areas available to book for work drinks or corporate parties, and a weekday happy hour which was recently voted the best in the City. The cool decor, accommodating staff and bespoke cocktails of the bar staff's own invention have swiftly helped Patch East become one of the new cornerstones of the drinking scene in Aldgate.
---
What to do in Aldgate
Considering its close proximity to the creative and historical hubs of Shoreditch and Liverpool Street, Aldgate is an area of London that's right in the heart of the action. Whether you're looking to show clients the classic sights of the City, or want somewhere cool to wander around on your lunch break, Aldgate has it covered. Here are a few of Landmark's favourites:
Tower of London
Initially constructed in the 11th century, the Tower Of London is one of the most recognisable historical sites in all of the city. A former prison which held criminals as varied as the Princes In The Tower and local villains the Kray twins, the Tower is now a widely-visited tourist attraction, home to the Crown Jewels, and also has events spaces available for hire.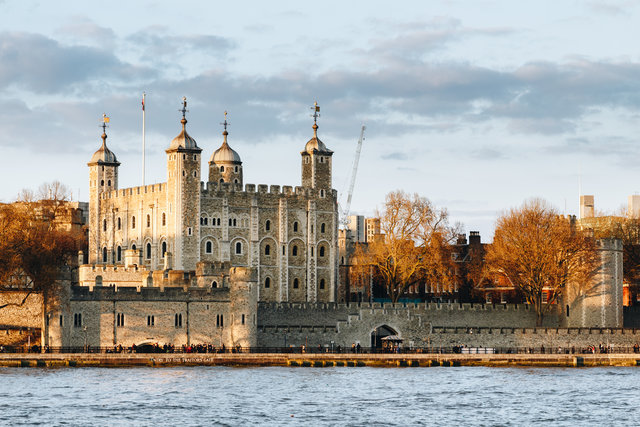 Whitechapel Gallery
Founded in 1901 and located a few minutes from our Aldgate serviced offices, Whitechapel Gallery has been home to works by some of the most significant artists in history. From Jackson Pollock to Lucian Freud, David Hockney and even Picasso's legendary Guernica, Whitechapel Gallery has seen it all. The space continues to exhibit some of the world's most forward-thinking and thought-provoking artists—ideal for a lunch break where you need inspiration.
Aldgate Pump
The Aldgate Pump is another Grade II listed landmark, sitting at the corner of Fenchurch Street and Leadenhall Street. The pump was initially built to provide the local residents with clean water, its tap cast in the shape of a wolf to mark the last feral wolf to be killed in London. However, in a grim twist, the water was contaminated by soil and remains from nearby cemeteries, leading to it being closed down and reopened some years later. Whilst the Aldgate Pump is no longer a water supply, it remains in its position as a monument to a darker side of London history.
Brick Lane & Old Spitalfields Market
Brick Lane is one of the most iconic streets in London, famous for its market stalls, street art, and its vast array of curry houses. The variety of Indian cuisine on offer at Brick Lane is a result of the influx of Bengali people moving to London during the mid-20th century, establishing restaurants as a primary source of income, as well as importing authentic Indian cuisine to Britain.
A little further up Brick Lane you can find Old Spitalfields Market, originally founded as a location for grocers to sell their wares in the 1630s. The market has since become home to a number of stores, restaurants and crafts stalls, with themed markets for fabrics, vinyl records and street food (amongst other things) taking place on a regular basis.
---
Guides to other London areas
Check out our list of guides to London neighbourhoods below:
King's Cross Farringdon Marylebone Liverpool Street Greenwich Mayfair Fenchurch Street Euston Chancery Lane Canary Wharf Bank and Monument Barbican Aldgate Victoria
---
So contact Landmark today to discuss establishing your business in one of our premium Aldgate offices.