Landmark's Guide to Barbican
29th June 2018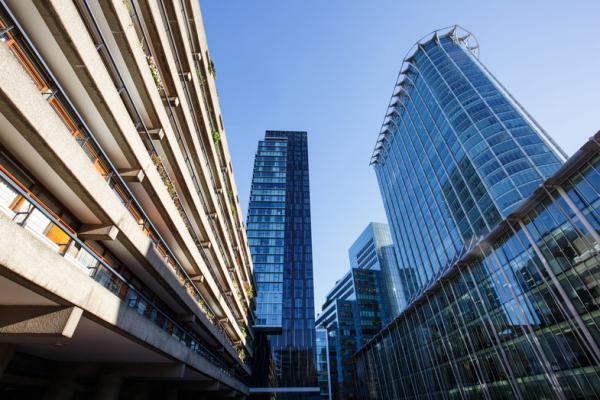 Best known for the iconic Brutalist architecture of its namesake arts and housing complex, Barbican is one of East London's most significant hubs for business and finance. Landmark is proud to have a premium business centre on Aldersgate Street, the area's main road, providing a range of working and meeting spaces in one central location. For more information on our Barbican offices, click the below link:
JUMP TO
---
Area Information
The Barbican Estate itself opened half a century ago, with roughly 4,000 people calling it home, but the area from which it takes its name has a rich history in its own right. Whilst this area of London is dominated by the pedestrianised estate, Barbican has become one of the City's crucial hubs for commerce, finance, and law.
As an integral part of the City, Barbican has played a notable role in most of London's historical events from the Great Fire to the Industrial Revolution. Of course, the decidedly modern design of the Barbican Estate's architecture, the City's most densely-populated residential area, is what truly brought the area into the twentieth century.
The City's deceptively compact nature means that many other parts of London, from the hipster and tech enclave of Shoreditch to the City's other financial centres, are mere minutes away on foot. This means that networking of any kind, whether seeking new talent or new clients, is particularly easy from the convenience of your Barbican office space.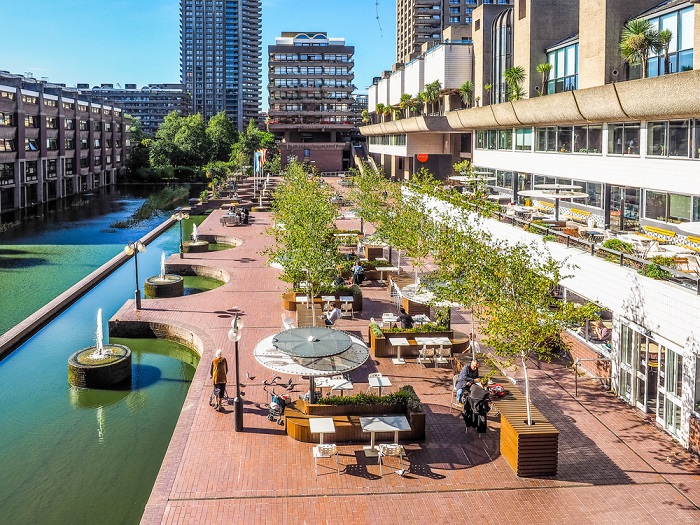 ---
Barbican Transport
Access to the rest of London is particularly quick and easy from Barbican, with its tube station being served by three separate lines: Metropolitan, Circle, and Hammersmith & City. Going westbound, all three lines can take you to Kings Cross in five minutes, offering train links to the north of the country, as well as access to the Victoria, Northern, and Piccadilly lines. Meanwhile, eastbound, the three lines can take you to Liverpool Street in five minutes, providing access to the Central line, London Overground services and train links to Stansted and Southend airports, Essex, and the south coast.
Our serviced offices in Barbican are also a five minute walk away from Moorgate train station, which is served by the above stations, as well as the Bank branch of the Northern line. With transport access to the entire country mere minutes walk away, Barbican is an ideal location for any new business to rent office space.
---
Where to eat near the Barbican
While it is located near parts of the city which are more widely recognised for their culinary scene, Barbican more than holds its own when it comes to restaurants. From modern British gastronomy to traditional Italian fare, the area boasts something for everyone, in terms of both food and formality.
Enoteca Rabezzana
Located just off Aldersgate Street, Enoteca Rabezzana was launched in 2015, offering authentic Italian food. The menu changes daily but their authentic pasta dishes are a regular highlight, while a range of shareable small plates are also available to diners. The restaurant also prides itself on its wine list; boasting more than 100 different types sourced from all over Italy, its main focus is on the Piedmont region, home to the Barbera and Barbaresco varieties.
View this post on Instagram
Little Quiet
Little Quiet may be a hard restaurant to find, but it's well worth the search. A permanent spin-off of London's legendary Disappearing Dining Club, who have served unforgettable meals in unlikely locations since 2010, the restaurant is open from Wednesday to Saturday. Little Quiet seats just sixteen diners, and serves a globe-trotting evening tasting menu of two, three or six courses—priced at £30, £35 and £45 respectively—which changes weekly. The food itself takes inspiration from classic French cuisine, with a Scandinavian touch courtesy of Little Quiet's Swedish head chef.
St. John Smithfield
As the flagship restaurant from Trevor Gulliver and Fergus Henderson, the Michelin Star-winning St John Smithfield is world famous for its pioneering approach to food since opening in 1994. Henderson's "nose-to-tail" style of cooking prioritises cuts of meat where many modern chefs fear to tread, from offal to trotters. The menu changes on a daily basis, and is only announced online an hour before opening times, but its reputation as a mecca for adventurous diners should precede it altogether.
Whitecross Street Market
Open for over 150 years, this daily collection of food stalls serves up a wide selection of grub and is one of London's oldest markets. Calling itself 'London's greatest food market' (and we're not disagreeing with them), Whitecross Street offers up food from all four corners of the globe. Ranging from traditional Brazilian Feijoada to authentic Gujarati curries, there's enough food to try here that you'll never get bored of taking the 11 or so minutes stroll from our Aldersgate offices.
---
Where to drink near the Barbican
From characterful old school pubs to buzzing modern pop-ups, the Barbican bar scene is thriving. Whether you're looking to discuss deals, meet with clients, or treat your staff to a Friday night out, the area offers somewhere for every occasion.
Ask For Janice
Named after a track by the Beastie Boys, Ask For Janice has been creating a major stir since it opened in 2014. Located a few minutes from our Barbican office space, this two-storey bar is open around the clock, providing a great spot for a quick lunch. The drinks on offer range from craft beer, wine and cocktails to an extensive assortment of forty local gins, each of which comes with its own recommended tonic and accoutrements. Ask For Janice is also available for bookings, making it an ideal venue for your staff Christmas party or to celebrate the arrival of a new client.
View this post on Instagram
St Bart's Brewery
Part of the Kent-based Hush Heath Winery chain of bars, St. Bart's Brewery is one of the newest additions to Barbican's landscape of drinking establishments. Located next to the Smithfield market, its decor may be no-nonsense, but its range of drinks—many provided by Hush Heath themselves—are anything but. There is even an IPA created specifically for the pub. St. Bart's Brewery also plays host to live music (Weds-Fri only), offering an additional layer of cool atmosphere to your evening.
The Rising Sun
One of the most traditional boozers in the area, The Rising Sun is a listed pub and the only pub in the area to have been reopened after being completely shut down a few decades earlier. The pub is situated on Cloth Fair, a road which was a textiles marketplace in medieval times and was later home to the poet John Betjeman, who considered The Rising Sun as his local. Now owned by the Samuel Smith brewery, the pub has gained a new lease of life, and is one of the most popular after-work drinks spots in the Barbican area.
---
What to do in Aldersgate
Despite being sandwiched between Shoreditch and Aldgate, there is plenty to do around Barbican. With some of London's most notable landmarks calling the area home, there is no shortage of places to take a lunchtime walk, or impress clients with the local sights. Here are three of Landmark's picks:
Barbican Centre
It would be criminal of us to ignore the area's cultural heart, located within the Barbican Estate which remains the Barbican's residential centre. The Barbican Centre was opened in 1982, and remains the largest performing arts space in the entire continent; the centre is home to three arts venues, a three-screen cinema, and two galleries, as well as a large public library. The galleries offer a revolving display of art exhibitions and events, and there's also a conservatory which is home to 2,000 species of tropical plants and trees.
The arts centre fits in with the striking brutalist architecture of the rest of the Barbican estate, though its design has courted considerable controversy; in a 2003 poll by Grey London, it was voted the ugliest building in London. Yet the Barbican Centre is also a great place to get lost on a lunch break, with plenty of overpasses and winding concrete corridors to explore, as well as the gorgeous interiors of the main building itself.
View this post on Instagram
Local churches
If the Brutalist structure of the Barbican isn't to your taste, there are plenty of beautiful churches in the immediate area worth exploring. Start with St. Bartholomew the Great, a unique little church that was founded as a priory in AD 1123. Unsurprisingly with buildings this old, there is constant maintenance needed, and they do charge £5 for entry.
St. Sepulchre's, also known as "The Musicians' Church", is a vibrant Anglican church in the City of London. The Grade I listed building's gothic style can be appreciated by atheists and believers alike, and as St Sepulchre's is just 6 or 7 minutes on foot from our Aldersgate offices, you can easily incorporate it with a visit to a local museum.
Although not strictly a church, a special mention must go to Christopher Wren's masterpiece, St Paul's Cathedral. This imposing building dominates the skyline of this part of the city and is a significant landmark to pass by during any lunchtime walk that heads south from our Aldersgate serviced offices.
Museums
We'll start with the most obvious, and, incidentally, the closest. The Museum of London is literally just a stone's throw away. Possibly the most underrated museum in London, if you ever want to learn a little more about our country's capital, from its spell as the Roman outpost of Londinium to the modern day, this is the place for you.
To the West of our serviced offices is St. Bart's Hospital, and the peculiar St. Bart's Pathology Museum which is full of macabre medical specimens. Unfortunately, the museum's opening hours don't operate on a daily basis, but it does open for special events on certain dates. To plan your visit to this museum of medical oddities visit their events page.
Alternatively, you could take a short walk to the Guildhall, the ceremonial heart of London's administration, which houses an art museum.
---
Guides to other London areas
Check out our list of guides to London neighbourhoods below:
King's Cross Farringdon Marylebone Liverpool Street Greenwich Mayfair Fenchurch Street Euston Chancery Lane Canary Wharf Bank and Monument Barbican Aldgate Victoria
---
Contact Landmark today to discuss establishing your business in one of our premium Barbican offices.