Landmark's Guide to Canary Wharf
14th September 2018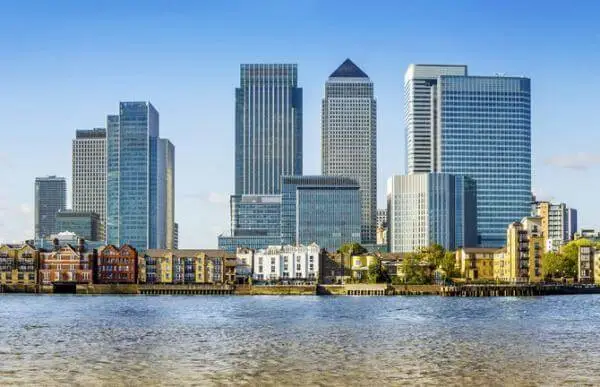 Since its renovation in the late nineties, Canary Wharf has become south-east London's focal point of the financial industry and is the current London home to HSBC and Citigroup. Having been designated an enterprise zone in 1983, a scheme which offers tax incentives to new businesses in the area, the area is now home to more than 100,000 workers in a number of different sectors. Our premium business centre, situated directly above the Canary Wharf tube station, is an ideal place for your business to establish itself in one of London's most thriving districts.
JUMP TO
---
Area Information
Canary Wharf originally made its name within London's Docklands area as the West India Docks which, at the start of the 19th century, was the most bustling shipping port in the world. The port was eventually closed in 1980, having primarily been the international trade link between the United Kingdom and the Canary Islands, which gave the area its name.
Once the age of industrial shipping came to an end, it took some time for the local authorities to settle on what to do with Canary Wharf, even following the establishment of London Docklands Development Corporation the year after the closure of the ports. It was the 1991 opening of 1 Canada Square—at the time, the country's tallest building—which set the area's regeneration into gear. Given an extension on its east side in 2009, 1 Canada Square is now home to and the Bank of New York Mellon, as well as a huge array of financial companies.
Beyond business, Canary Wharf is known for its surprising tranquility considering the bustling nature of the offices it houses. With regular art exhibitions, a great deal of green space and plenty of exceptional restaurants and bars nearby, renting office space within Landmark's Canary Wharf business centre puts you right in the heart of one of London's most prosperous districts.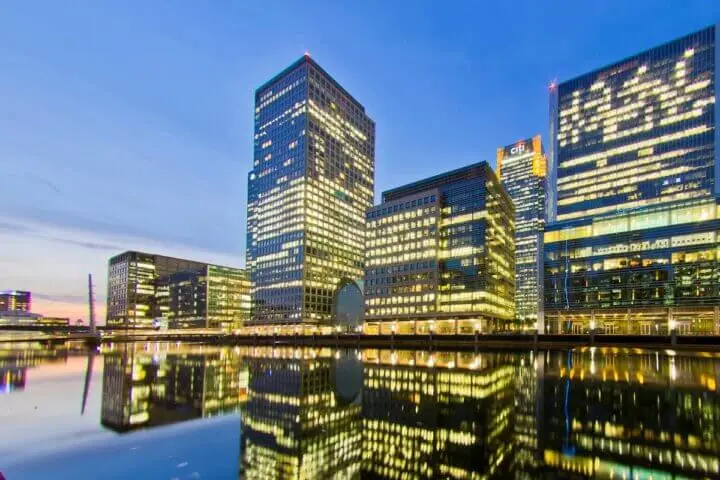 ---
Canary Wharf Transport
As befits such a significant part of London, Canary Wharf is exceptionally well-served by public transport links across London, the entire UK, and the rest of the world. Canary Wharf station is on the Jubilee Line. Eastbound, this will take you and your clients to Stratford for train links to Essex, the south coast, and Stansted and Southend airports. Westbound, the line takes in London Bridge, which offers further south coast rail links, including routes to Heathrow and Gatwick airports, Central London and Wembley Park.
Canary Wharf is also served by the Docklands Light Rail service. This line, predominantly used for local transport between neighbourhoods in the area, offers links further south to Lewisham, as well as services to Bank, Stratford International Airport and London City Airport, which will be of use for businesses with an international clientele.
---
Where to eat in Canary Wharf
As a district of London which caters equally to local residents and its business contingent, Canary Wharf offers something for everyone when it comes to restaurant options. Whether you're looking for a casual eatery or somewhere refined and elegant to take a client, you're sure to find it here. Read on for our three picks of the best restaurants in Canary Wharf.
Il Bianco
One of three restaurants under the Il Bianco banner situated along this section of the River Thames, you can expect hearty Italian fare here. The restaurant first opened in 2011 and has been offering a vast variety of antipasti, fresh pasta and traditional pizza ever since, as well as a sumptuous seafood selection. Il Bianco also boasts an exceptional wine list—including a number of specially selected bottles—available by the glass or bottle.
View this post on Instagram
Boisdale of Canary Wharf
A two-storey behemoth, Boisdale of Canary Wharf is a classic steakhouse at heart, with a 20-ounce chateaubriand at the heart of its impressive menu. With four private dining rooms (ranging from 12 to 40 person capacity), an oyster bar, cigar library and thousand bottle strong whisky bar, your clients or staff won't fail to be impressed with a booking here. The Boisdale also offers regular live music, overseen by its musical patron Jools Holland, guaranteeing high-quality entertainment to go with the premium fare on its menu.
Roka
London's premier robatayaki restaurant—that's Japanese barbecue—Roka offers contemporary Asian cuisine with a coal pit at its centre. Whilst skewered meat, seafood and vegetables are the focal points of its menu, you can also choose from a tempting range of tempura, sushi and a seasonal tasting menu. The bar also offers an array of high-quality sake, alongside cocktails and an assortment of premium wine.
---
Where to drink in Canary Wharf
The Docklands area offers no shortage of great drinking establishments, helped in no small part by their riverside location. From traditional London pubs to swanky cocktail bars, there's something to suit every taste for an after-work drink or a relaxed client meeting.
Capeesh Sky Bar
If you like your booze with a view, you could do far worse than Capeesh. Situated on the 48th floor of the Pan Peninsula Square, this bar is easily found a brisk walk across the South Dock. The cocktails are almost as inspiring as the scenery, with the traditional likes of mojitos or margaritas rubbing shoulders with honey-infused whisky cocktails like the Public Affair or the Honey Bee. Canapes and pizzas are also available should you get hungry during your night.
View this post on Instagram
The Gun
A beloved boozer now owned by the Fuller's chain, The Gun overlooks the Thames in spectacular fashion. This pub can offer its guests a great drinking experience, whatever the weather—there's a bustling balcony during the summer, and a warming fireplace for the colder months. For those with a historical bent, it has also been said that Lord Nelson enjoyed a tipple or two at The Gun back in the 18th century.
The Grapes
Whilst this pub is a little further away than the rest of the list—roughly 15 minutes from our Landmark business centre—the walk is well worth it. The Grapes is owned by Sir Ian McKellan and has been in its current site on Limehouse Reach for almost half a millennium. The pub has been visited by the likes of Samuel Pepys, Charles Dickens and Oscar Wilde and, having survived the Blitz, its traditional Victorian long bar offers an attractive slice of history amongst the ever-developing Canary Wharf skyline.
---
What to do in Canary Wharf
From riverside walks to urban gardens, there is no shortage of beautiful scenery and attractions to keep you occupied during a lunch break or to take in after work. Here are three of our favourite things to do in Canary Wharf, all mere minutes away from our business centre above the station itself.
Crossrail Place Gardens
Situated on the roof of Crossrail Place, a modern skyscraper designed by the same architects who created the Gherkin and City Hall, this domed garden is another ideal walking spot for a lazy lunch break or an early start to your working day. Beyond the gorgeous greenery in which to eat, there is also a street food court with a rotating assortment of vendors.
View this post on Instagram
Museum of London Docklands
It isn't just the pubs of Canary Wharf which lend the area its rich history. Whilst the Museum of London Docklands has only been open since 2003, it is situated in a Grade I listed sugar warehouse which has been a fixture of the Docklands area since the early 1800s. The museum is home to a number of several notable artefacts stretching from Roman times to the present day. Dockworkers' notebooks, old trading vessels and archaeological findings are all on display, making the museum an ideal place to explore during a lunch hour.
Public artworks
The Canary Wharf Group, the company in charge of the area's development, has made it a priority to fill the area with all manner of public art installations. Sculptures and installations are the main exhibits, but there are nearly seventy works located around the Docklands area, ideal for stumbling across whilst walking around Canary Wharf and taking in the scenery. However, for those who would like to see everything, the CWG website does offer a map.
---
Guides to other London areas
Check out our list of guides to London neighbourhoods below:
King's Cross Farringdon Marylebone Liverpool Street Greenwich Mayfair Fenchurch Street Euston Chancery Lane Canary Wharf Bank and Monument Barbican Aldgate Victoria
---
Contact Landmark today to discuss establishing your business in our premium Canary Wharf offices.