Landmark's Guide to Bank and Monument
6th August 2018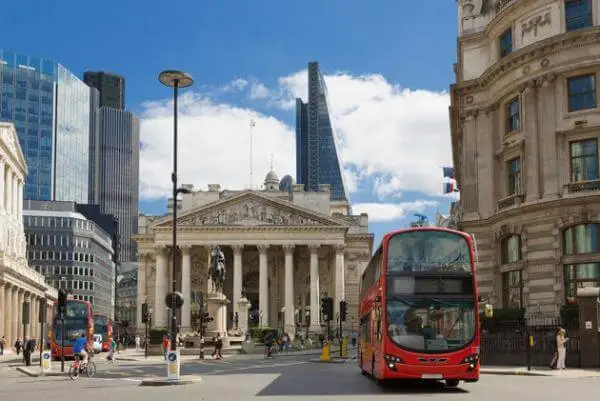 The heart of The City, Bank and Monument make up the business capital of London. However, neither location is exactly lacking in personality, with buzzing bars and restaurants just a stone's throw away from our business centres in the area. We have coworking spaces, meeting rooms and serviced offices available in the following locations:
JUMP TO
---
Area Information
Bank and Monument are two adjoining areas of London which are known for their importance to the city's business, with its interlinked tube stations named for their proximity to two of the capital's historical landmarks. This part of London actually has its roots in ancient Roman times, with the ruins of a millennia-old mosaic and amphitheatre a few minutes away on foot.
The Bank tube station gets its name from the nearby headquarters of the Bank Of England, which has been at its Threadneedle Street location since the 1730s. Leave Monument station, meanwhile, and you will be confronted with Sir Christopher Wren's towering Monument to the Great Fire of London, finished in 1677.
Now, however, Bank and Monument are London's business and insurance hubs, the beating heart of the country's financial sector. For any company looking to find office space in London, the six Landmark centres in the area will put you right alongside the industry's biggest names.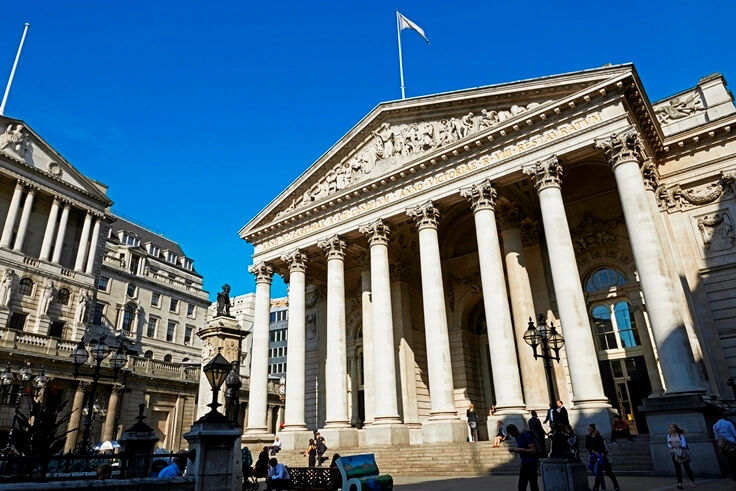 ---
Bank and Monument Transport
The Bank and Monument areas are both particularly well linked by the majority of tube lines and rail networks. Underground stations with Network Rail links which provide cross-country travel for you and your customers are only a few minutes away, allowing you to conduct business nationwide, as well as offering easy access to the country's airports for international clients.
The two connected tube stations of Bank and Monument are served by the Central, Northern, District and Circle lines. For transport connections to meetings out of London, Kings Cross St Pancras and Euston are 10 minutes away, while London Bridge is a mere three-minute tube ride. You can also get to Liverpool Street from both stations in two minutes, which has train connections to London Stansted and Southend Airports.
---
Where to eat near Bank and Monument
Considering its status as the business capital of London, Bank and Monument have no shortage of diverse eateries which are suitable for post-work get-togethers or lunch meetings with clients. Here are three of our favourite restaurants in The City:
Hispania
Opened in 2013 and situated in a National Heritage listed building once home to a branch of Lloyds bank, Hispania's menu ambitiously promises to give diners "the spirit of Spain". The restaurant was founded by Marcos Morán, whose family have run the Michelin starred Casa Gerardo for five generations, and more than delivers on that pledge. The food at Hispania is authentic Spanish fare at its finest. Whether you are looking for outstanding tapas, the finest Ibérico ham, or a whole roast suckling pig to share between 8 (with 24 hours notice, of course), there is something for everyone, and meals to suit any occasion. Ideal for impressing clients or for a well-earned chance to let your hair down after a hard week—the wine list is exemplary—Hispania has it all.
View this post on Instagram
MBER
A basement dim sum restaurant on Pudding Lane, MBER—the name references its location on the street where the Great Fire of London started—may have only been open for a couple of years, but it has been sparking major interest in the area ever since. The pan-Asian fusion menu is served across the restaurant's five areas, including three private dining rooms, making it ideal for lunch or dinner meetings with clients. From a dazzling array of cocktails and sakes to dishes which take inspiration from across the Asian continent, the food on offer at MBER is unparalleled, whether you're in the mood for traditional chicken satays or more esoteric fare like char-siu doughnuts.
Goodman
A City take on the classic stateside steakhouse, Goodman is a dinner fixture for all of the area's businesspeople. Coupled with its extensive wine list, its meats are sourced from farms on both sides of the Atlantic, and dry-aged onsite. For more adventurous—or hungry—diners, the restaurant offers The Cut, a specials menu which is altered daily to reflect the best cuts of beef from Goodman's ageing room, though steaks can also be cut to order. No matter the appetite, Goodman offers the highest quality meats at prices to match, making it the perfect fit for any meetings where you need to impress.
---
Where to drink near near Bank and Monument
Thanks to the area's location in the city's trendy East End, you're just as spoilt for choice with archetypal London pubs as you are business-friendly bars. A few blocks down from our business centres, here are three of our favourite drinking establishments in Bank and Monument:
Demon, Wise & Partners
Located in the basement of the equally-lauded Abitrager gin palace on Throgmorton Street, Demon, Wise & Partners sounds like one of the area's many law firms at first glance. However, this underground cocktail bar is gaining a huge following amongst the City's workers. With a rotating cocktail menu, including a Demon special and a Wise special with their more esoteric spirits, the drinks start at £12—with a £7 half-glass of champagne on offer whilst you decide on your order.
View this post on Instagram
The Olde Wine Shades
The area's longest-standing wine bar, The Olde Wine Shades was constructed in 1663, three years before the Great Fire of London. The bar forms a huge part of the area's cultural heritage and historical significance and was beloved of Charles Dickens. Hidden down Martin Lane, it has been owned by the El Vino chain since 2015, and remains a flagship wine bar in The City, with rare and vintage bottles being stored in its unique, secret smugglers tunnel.
The Ship
A London boozer in the most traditional sense, The Ship can be found near the front of the alleyway leading towards Talbot Court, giving drinkers plenty of room to enjoy their beverages outside on warm evenings after work. The pub took its name from its popularity with dockers in the seventeenth and eighteenth centuries and is now a favourite with the area's estimable business contingent.
---
What to do near Bank and Monument
Bank and Monument have no shortage of landmarks and places to stroll during a lunch break or after work. With the Thames a mere five minutes' walk down London Bridge, the local scenery is unrivalled, but here are some of our favourite local landmarks to spend your weekday downtime:
Monument to the Great Fire of London
The towering column that gives the area its name was designed by Sir Christopher Wren and has been in that spot since 1677, eleven years after the Great Fire ravaged the area. Whilst the Monument is impressive in and of itself, a viewing platform is accessible via a 300-plus step staircase, giving you an inspiring panoramic view of the city's sights both old and new.
View this post on Instagram
St Dunstan-in-the-East Gardens
Also designed by Sir Wren, the St Dunstan-in-the-East church was gutted by the Blitz, and given Listed Building status at the start of the fifties. However, its ruins form the centrepiece of a lavish public garden some five minutes from the adjoining Bank and Monument tube stations. A beautiful, verdant spot to eat lunch or stroll around for inspiration on a tricky working day.
London Mithraeum
One of the most famous relics of the Roman era of London, the Mithraeum was formerly a temple, built between 200 and 300 AD for worshippers of the arcane religion Mithraism. The Mithraeum was only discovered in the mid-fifties as work was being made on another building in the area, with not only structural ruins but artefacts discovered on the site. Despite projected plans to relocate, the ruins remain exactly as they were on the day they were discovered, and are accompanied by a "multi-sensory experience" exhibition to teach visitors more about the discovery and the religion which inspired the original temple's construction.
---
Guides to other London areas
Check out our list of guides to London neighbourhoods below:
King's Cross Farringdon Marylebone Liverpool Street Greenwich Mayfair Fenchurch Street Euston Chancery Lane Canary Wharf Bank and Monument Barbican Aldgate Victoria
---
Contact Landmark today to discuss establishing your business in our premium offices near Bank and Monument.