Landmark's Guide to King's Cross
17th February 2022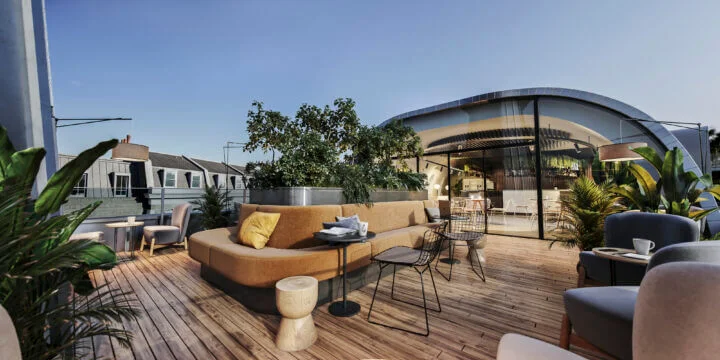 King's Cross is one of London's most imaginatively redeveloped neighbourhoods. Since 2007, a massive regeneration project has turned rundown industrial structures and derelict land into a dynamic mixed-use community. The area combines striking modern and historic buildings with exciting restaurants, independent shops and open spaces, attracting all kinds of businesses and proving a magnet for talent. Like its surroundings, the Landmark Lighthouse office in King's Cross deftly blends old and new, offering calming contemporary office spaces, meeting rooms and co-working space in an iconic period building, with a standout rooftop lighthouse and terrace.
Area Information
Since its phoenix-like makeover, it's hard to imagine King's Cross as the grubby red-light district you once passed through without stopping on your way to more desirable parts of London.
But before its post-war decline, King's Cross was a thriving industrial and transport hub. Its growth began with the Regent's Canal, which opened in 1820, followed four years later by the Pancras Gasworks and in 1849 by the Great Northern Railway (GNR). Locomotive depots, goods yards and coal stores called coal drops (now home to trendy restaurants and boutiques) sprung up along the railway and canal, along with the world's first underground railway and railway hotel.
By the 1980s, the station and surrounding industrial areas were in a sorry state of repair. But from the 1990s onwards, King's Cross was given a new lease of life, triggered by billions of pounds in infrastructure investment projects such as the Channel Tunnel regeneration and King's Cross station and St Pancras International refurbishments.
As the new King's Cross emerged, diverse businesses flocked to the area, creating a buzzing tech and knowledge sector quarter that continues to expand. Internet giants like Google UK and Facebook now rub shoulders with start-ups, pharmaceuticals, biotechs, media companies, biomedical, and science organisations like the Alan Turing Institute.
Like the developers who adapted King's Cross to meet modern needs, Landmark's mix of restorative private and collaborative workspace helps organisations of all kinds to navigate the shifting world of work.
Landmark King's Cross is strategically located opposite the station, not far from Google's planned new 'landscraper' headquarters. The building offers organisations and individuals premium workspaces with biophilic elements for an urban-rural vibe, where you can connect, collaborate and focus.
Transport in King's Cross
King's Cross and St Pancras International are two of London's most interconnected railway hubs, putting destinations in the UK and Europe within easy reach. Thameslink operates regional rail services from both stations, while long-distance trains run from King's Cross to cities and towns in northeast England and Scotland.
King's Cross underground includes the Circle, Hammersmith and City, Metropolitan, Northern, Piccadilly and Victoria lines, making it simple to get around London. Nearby St Pancras is also home to Eurostar and high-speed services to Kent and Stratford International.
Landmark's proximity to King's Cross and St Pancras stations makes it a practical workspace choice, whether you're here to use the meeting rooms, work quietly, or collaborate with a team. Meanwhile, its rooftop lighthouse means guests can spot the building instantly as they emerge from the station at Euston Road.
Where to eat in King's Cross
You're spoilt for choice for eateries in King's Cross. Whether you're in Coal Drops Yard for a lunchtime bite or looking for a fine-dining experience to impress a client, you'll find every culinary delight close to the Landmark King's Cross business centre.
Five Guys King's Cross
Pushed for time but need a fast refuel? The Five Guys burger restaurant is in the same lighthouse building as Landmark. The Murrell family opened the first UK Five Guys restaurant in 2013 and now has over 100 restaurants here. It's the place for a made-to-order burger, fries and a shake. Or order a take-out to enjoy after work.
View this post on Instagram
German Gymnasium
A six-minute walk through the station from Landmark King's Cross brings you to the German Gymnasium, part of D&D London. The beautiful building was constructed in 1865 as England's first purpose-built gymnasium. Its restaurant, bars and outdoor terrace serve food with a mid-European flavour – ideal for wooing clients arriving from Europe. Think schnitzels, hot dogs and currywurst.
View this post on Instagram
Caravan King's Cross
Caravan was the first restaurant to open in the King's Cross development in 2012 and occupies an iconic, listed Victorian grain store overlooking Granary Square. Its breakfast, brunch and all-day menus include vegan options. As an alfresco or indoor dining venue, it will impress potential clients. Or re-energise with a fresh coffee from the roastery at lunchtime.
Dishoom King's Cross
Feted as one of the best Indian restaurants in London, Dishoom occupies a former Victorian transit shed with a buzzing Bombay atmosphere. The foodie chain founded by Shamil Thakrar is famous for its breakfasts (try the bacon naan), which will keep you energised for the day. Its shared group feasts are ideal for work get-togethers, with a choice of vegan, dairy intolerance, and gluten-allergy menus.
View this post on Instagram
Where to drink in King's Cross
If the variety of after-work bars, cocktail bars, beer gardens and other chic drinking destinations in King's Cross threatens to overwhelm you, check out the Landmark guide to a few of our favourite drinking holes.
The Gas Station
Stroll to Granary Square for a business chat over a drink at one of King's Cross's newest arrivals, the Gas Station. Created by the London Barworks group, this welcoming indoor-outdoor bar and eaterie offers a wide range of drinks and eats from fresh seafood to burgers. Visit the laidback canal-side beer garden with its plants and pollinators suggested by Kew Gardens.
Spiritland
Eclectic music, guest DJs, a legendary sound system, and classy cocktails make Spiritland a unique café/radio-studio/bar experience. Located in Stable Street, this music-centred venue is perfect for celebrating a business win or birthday after work. Sit back any night, sipping a dry gin, highball, or mocktail while you let jazz-to-dance sounds wash over you.
Porte Noire
A chic wine bar located in a distinctive Grade II-listed gasholder, Porte Noire, is a sophisticated place to celebrate success with a valued client over a fine hand-picked red, white, rosé, champagne, or cocktail. The 70-seat wine bar, dining room and shop opened in 2021 and is owned by actor Idris Elba and business partner David Farber, founder of Connaught Wine Cellars.
What to do in King's Cross
With so much going on in this exciting, regenerated area of London, you're never short of things to do when you work at our Landmark King's Cross workspace. For retail therapy, head to funky boutiques in Coal Drops Yard. Feeling cultural? Visit the British Library. Fancy a lunchtime stroll? Explore the canal. Here are a few more of our favourite places.
Camley Street Natural Park
While King's Cross is known for the train station and has a reputation for being a bit of a concrete jungle, there is a bijou nature reserve just ten minute's walk from the station itself. Situated by the canal, Camley Street Natural Park is a free entry 2 acre woodland site that provides a stunning contrast to the glass-and-steel that surrounds it.
View this post on Instagram
Gasholder Park
When you need a place for reflection or brainstorming, take a 10-minute walk along the Regent's Canal towpath to the refurbished gasholders. Inside the historic gas frame, there's a small lawn with mirrors and seating, offering a quiet haven from the bustle of Coal Drops Yard.
Word on the Water
If you love mooching around bookstores at lunchtime, this cosy and eclectic bookshop in a 100-year-old Dutch barge at Granary Square provides a beautiful distraction. It's open from 12-7pm every day and sells second-hand and new books from cult classics to photography. One of a kind.
Lethaby Gallery
Be inspired by a different way of thinking. Head to the University of the Arts London (UAL) building overlooking Granary Square. It's home to the famous art college Central Saint Martins, which showcases its students' work in exhibitions at the Lethaby Gallery. Admission is free.
View this post on Instagram
Guides to other London areas
Check out our list of guides to London neighbourhoods below:
King's Cross Farringdon Marylebone Liverpool Street Greenwich Mayfair Fenchurch Street Euston Chancery Lane Canary Wharf Bank and Monument Barbican Aldgate Victoria