Landmark's Guide to Liverpool Street
22nd July 2019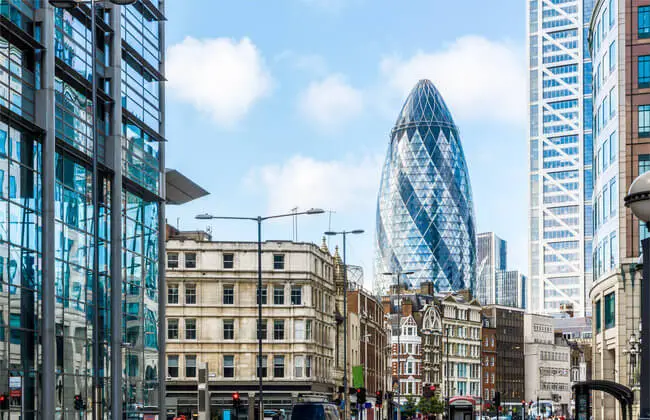 Liverpool Street is the transport hub of East London, giving commuters easy access to nearby Bishopsgate, one of the area's main financial districts. It's also within walking distance of London's hipster hotspot Shoreditch, making our three premium business centres in the area—complete with offices, co-working areas, and meeting spaces—ideal locations for established companies and startups alike:
JUMP TO
---
Area Information
Liverpool Street station was opened in the 1870s as a replacement for Bishopsgate station and has retained most of its original architecture since then. It is now one of the busiest railway stations in London, serving over 60 million people each day, and connecting railway passengers from the East of England, as well as four London Underground lines.
The station was originally built to attract City of London commuters, through the Great Eastern Railway. Bishopsgate was initially considered not good enough for commuters, and in its early days, Shoreditch was one of the poorest slums in London. Now, however, the area has attracted both startups and global corporations, making it one of the capital's busiest areas.
We offer premium office space around Liverpool Street station's numerous entrances, providing the best transport options for all businesses. As one of London's primary business districts, the area is bursting with the best and brightest talent and is a short walk from Tech City and the Silicon Roundabout, making it great news for startups.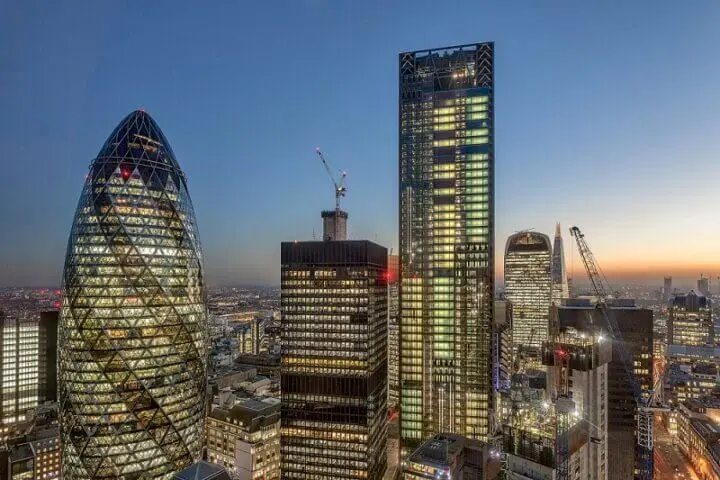 ---
Liverpool Street Transport
Located a couple of minutes' walk from Liverpool Street station, our three premium business centres are just a short tube journey from most of London's other major business areas. The station is part of the Metropolitan, Hammersmith & City, Circle, and Central tube lines, providing easy access to central London, the South Bank, and Essex within half an hour. Railway networks available include the Overground line, providing easy access to Hackney's thriving startup scene, as well as a short journey to Stansted Airport, Cambridge, and the south coast on various train lines.
---
Where to eat in Liverpool Street
Our three business centres near Liverpool Street are close to some of London's best restaurants. Whether you're looking for somewhere to grab a quick bite or a location to take a potential client, here are three of our favourites:
SUSHISAMBA
Consistently rated as one of London's best eateries, SUSHISAMBA also has the added benefit of being located on the 38th and 39th floors of Heron Tower—a few floors away from our 110 Bishopsgate serviced offices.
Of course, convenience isn't the only thing that this unique Pacific fusion restaurant has going in its favour. Opened in 2012, its 400-capacity space (including a dining room for 128) has welcomed over two million visitors, all eager for its unparalleled views of London and quirky take on South American and Japanese food.
Serving up a mix of ceviche, wagyu beef steaks, and sushi-inspired tacos, as well as an extensive assortment of vegan options and a brilliant assortment of cocktails, SUSHISAMBA is a Liverpool Street favourite not to be missed.
View this post on Instagram
Galvin La Chapelle
Located within a grade II listed building at Spitalfields and awarded a Michelin star, Galvin La Chapelle is a bastion of classic French-style dining. Nestled in a grand chapel, the vaulted ceilings and large space makes it ideal for hosting live music during dinners, while its stylish decor is in keeping with the architecture.
The intimate restaurant provides ornate surroundings with a sophisticated feel, perfect for both business meetings and celebratory meals. The fame surrounding the establishment occasionally attracts tourists, but the majority of diners are local businessmen.
Both the tasting and a la carte menus are equally show-stopping, ideal for any occasion. A standout dish is the Dorset crab lasagne with beurre nantais, and their signature dessert—tarte Tatin—is an essential order. The restaurant also has a dedicated sommelier to pair each dish with the perfect wine or offer recommendations from their vast menu.
Poppies Fish & Chips
For a quintessentially London meal, you can't go wrong with Poppies. Found on Brick Lane, the retro-style restaurant gives the feel of the East End in the 40s and 50s. The quality of the fish and chips is just as iconic though, and its success has led to branches opening up in nearby Spitalfields, as well as in Soho.
The interior recreates the classic design of the era, complete with wait-staff clad in pinnies, hairnets, and a traditional uniform. Served up in Poppies' own print newspaper, the restaurant offers a traditional London chippy experience, perfect for a lunchtime treat.
All the fish fried by Poppies is caught that day, then hand-delivered to the restaurant, where an in-house fishmonger fillets and prepares it. The restaurant works on a made-to-order basis, guaranteeing the freshest fried fish. Partnered with the thick-cut chips and famous mushy peas, it's clear to see why Poppies has become a Shoreditch staple.
---
Where to drink in Liverpool Street
Catering to the trendspotters of Shoreditch and the businessmen of Bishopsgate alike, Liverpool Street boasts a diverse drinking culture to cater to all tastes. Here are some of the area's most popular spots:
Rake's Cafe Bar
Located at Andaz in the five-star Hyatt hotel, on the same spot where the infamous Bethlehem Hospital (or 'Bedlam') once stood. With three spaces to choose from, Rake's offers a selection of contemporary cocktails and an extensive wine list. Along with a range of all-day bar snacks and large plates, this is an ideal spot for meeting new clients or treating your staff.
For a post-work evening out, Rake's hosts DJs from Thursday to Saturday nights in the Front Room, as well as the lounge area in The Parlour. Hire the space on No. 3 for private parties, only a stone's throw from our Liverpool Street offices.
View this post on Instagram
Black Rock
This subterranean "bar" is an impressive option for clients—but be sure to use the word bar loosely. Drinkers are instead invited to sit around a huge 185-year-old oak tree that's been split in half and laid on its side. It has two large channels carved out in the middle, which have then been filled with 17 litres of whiskey in each side. The cocktails mature over the time they're left in the oak, and drinkers can enjoy the mix by simply pouring from the tap at the end of each trunk.
If the tree-cocktails aren't tickling your fancy, a bartender can create a drink of your choosing at your table. With the sheer variety of whiskey from around the world on offer, you're sure to find a flavour you like.
Dirty Dick's
A standout pub in the area, Dirty Dick's was named after a notoriously filthy previous owner, who also owned a hardware shop and warehouse in the city. Dirty Dick himself passed away in 1809, and the pub was subsequently renamed from The Old Jerusalem and refurbished to recreate the look of the warehouse. The late-night boozer sits across two floors, and with the help of its red neon sign, has turned into a tourist attraction.
Patrons can enjoy both classic and special dishes based on seasonal menus, along with a range of ales, wines, and cocktails. The traditional decor has remained the same over the years, despite a few refurbishments and of course, the famous dead cats of Dirty Dicks are still preserved and on display. Local workers typically head to the pub on evenings, but it is also available to hire for private functions.
---
What to do in Liverpool Street
While it's a relatively small part of the city, Liverpool Street is home to a disproportionate amount of incredible places to explore. From historical streets to bustling markets, you'll never be short of somewhere interesting to go after work or during a lunch break. Here are Liverpool Street's biggest hitters:
Old Spitalfields Market
The covered market in Spitalfields is one of the best places for fashion, arts and crafts, and even food. Circling the market stalls are permanent stores and boutiques, from big household-name brands to smaller independent shops. On Thursdays, the area plays host to a weekly antique market, with stalls selling vintage everything, from maps and books to fashion, furniture, and collectables, often at bargain prices.
You can even find a range of gourmet food trucks and stalls in and around the market. Bleecker Street, for example, offers mouth-watering American style burgers, made with dry-aged beef. Meanwhile, Dumpling Shack gives shoppers a range of delectable dumplings on the go. Its close proximity to Liverpool Street makes it wonderful for a lunchtime wander, whether for a quick browse or for lunch.
View this post on Instagram
Brick Lane
One of the most iconic streets in London, Brick Lane continues to be a glorious melting pot of cultures. Immigrants have always been welcomed in the area, which is made very clear by the sheer number of stores catering to different communities. Walk down the lane and you'll find a number of excellent vintage fashion stores, curry houses, a bowling alley, and even the only building in Britain that is used in turn as a church, a synagogue, and a mosque.
The blend of cultures offers a unique vibe only found in London's East End. And with infamous locals including the Kray Twins and Jack The Ripper, you can even immerse yourself in London's darker history on a quick stroll around the area. Make sure to check out Brick Lane Beigel Bake for the famous salt beef bagel. Open 24 hours, the institution is famous around London, if not the country, for the freshly-made bagels. The area is also home to Rough Trade East, one of the best record stores in London, which frequently hosts intimate lunchtime gigs and signings by both independent bands and award-winning artists.
Finsbury Circus Gardens
The remains of Moor Fields, London's first public park, Finsbury Circus Gardens is the city's largest open space and oldest public garden. The Grade II listed garden was first opened in 1607, and the city grew and developed around the iconic round park you see today. A hidden gem in the city, it is perhaps the best place in the area for a quick lunchtime picnic in the summer months.
The garden is also home to the City of London Bowling Club, so you may even be able to catch a game of bowls while you relax. The park is surrounded by stunning listed buildings and is the location of only Japanese Pagoda tree in the city. Its proximity to Liverpool Street station also means that office workers will often spend their summer lunches relaxing in the park.
---
Guides to other London areas
Check out our list of guides to London neighbourhoods below:
King's Cross Farringdon Marylebone Liverpool Street Greenwich Mayfair Fenchurch Street Euston Chancery Lane Canary Wharf Bank and Monument Barbican Aldgate Victoria
---
Contact Landmark today and find out why our Liverpool Street business centres are the perfect place to base your business.