Landmark's Guide to Greenwich
11th April 2019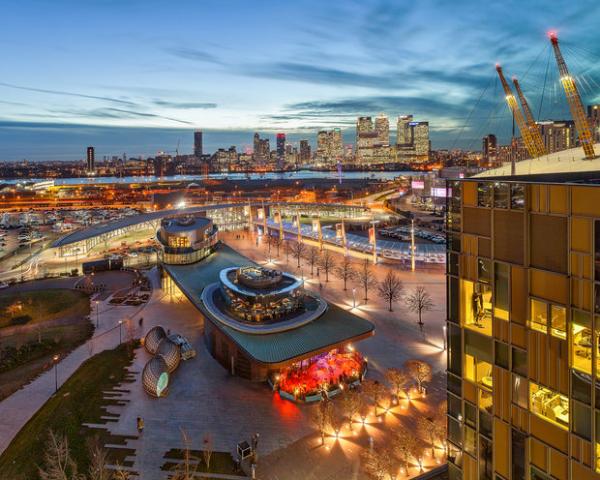 Greenwich is one of the fastest-rising areas in booming South East London. With a reputation built on its rich industrial history, the borough has become a thriving part of the city for modern companies. This is why we've established a premium business centre in the area, offering an extensive range of professional offices, coworking spaces and meeting rooms:
JUMP TO
---
Area Information
Greenwich is one of the most globally-recognised boroughs of London thanks to the countless scientific discoveries made at Greenwich Observatory, including the way we understand the concept of time. It was also once the home of the Royal Family in Tudor times, with Henry VII residing at what is now the Old Royal Naval College.
The borough built its name as an industrial hub, courtesy of its former naval base and the nearby docks. One of Greenwich's most popular attractions, The O2 Arena, was constructed on the site of a former industrial park, and now draws some of the biggest names in music and entertainment. Two of London's major convention centres—The Crystal and ExCeL London—are both also a short ride across the river, near London City Airport.
Our premium business centre in Greenwich is the only Landmark location south of the Thames, giving businesses access to key networking hubs and local enterprise start-up support agencies such as South East Enterprise. The area is also near several universities including Goldsmiths and the University of East London, providing a constant stream of new talent no matter what sector you operate in.
---
Greenwich Transport
As with many surrounding areas in South East London, central Greenwich itself does not have a tube station but is served by the DLR at both Greenwich and Cutty Sark stations, as well as a direct train to London Bridge. Our Landmark business centre is located 45 minutes from central Greenwich around the bend of the Thames, next to North Greenwich underground, which is served by the Jubilee Line. This can get staff and clients to London Bridge or Stratford stations in 10 minutes, which offer easy connections to Gatwick and Stansted airports as well as the South Coast.
North Greenwich is also one of the docking points of the Thames Clipper boat service, providing a scenic route along the river with stop-offs at major London stations including London Bridge, Blackfriars and Waterloo. Another convenient, if unusual, way to get around the area is the Emirates Air Line—a cable car which takes passengers across the Thames from The O2 to the Royal Docks.
---
Where to eat in Greenwich
With gorgeous views of the Thames, Greenwich is home to some of the best, most scenic eateries in the whole of London. All just minutes from our Greenwich Peninsula business centre, here are a few of our favourites:
Craft
A modern eatery near the iconic O2 Arena, Craft was the third permanent restaurant founded by London pop-up pioneer Stevie Parle. A former Young Chef of the Year award-winner, Parle set up Craft with fellow chef Tom Dixon, specialising in contemporary British fare from the menu to its decor.
The restaurant offers several set menus catering for all palates, including a vegan taster menu. The a la carte options range from Shetland salmon with an anchovy emulsion starter, to a roast duck crown main. One critic claimed they would "almost swim the Thames" to eat the latter again.
If you're looking to treat your staff to a more adventurous meal, book a table for Craft's "Test Kitchen Tuesday" where lucky guests can sample a blind menu of up to six dishes still in development.
View this post on Instagram
Nakhon Thai
Just a quick journey across the river by cable car, Nakhon Thai is one of many beautiful dockside restaurants running along the Thames. With al fresco seating perfect for warm weather, there is also an extensive cocktail menu including plenty of delicious alcohol-free options.
The restaurant's warm atmosphere is best experienced from its tiki-style terrace bar, which adds some welcome greenery to the industrial views as you look out across the Docklands. Fresh ingredients are all sourced daily from local markets, and the menu is full of traditional Thai delicacies, such as red and green curries, steamed sea bass and deep-fried tilapia in sweet chilli.
Peninsula
Within the expansive confines of London's biggest indoor music venue, there are plenty of eateries to choose from at the O2, even if you aren't going to that evening's gig. Peninsula is the best of the bunch, having achieved a spot in Michelin's restaurant guide and winning three AA rosettes in 2017.
Peninsula trades in "modern European cuisine" and offers a tailored wine list alongside all its dishes. The restaurant offers either a three-course set menu or a seven-course taster menu, with seasonal produce being the order of the day. From sweet and sour cauliflower served with black sesame ice cream to fillet of plaice served with rhubarb and wild garlic, its diverse flavours compensate for what initially seems like a small menu.
---
Where to drink in Greenwich
With riverside views, rich cultural heritage and a bustling student population, Greenwich offers a diverse range of drinking establishments. Whether you want to impress a client or kick back with staff after a busy week at the office, here are three of our favourite pubs and bars near our Greenwich serviced offices:
The Pilot
If you're looking for a traditional London pub a little further inland, The Pilot offers all the cosy ambience you need. Situated in its current home since 1801, The Pilot was once beloved by dockworkers and surrounded by the homes of maritime labourers. As the area became increasingly inhabited by students at nearby art colleges, the likes of Damien Hirst found himself living on the road and his former classmates Blur even filmed their "Parklife" video outside the pub. These days, The Pilot is a welcoming favourite of its patrons, offering real ale and classic pub grub—including locally-sourced fish and chips.
View this post on Instagram
The Oiler Bar
On the other side of the Thames, a quick cable car ride away from our Greenwich business centre, The Oiler Bar is a summer staple of riverside drinking. A converted navy refuelling barge, the bar was founded in 2013. While it endured the legal ups and downs befitting of a pirate-style boozer, including council threats and a few years without a license, its outlaw atmosphere remains intact and offers a distinct alternative to its corporate conference centre surroundings.
Eighteen Sky Bar
As with its range of restaurants, the O2 Arena has a huge range of bars for gig-goers to quench their pre-show thirst. The most luxurious of the bunch is Eighteen, named for the floor of the Intercontinental Hotel where the bar is located. It's worth paying multiple visits to the menu so you can make the most of its extensive drinks menu—including over 40 different brands of gin and an adventurous cocktail list. With a Thames-side view to die for, Eighteen is a bar worthy of hosting true business celebrations.
---
What to do in Greenwich
With its numerous points of historical significance, Greenwich has no shortage of areas to explore or things to do. Whether you're looking for vast, verdant expanses or the chance to scale one of London's most recognisable buildings, there's no shortage of things to get up to during a lunch break, on your way home or even as a staff outing. Here are our favourite sights in Greenwich:
The Emirates Air Line
Yes, it's an easy way to get across the river, but the unique cable car—the only one of its kind in Britain—isn't something you should take for granted. After all, the ten minute trip from the south bank of the Thames to the Royal Docks allows you to get an unparalleled view of London's most famous sights, from the Thames Barrier to St. Paul's Cathedral. Accessible with an Oyster card, it's a great way to get a new perspective on the city.
Up at The O2
If you've had your appetite whet by the cable car, perhaps you fancy taking it up a notch by scaling the heights of The O2. Not only is the arena home to some of the best bars and restaurants in North Greenwich, but also the most incredible views in London. Perfect for team activities, a group climb up this recognisable landmark will be as thrilling as it is scenic.
View this post on Instagram
Greenwich Peninsula Ecology Park
A sprawling wildlife centre in the industrial hub of the South East, the Greenwich Peninsula Ecology Park spans four acres of peaceful natural beauty. All manner of animal and plant life can be found in this somewhat uncharted park, which has been open to the public for nearly twenty years, lending itself perfectly to regular visits to see everything it has to offer. The park is an ideal space to spend a lunch break, particularly if you're looking for some new scenery to get you inspired.
---
Guides to other London areas
Check out our list of guides to London neighbourhoods below:
King's Cross Farringdon Marylebone Liverpool Street Greenwich Mayfair Fenchurch Street Euston Chancery Lane Canary Wharf Bank and Monument Barbican Aldgate Victoria
---
Contact Landmark today to discuss establishing your business in our Greenwich offices.