Landmark's Guide to Farringdon
10th January 2020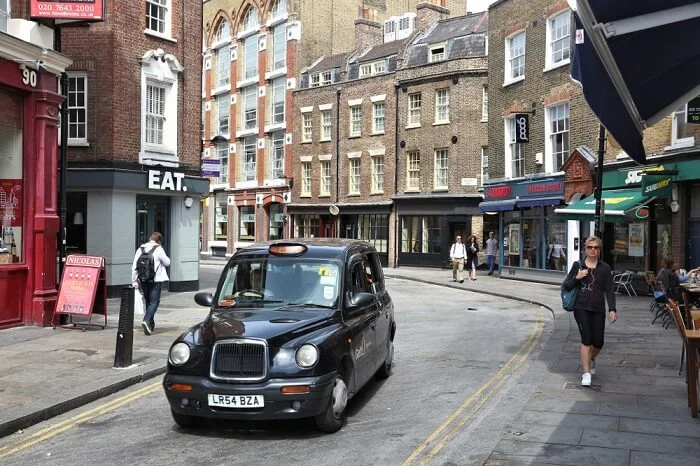 Renowned for its thriving food and drink culture, as well as its historical significance, Farringdon is nestled between Barbican, Clerkenwell, Holborn and The City. In fact, Farringdon has even been called "Shoreditch for grown-ups" due to its vibrant-but-polished atmosphere that is particularly popular with professionals. Its mature and sophisticated character makes this the perfect location for flourishing companies to set up in, which is why Landmark is pleased to offer a premium business centre in the heart of Farringdon.
JUMP TO
---
Area Information
Farringdon was originally known as the 'Ward of Anketill de Auvergne' until it was renamed in honour of 14th century London Mayor Nicholas de Farndone (sometimes written as Farindone or Farrington). The ward had been in the family for over 80 years, with both Nicholas and his father-in-law William serving as its aldermen. In 1394, the ward was split into two—Farringdon Within and Farringdon Without—to set out where they sat in relation to the London Wall, a defensive structure built by the Romans. Though the wall is no longer standing, Farringdon is still divided like this.
Once a relatively isolated area, Farringdon became a lot livelier from the mid-1700s, as more housing was built, as well as the creation of the world's first underground railway in 1863, which ran between Paddington and Farringdon. The neighbourhood has continued to grow ever since, becoming a much sought-after location for residents and businesses alike.
Moving your company to Farringdon lets you take advantage of great transport links, easily facilitating connections with nearby institutions like City University, and means you can embrace the area's renowned nightlife and cultural offerings.
---
Farringdon Transport
Farringdon Underground station is served by the Circle, Hammersmith & City and Metropolitan lines, which makes it easy to travel around London. These lines also provide direct access to many National Rail stations, such as King's Cross, Liverpool Street and Marylebone. In fact, Farringdon is also a National Rail station itself, transporting passengers on the Thameslink Route to Brighton, Cambridge and Peterborough, as well as Gatwick and Luton Airports.
Once the Crossrail line has been completed, Farringdon is expected to become one of the capital's most convenient transport hubs. This is because it will be the only station serving both the north-south Thameslink and east-west Crossrail services, making it a vital centre-point for cross-London travel. Its position in the Crossrail network, to be known as the Elizabeth line, will enable connections to Canary Wharf, Abbey Wood, Stratford and Shenfield on the east, and Paddington, Heathrow Airport and Reading on the west.
For shorter journeys, the 40, 63 and 341 bus routes pass through Farringdon, in addition to the N63 for late-night journeys.
---
Where to eat in Farringdon
Hix Oyster & Chop House
The first solo restaurant from celebrated British chef Mark Hix opened in 2008, specialising in oysters and succulent meat chops—though there is a vegetarian menu which your plant-based employees are sure to appreciate. The sleek marble bar and simple tiled walls make this one of the best places in Farringdon to enjoy good food in a laid back environment. Hix also offers diners more bang for their buck, with Happy Hour oysters during set times every day, as well as a BYOB-policy on Sunday nights and all day Monday.
View this post on Instagram
Ibérica
This popular tapas chain's menu was devised by Michelin-starred executive chef Nacho Manzano, who will wow you with the cooking knowledge he acquired growing up in the northern Asturias mountains. Made from the finest Spanish ingredients, Ibérica's traditional classics and innovative dishes are packed with punchy flavours. Highlights include the serrano ham croquettes, a recipe created by Manzano's grandmother, the hake fritters, and the traditional chicken and seafood paellas.
Fox and Anchor
If you're meeting with a client meeting who is planning to stay overnight, consider recommending that they book a room at the boutique Fox and Anchor hotel, where you can join them for a meal before they turn in for the night. This elegant hidden gem is both traditional and stylish, and its chefs are committed to using only the finest British ingredients. Though best known for their exquisite Sunday roasts, the "Fox City Boy breakfast" is another of the establishment's specialities—a full English with calf's liver, flat iron steak, lamb kidney and a pint of Guinness. For something simpler, try one of the Fox and Anchor's artisan sandwiches or delicious steaks.
---
Where to drink in Farringdon
The Piano Works
The Piano Works will be your team's favourite Friday night bar in no time. This Victorian-era listed warehouse hosts two pianists and accompanying musicians, who only play audience song requests, so everyone can dance to their favourite tunes all night long. Sip on musically-themed cocktails like the fruity Don't Stop Me Now and the bitter Teenage Dirtbag, or try a specialist G&T—Gini Hendrix, anyone?
View this post on Instagram
Vinoteca
Vinoteca is the ultimate place to go for quality wine and perfectly paired dishes, with five branches currently across London. In fact, the very first Vinoteca was opened in Farringdon in 2005, making it the best place to experience the brand's extraordinary character. Choose from their award-winning wine list of over 200 varieties, and gorge on the daily-changing menu inspired by British and European cuisine. There is also a wine shop on-site for those who fancy taking a bottle home, while the intimate private dining room provides a more exclusive setting, perfect for important meetings over a meal.
Bounce
Team bonding is always most effective when an activity is involved, so why not take your workforce out for a few games of ping pong over a drink? Bounce Farringdon is a sleek and modern bar where ping pong parties are all the rage—celebrities like Elle Macpherson and Gwyneth Paltrow have even stopped by for a game. The venue also hosts bottomless brunches, broadcasts sports events, and is available for private hire, which may be worth considering if you want to host anything from a fun-filled birthday celebration to a trendy product launch or networking event.
---
What to do in Farringdon
Mail Rail at The Postal Museum
Farringdon is home to The Postal Museum, where the main attraction is undoubtedly the Mail Rail. From 1927 to 2003, post was transported beneath the streets of London via an underground railway, and you can see all of the original tunnels and station platforms from aboard a miniature train. This theatrical experience is an amazing insight into a fascinating part of London's history.
View this post on Instagram
London Metropolitan Archives
The London Metropolitan Archives is the UK's largest county record office, home to an interesting selection of documents, pictures, books, films and more about the city. With collections tracking London's history from 1067 to the present, the site is an easy way to broaden your knowledge on the capital and its people, and it's free to visit.
Smithfield Market
Last but not least is Smithfield Market, perhaps Farringdon's most popular attraction, which has run for over 800 years. This wholesale meat market is the largest in the UK and the biggest of its kind in Europe, primarily selling cut and boxed meat and poultry, with organic and halal also available. Smithfield is open from 2-8pm every weekday, but to really get a feel for the place, head over before work for the 7am tour.
---
Guides to other London areas
Check out our list of guides to London neighbourhoods below:
King's Cross Farringdon Marylebone Liverpool Street Greenwich Mayfair Fenchurch Street Euston Chancery Lane Canary Wharf Bank and Monument Barbican Aldgate Victoria
---
Contact Landmark today and find out why our Farringdon business centre could be the perfect place to base your business.