Landmark's Guide to Fenchurch Street
3rd January 2019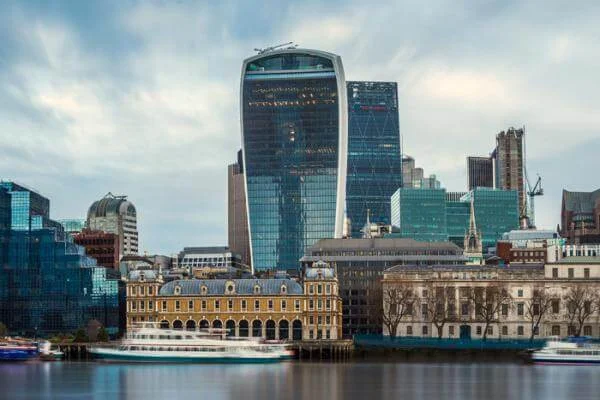 Situated in the heart of the capital's financial district, Fenchurch Street has been a London business hub for centuries. Our premium business centre on Fenchurch Street offers a vast variety of workspaces, from serviced offices to coworking areas and, just like the area itself, is sure to offer something for your business.
JUMP TO
---
Area Information
Fenchurch Street is a major financial artery for the entire City of London. However, the origins of the area extend back to Roman times, and many of the buildings on Fenchurch Street are listed for their historical significance. These include the Lloyd's Register, which was constructed around Roman ruins, and features a 1901 facade constructed by Victorian architect Thomas Edward Collcutt.
Sadly, many of the most notable landmarks on Fenchurch Street are no longer there, marked by blue plaques in memory of their destruction during the Great Fire Of London. In recent decades, modern constructions, more readily associated with the business sector, have been erected in the area. The most notable, and controversial, of these is the looming 20 Fenchurch Street. Colloquially known as "the Walkie-Talkie", owing to its unique design, the 35-storey skyscraper is home to a number of major insurance and financial capital firms, including Markel Corporation and Liberty Mutual.
The Landmark business centre on Fenchurch Street puts your company, and its staff, right at the core of London's banking district. Setting up alongside the biggest brokers in the capital gives you access to the best and brightest talent the City has to offer, and its proximity to Tech City makes it equally appealing for startups.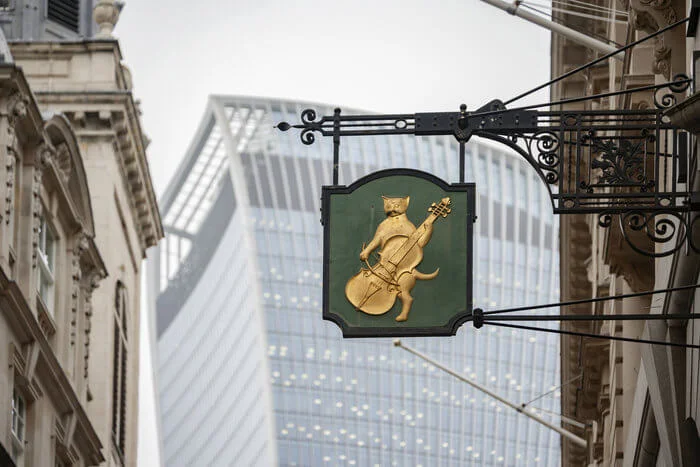 ---
Fenchurch Street Transport
Fenchurch Street may not be directly connected to the London Underground system, but that doesn't mean you'll be left struggling to make it to and from the office each day. Fenchurch Street station has excellent links towards East London, Essex and Kent, making it ideal for any clients on the south east coast to reach your office for meetings.
However, beyond the rail services, there are a number of nearby tube stations. Tower Hill, Aldgate and Monument are each just a short walk away, giving you access to the District, Circle, Metropolitan, and Hammersmith and City lines. These take passengers across most of the main stations in London, including Liverpool Street, Kings Cross St. Pancras and Victoria, providing changeovers to most other Underground lines and trains to the rest of the country.
---
Where to eat near Fenchurch Street
Our Fenchurch Street business centre offers yet more impressive workspaces right in the heart of London. With excellent transport links, a comfortable setting and state-of-the-art facilities, our business centre plenty to offer your business, and with plenty of eateries in the immediate vicinity, your stomachs will be left satisfied too. Here are some of our favourites:
Fenchurch
The menu at Fenchurch is as prestigious as its location. A rooftop restaurant located in a glass dome atop 20 Fenchurch Street, Fenchurch offers unparalleled views of the entire City. The restaurant is open for lunch from 11.45am to 2.45pm all week, serving up two- and three-course set menus at £34.50 and £39.50 respectively.
The restaurant specialises in seafood, with menu highlights being the roast pollock with leeks, celery, mussels and samphire and the confit salmon with peas, pickled gherkin and seaweed. Again, the prices might make a trip to Fenchurch slightly indulgent for your everyday lunch, but as a location to impress your clients, it provides a tremendous local option.
Cheese At Leadenhall
Despite lending its iconic exterior to the fictional Diagon Alley in the Harry Potter films, Leadenhall Market is still something of a hidden gem. Built in the early 15th century, the market represents the perfect spot for lunch, after-work shopping, or even entertaining clients.
Cheese At Leadenhall is a restaurant and cheesemonger, open from 9am to 8pm during weekdays. They specialise in global cheeses of all kinds, as well as charcuterie platters, and an impressive wine collection. They also offer group cheese and wine tasting events, which are ideal for rewarding your staff with an unforgettable night out.
SUSHISAMBA
A Japanese-Brazilian-Peruvian fusion restaurant? What's not to like? Located on the 38th-floor of Heron Tower, SUSHISAMBA offers tremendous views stretching of the whole of London, but the impressive sights aren't limited to what's outside the window. The colours and creations on every plate served at SUSHISAMBA are as visually stunning as they are delicious.
Dishes range from sea bass tempura to scallop with mandarin leche de tigre, pickled mandarin and shiso. However, it's the famous samba rolls that steal the show—think of it as sushi with a twist. These are Japanese classics, skillfully blended with aspects of South American cuisine. Big plates range from £15 to £45, but a trip to SUSHISAMBA is well worth it, either for a unique night out after work or if you have a meeting with a client over lunch.
View this post on Instagram
---
Where to drink near Fenchurch Street
Fenchurch Street has no shortage of highly-regarded drinking establishments where you can take clients to talk business, or let off some steam with staff. From traditional London boozers to new, upscale bars, there's something for everyone in the area just minutes from our Fenchurch Street serviced offices.
The Three Lords
Located on The Minories, The Three Lords is a far more affordable and earthy choice for lunch than the previous option. The menu is no less interesting though, combining a fine selection of craft beer with a menu inspired by the cuisines of China, Japan, Thailand, Singapore, and Malaysia.
The pub, dating back to 1746, is named after the final three noblemen to be beheaded in Britain and offers a comfortable, unassuming spot for a bite of lunch. Lunch is served from 11.30am to 3.30pm, and dishes range from prawn katsu curry (£7.95) to Red Curry Tofu (£5.95).
Willy's Wine Bar
A quick walk from our Fenchurch Street business centre, Willy's Wine Bar is a City wine bar in the most traditional sense. Boasting an expansive cellar and "probably the best fish and chips in London"—with the two apparently pairing up extremely well—the basement bar has long been a fixture of the area's after work scene.
The bar also offers group bookings,making it a perfect location for Friday drinks, or your staff Christmas party. The range of wines are also extremely reasonably priced by the standards of the Square Mile, with bottle starting from as little as £22.
East India Arms
Taking its name from the former headquarters of the British East India Trading Company which was situated next door, the East India Arms has been a Fenchurch Street fixture since the 1830s. The historic building may offer little in the way of comfortable seating, aside from a few bar stools, but its traditional layout has made it one of The City's most popular pubs.
Decorated with vintage furniture and old photographs of the area, the East India Arms serves a wide range of ales and beers, and is often littered with drinkers from lunchtime onwards. Be warned though—the pub doesn't serve food, so be sure to line your stomach before heading here from the office.
---
What to do near Fenchurch Street
Fenchurch Street is a thriving hub of corporate headquarters and offices but beyond the area's prominent business interests, there are plenty of points of cultural interest to discover too. If you're looking for a lunchtime walk, or something to do after close of play, here are a few of our personal favourites.
Take in London's best Victorian Gothic architecture
When you're working in the City every day where skyscrapers loom large over the landscape, it can be easy to forget that the nearby area is an architectural treasure trove. Just two minutes from our shining modern business centre on Fenchurch Street, you'll find what might be the strangest, example of London's Victorian Gothic architecture: 33-35 Eastcheap.
This eye-catching building is the work of Robert Lewis Roumieu, who originally designed the space as a vinegar warehouse back in 1868. Now seen as a masterpiece, one architectural critic originally described Roumieu's masterpiece as "truly demonic, an Edgar Allan Poe of a building".
…and then move on to postmodern Gothic architecture
If interesting architecture is your thing, you're in luck. The postmodern Gothic development at Minster Court has as many admirers and detractors. We can't promise you that you'll like it, but it is well worth the visit so you can make up your own mind.
Minster Court was built in 1991 by GMW Partnership, aimed to imbue a modern construction with the characteristics of the City's historic landmarks. The site has even lent its distinctive features to the film 101 Dalmatians, for which it was chosen to be Cruella De Vil's headquarters. This probably tells you everything you need to know about Minster Court's sinister aesthetic.
Relax at Trinity Square Gardens
Although the City is a great place to work, sometimes the urban surroundings leave you longing for a little bit of greenery, or somewhere to sit back and enjoy your lunch in relative peace. Fortunately, there are plenty of beautiful spots in the area. You just have to know where to look.
Trinity Square Gardens, ringed with important buildings and ruins of the wall enclosing the Roman settlement of Londinium, is one such space. However, its history is far from peaceful, since the area was once home to the Tower Hill scaffold, one of the capital's main execution sites. After closing in 1747, the area was converted into gardens fifty years later, and remains open to the public to this day.
---
Guides to other London areas
Check out our list of guides to London neighbourhoods below:
King's Cross Farringdon Marylebone Liverpool Street Greenwich Mayfair Fenchurch Street Euston Chancery Lane Canary Wharf Bank and Monument Barbican Aldgate Victoria
---
Contact Landmark today to discuss establishing your business in our Fenchurch Street offices.