Landmark's Guide to Fitzrovia
18th February 2020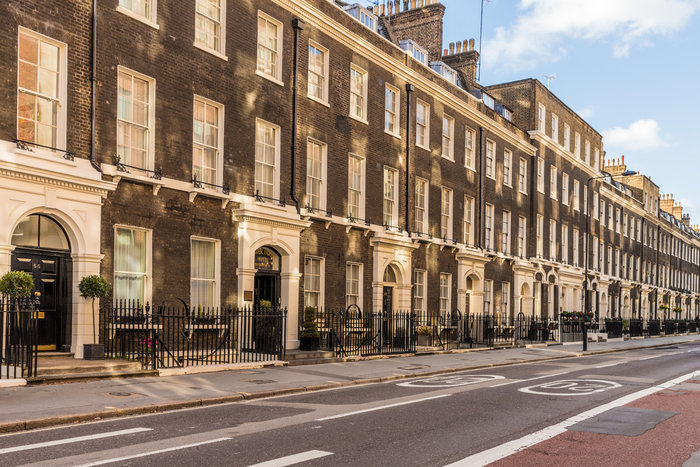 The small yet remarkable district of Fitzrovia is nestled in between Marylebone and Bloomsbury, with Oxford Street to the south and Euston Road to the north. Despite its modest size, the area has a storied history and is bursting with bars, restaurants and iconic sights, while its central London location makes it an ideal breeding ground for innovation. Our two premium business centres in the heart of Fitzrovia are perfectly placed for both long-running companies and startups alike.
JUMP TO
---
Area Information
Fitzrovia didn't get its name until the 1930s, which was supposedly taken from the Fitzroy Tavern on Charlotte Street where writers including George Orwell, Quentin Crisp and Dylan Thomas were regular patrons. The pub itself took its name from Charles FitzRoy who led the area's development in the mid-18th century by building Fitzroy Square and the property around it. Intended as residences for aristocratic families, these houses became workshops, studios and rooms-to-let when the wealthy moved to more upmarket areas like Belgravia and Mayfair.
Fitzrovia is now a hotbed for companies in the advertising, film, and media industries in particular, who started flooding into the area in the 1970s and 1990s. One of the most recognisable businesses in the area today is BT, whose iconic Tower is rightly considered one of the region's most famous landmarks. This influx of businesses has also created a thriving nightlife scene, offering a more laid back and sophisticated alternative to the thrum of nearby Soho. Meanwhile some of London's best restaurateurs have flocked to the area too. Fitzrovia's central location also makes it a popular residential spot for wealthy professionals.
Here at Landmark, we provide premium office space in two Fitzrovia locations. Relocating your business here offers you access to one of London's most vibrant business locations, giving you ample networking opportunities, and letting your staff immerse themselves in Fitzrovia's first-rate nightlife and cultural scene.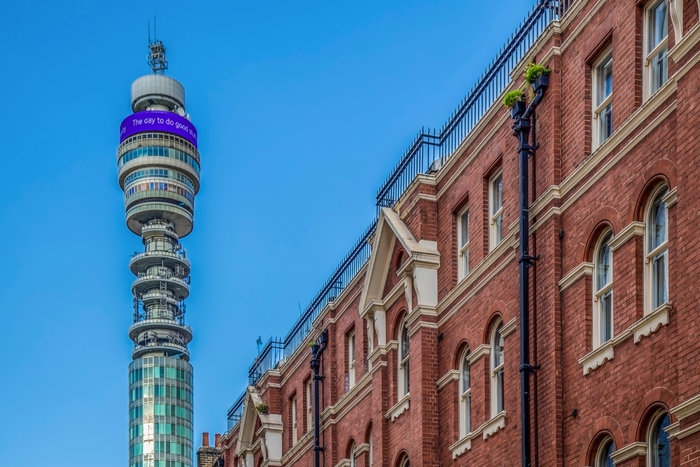 ---
Fitzrovia Transport
Fitzrovia is incredibly well-connected, and you'll find three underground stations in the area—Tottenham Court Road, Warren Street and Goodge Street. These service the Central, Northern and Victoria lines, so getting around the city is simple. Popular London districts like Soho, Oxford Street and Marylebone are all within walking distance, while it's also easy to reach other parts of the UK and even Europe, with Kings Cross St Pancras and Euston railway stations just a short distance away from Fitzrovia.
---
Where to eat in Fitzrovia
The Restaurant at Sanderson
Sanderson London is one of the city's most prestigious hotels and the food served there is certainly in keeping with its reputation. Its menu is full of mouthwatering modern continental food, including sea bream, venison haunch, and lamb shank, while desserts like the Braeburn apple tart and the pear crème brûlée are sure to hit the spot. Don't leave without sampling the signature Sanderson cocktail, either, made from Beefeater gin, lychee juice, melon liqueur, lime and Aperol.
View this post on Instagram
ROKA Charlotte Street
Located just around the corner from our Alfred Place business centre, ROKA Charlotte Street is a popular Japanese restaurant brimming with personality. Characterised by its rustic, chic-looking dining room and centrepiece robata grill kitchen, the eatery opens its glass walls on to the street in the summer to create an al fresco-like atmosphere. ROKA serves up a sizable selection of fresh fish, chicken and beef dishes—though it does now have vegan and gluten-free menus—and is ideal for group meetings thanks to its sumptuous sharing plates.
Berners Tavern
This swanky restaurant will wow you from the moment you enter, with its high ceilings, eye-catching central chandelier and spectacular paintings. Located in Ian Schrager's London Edition Hotel, Berners Tavern the brainchild of acclaimed restaurateur Jason Atherton, and specialises in British and European fare with an eclectic range of options. We'd recommend the Jerusalem artichoke soup starter, the Creedy Carver duck breast main, and the deliciously sweet caramel apple éclair to finish.
---
Where to drink in Fitzrovia
Bourne & Hollingsworth Bar
Head to this quirky cocktail bar for a friendly post-work hangout spot. You'll find the Bourne & Hollingsworth Bar in a basement at the bottom of Charlotte Street, and everything from the interior design to the cocktails screams eccentricity. The venue features flamboyant hand-painted wallpaper, antique chairs with exotic prints, and wonderful parquet flooring, while a menu highlight is an Earl Grey-infused gin cocktail served in a teacup.
View this post on Instagram
Punch Room
For important client meetings, Punch Room on Berners Street is sure to impress. Located in the luxurious EDITION hotel, this low-lit, high-end bar with wood-panelled walls offers a lavish yet laid back drinking environment, serving expertly-crafted cocktails and upscale beers and wines, including its unmissable House Milk Punch cocktail. With an upbeat disco soundtrack and free popcorn served with drinks, Punch Room is a fun but classy place to dazzle prospective business partners.
Nordic Bar
What better way to bond with colleagues than by going out to play ping pong and foosball over some drinks? Nordic Bar is situated next door to our Newman Street offices, and mixes a diverse selection of Scandinavian traditions to create action-packed evenings a world away from typical Fitzrovia haunts. Decked out in wooden benches with a distinctly homely vibe, the bar also has a retro arcade, hosts weekly parties, and throws celebrations for Danish, Swedish and Icelandic national days.
---
What to do in Fitzrovia
The Cartoon Museum
Immerse yourself in the UK's illustrious history of illustration by visiting the Cartoon Museum, dedicated to cartoons, caricatures, comic strips and animation from the 1750s to the present day. Established in 2006, the museum is operated by the Cartoon Art Trust, and is home to over 5,000 books and 4,000 comics. Highlights include a caricature by political cartoonist Trog of Queen Elizabeth II pulling a pint at EastEnders' the Queen Vic, and cartoons from the Dandy and the Beano comics.
View this post on Instagram
Dominion Theatre
Head to the Dominion Theatre on Tottenham Court Road after work to be entertained by a brilliant West End theatre production. Opened in 1929, the Grade II listed building is best known as the home of Queen musical We Will Rock You from 2002 to 2014, and has more recently hosted Meatloaf's Bat Out of Hell and Dreamworks' The Prince of Egypt.
Grant Museum of Zoology
Found by Warren Street station, the Grant Museum of Zoology is one of the UK's oldest museums, exhibiting 68,000 animal skeletons, including extinct species like dodos and quaggas. Located inside the UCL Rockefeller Building, it's actually quite a small museum, so you'll have more than enough time to see everything during your lunch break.
---
Guides to other London areas
Check out our list of guides to London neighbourhoods below:
King's Cross Farringdon Marylebone Liverpool Street Greenwich Mayfair Fenchurch Street Euston Chancery Lane Canary Wharf Bank and Monument Barbican Aldgate Victoria
---
Contact Landmark today and find out why our business centres in Fitzrovia could be the perfect place to base your business.