Why coffee shops are inspiring modern offices
4th March 2019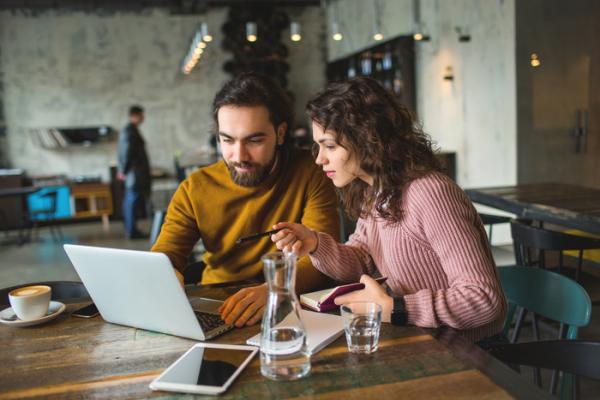 Do you remember the other customers you encountered during your last Starbucks run? In addition to becoming social hubs over the last 25 years, coffee shops are now a hotbed for serious business activity. As well as friendly chit chat, it's just as likely you were within earshot of an important meeting or critical Skype session.
So-called "cappuccino commerce" is popular with employees across all industries thanks to the promise of free wi-fi, a flexible working environment, and gourmet coffee that's far more appetising than the freeze-dried instant available in the office. What's more, advances in technology mean that workers no longer need a dedicated office space to access company software. Thanks to remote network access and cloud storage, businesspeople can get all the data they need, wherever they are.
Many traditional business owners are reluctant to encourage this modern way of working, preferring employees to be based in fixed desk offices. However, this is far more than a millennial lifestyle fad. Here at Landmark, our Club Space business lounges are inspired by the coffee shop working environment, and many companies are attracted to this 'coffice' set-up for the following reasons.
Background noise sparks creativity
Though the average business owner would probably assume that noisy environments stifle productivity, recent findings suggest the opposite is true. In fact, the background noise from a coffee shop has actually been found to stimulate creativity.
A study published in the Journal of Consumer Research discovered that people were able to think most creatively when exposed to noise levels of about 70 decibels. This is about as loud as the background noise of a coffee shop, and those in this environment significantly outperformed participants exposed to both louder and quieter levels. The authors concluded: "Getting into a relatively noisy environment may trigger the brain to think abstractly, and thus generate creative ideas."
An additional study by BRIK showed similar results, and also found that disruption and exposure to conversations within the office space could negatively affect the creative process, due to being drawn to colleagues' conversations. This disruption could also extend to colleagues interrupting each other during working hours, whether by asking for help or for general chit-chat. However, the chatter from strangers in a coffee shop act as ambient noise rather than a distraction, leaving you free to work without constant distractions.
Coffee shops are networking gold mines
Plenty of colleagues get on well, but spending every minute with the same group can prevent employees from making valuable connections outside of the office. On the other hand, who knows who they might meet in a coffee shop? Within the four walls of a cafe, employees could be in the presence of impressive talent across all businesses and industries. And what better way to strike up conversation than offering to buy a cup of joe?
The opportunities for exciting collaborations are endless, especially when you consider that a coffee shop's clientele changes every day. There's also no need for employees to exclusively commit to one location, widening the net even further. They could swap numbers with a top lawyer in Pret a Manger on Monday, then arrange a get-together with an impressive graphic designer they met in Caffè Nero on Wednesday.
Remote working brings millennial job satisfaction
A paper compiled by ManpowerGroup estimated that millennials will make up over a third of the global workforce in 2020, which is why business owners are so keen to retain their millennial workforce.
Embracing the "coffice" environment allows bosses to appeal to this all-important sector of the workforce, giving them the flexibility they find so important. Not only does this allow freedom in terms of their working environment, but remote working also gives millennial employees control over their hours. This prospect will be particularly attractive to those who feel less productive when following the standard 9 to 5 working day, or who have to organise their time around things like childcare.
As well as appeasing millennial staff members and encouraging them to stay put in their role, coffee shop culture is also thought to increase their capabilities. A study by the UK's Advisory, Conciliation, and Arbitration Service suggested that those working remotely are more efficient than colleagues working in an office environment. 91% of HR professionals reported that employees were more engaged and satisfied at work.
Business owners can reduce their office costs
Remote working has the potential to boost job performance, but did you know it could also save businesses a significant amount of money?
Allowing staff to work from coffee shops means that less office space will be required for the workforce. If fewer employees are consistently in the office, employers can think about streamlining the work environment and using the available space in the most cost-effective way possible.
For example, decreasing the number of fixed desks gives businesses an opportunity to relocate to a smaller, cheaper space. Alternatively, bosses could implement a hot-desking policy—a practice conceived based on data suggesting that up to 40% of an office's desk space is left unused. This could go some way to reducing overall office costs.
The downside of cappuccino commerce
Despite the many benefits, there are also several problems with coffee shop working practices.
A busy, noisy environment is not ideal for courting clients, and there are significant security risks in such a public setting. Insecure wi-fi networks may be vulnerable to hackers looking to steal sensitive company data, and anyone could potentially see private business information on your screen. It could also cause tension with the staff at your coffee shop of choice, since they may not like workers occupying spaces that could be filled by other customers. Cappuccino commerce can be costly, too—a 2017 survey by MyVoucherCodes found that employees spend roughly £10 every time they work in a coffee shop.
Luckily there is a way for businesses to cash in on the benefits of this working arrangement while avoiding the negative aspects. Our business lounge club spaces offer the flexibility of coffee shops by giving employees the chance to work in a number of tailored areas (e.g. quiet zones and social areas) across a number of locations. Working alongside different people also provides vital networking opportunities. However, companies can also be confident in matters of digital security and privacy, while enjoying the prestige that comes with a slick and professional office setup. And last but not least, with a Club Space membership, workers can still enjoy Nespresso-style coffee every day.