15 Dog Friendly Serviced Offices in London
30th September 2022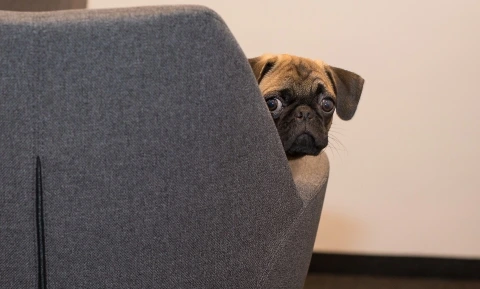 Is Your Landmark Space Turning Dog-Friendly?
Attention canine lovers: from today several Landmark offices are turning dog-friendly. This means your four-pawed friend could be able to join you at work! In this article we run through our revised policy towards pets and explore the benefits of companies having their very own office pet.
Dogs Promote Productivity
During the era of working from home, pets became well-known for crashing video calls and stealing the show. However, numerous studies have suggested that pets can promote productivity in the workplace by lowering stress levels and raising team spirits. In 2019, a study from the University of Lincoln concluded that 'far from being a distraction, (a fear expressed by some in our earlier work) allowing dogs in the workplace has the potential to improve employees' focus and probably productivity too'.
Animals are a great way to lighten the mood and encourage interaction and engagement amongst your team. Playing with dogs and other social pets is known to decrease levels of cortisol (a stress-related hormone), lower blood pressure and produce endorphins – the feel-good hormones – in your body. So, by contributing to a calmer, happier and more collaborative team, pets can promote productivity for your company!
The Workspaces Turning Dog-Friendly
Our sister company, The Space UK, which also offers workspaces across London, has a pet-friendly policy in all eight of its locations from Liverpool Street to Mayfair which we have listed out below. Since it's being going so well there, Landmark is adopting the same policy for our following workspaces:
London offices that are dog friendly:
• 1 Giltspur Street, Farringdon
• 1 King's Cross Bridge, King's Cross
• 111 Park Street, Mayfair
• 15 Alfred Place, Tottenham Court Road
• 30 Newman Street, Fitzrovia
• 4 Devonshire Street, Marylebone
• 69 Old Street
• 41 Old Street
• 14 New Street in Liverpool Street
• 30 Dukes Place – Aldgate
• 235 High Holborn
• 120 Regent Street
• 113 Shoreditch High Street
• 49 Grosvenor Street Mayfair
Regional Offices
• Green Park, Reading
• Luminous House, Milton Keynes
Dogs in the Office: Our Policy
For many, a pet in the office is an instant highlight of the week. However, we know that not everyone is as comfortable with animals, so it is important to respect the interests of all our clients and maintain a positive working experience for all.
We recommend taking some time to consider whether your pet is ready for their job in the big city: are they well-socialised; are they comfortable with new settings; are they okay alone if you need to go to a meeting? How about their behaviour? For example, older dogs who are tame and obedient are more likely to be a better fit than a boisterous pup!
As long as you are mindful of colleagues, have checked with your teams, vetted for allergies, and have prepared for the day with all the treats and supplies you might need, then there shouldn't be a problem bringing your favourite companion to work.
To find out more about bringing your dogs to work, feel free to have a conversation with your workspace manager or you can reach us at enquiries@landmarkspace.co.uk or 0203 440 5000.