Top trends in serviced office space 2023
15th December 2022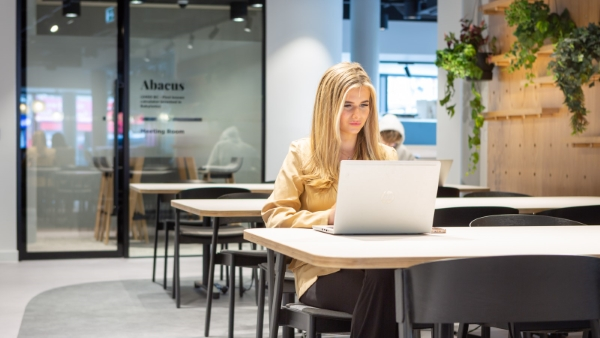 The office in 2023 will be designed to help every business improve productivity, encourage wellbeing, get the most out of hybrid working, hit sustainability targets and win the battle for talent.
These are the drivers of success for business leaders as they go into 2023 against a demanding economic backdrop and difficulties attracting and keeping workers during a skills shortage. They also face increasing demands to be sustainable, increase pay, and, if they haven't already, allow hybrid working (splitting your time between the home and office) or a four-day week.
So, based on those pressures and what our clients tell us, here are our predictions for office trends in 2023.
The flight to quality offices
Multiple surveys in 2022 showed that most office workers would prefer hybrid and remote working. Therefore, businesses keen to attract workers to the office must provide a high-quality, comfortable workspace that better suits modern work patterns.
Landmark has already unveiled some top-notch workspaces created with new ways of working in mind. And we intend to build on that this year. For example, we opened beautiful flexible workspaces in London King's Cross and refurbished Manchester Chancery Place and Birmingham Snow Hill. In February 2023, we're also opening premium serviced offices at Orchard Place in Victoria, London.
Dog-friendly workspaces
A recent survey asked 1,000 people whether dogs in the office were a good idea, and over half (51%) said yes. That's good news if you're at one of our pet-friendly locations – all our buildings at our sister company, The Space UK, and several Landmark buildings allow dogs. Your canine companion can have a 'paws-itive' effect on stress levels – decreasing cortisol and blood pressure for a happier, calmer team. See our dog friendly offices in London and the UK here.
You'll see more biophilic design
We are confident that biophilic design (connecting people's wellbeing to nature through the built environment) will continue to trend in 2023. Incorporating natural elements like plants, wood and light into the workplace proved popular last year because they positively impact workers' moods and show a company's commitment to sustainability. So, you'll see more green plants in our centres and a bold, biophilic approach in our new and refurbished buildings.
Welcome to a home away from home
People spend less time working in one space and typically drop into one of our centres for an hour or so, treating it like a private members' club or a pausing ground before going elsewhere. We believe this 'home away from home' trend will continue into the new year. For comfort, we'll offer more soft seating, making the workspace cosier, more relaxing and more appealing in 2023.
Time to reuse and recycle
Millennials are particularly concerned about the environment and expect businesses to care about it, too. In a survey in 2021, nearly 40% had taken a job because of a company's sustainability activities. Of course, it's in everyone's interest to be sustainable, but it's also a way to attract and retain talent despite the skills shortages. A Scaling up Skills report by the Federation of Small Businesses found that 78% of small firms found it challenging to recruit the right people this year – a trend that seems likely to continue.
We care about the environment and appreciate sustainability's advantages to our clients, which is why we remain focused on it next year. For example, we do not destroy old furnishings when we add new furniture or respond to client requests for bespoke items like sit-stand desks. Instead, we put tables and chairs to good use elsewhere at Landmark or give them to charity.
Expect more collaborative space
Since the return to work, we've all realised the value of in-person collaboration. We're already seeing increased requests from office clients for meeting areas in their workspace or questions about which meeting rooms are best for their needs. We're also experiencing more interest in co-working Club Space membership, which we include when you rent an office or can be purchased separately.
Make room for phone booths
You can expect more telephone booths in our Club Space next year, as well. As hybrid working becomes the norm, many of our existing call boxes are in constant use. However, clients have requested more, and we've listened. Phone booths are the ideal solution to taking or making a phone or video call without being overheard while making the best use of our co-working space. In addition, installing them is another way Landmark supports businesses adjusting to new ways of working.
Reception desks to morph into podiums
In some centres, you might find a podium has replaced the reception desk. We're installing them next year where there's less need for someone to be at a desk all day and giving our teams more opportunity to move around. Although we will not staff the podiums full-time, the team will be close by interacting with you – and, naturally, they'll be there when your guests arrive.
Meeting the needs of multiple decision-makers
The final trend we think will accelerate in 2023 is broader decision-making. This year, we noticed that it's not just the CEO who decides to move. Multiple people at different levels of the business have their say and influence location. That suits Landmark! We accommodate everyone and provide an award-winning service to clients of all types and sizes.