Expanding into the UK: Everything you need to know about UK commercial leasing and rental
17th December 2019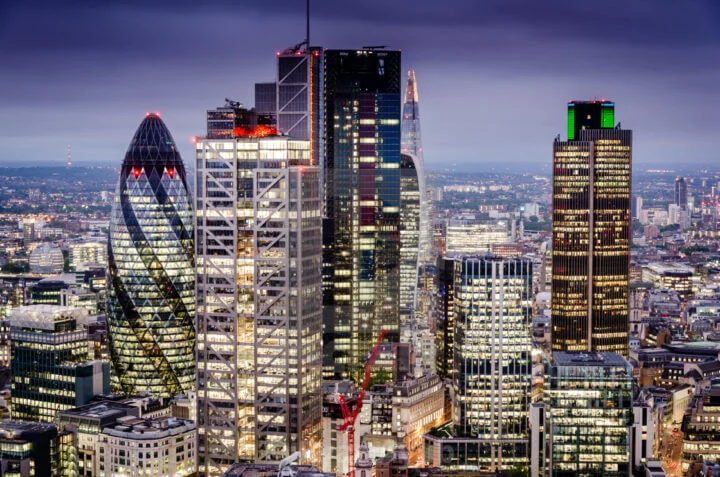 The UK has one of the largest workforces in Europe, the fifth largest economy in the world, one of the lowest corporate tax rates in the G20, and fantastic global transport links. Combine all these factors with the nation's welcoming attitude to new entrepreneurs, and it's hardly surprising you're considering expanding your business in London. And to do so successfully, you need to learn about the UK commercial rental sector to find a solid base for your company.
Though you may be well versed in how leases work in the country you're doing business in, the rules may be different in the UK. The rights of landlords and tenants vary from country to country, and there may be additional costs and considerations you've never needed to deal with before. In fact, a leased office may not be the right decision for your business at all.
Before you make your move to the British capital, keep reading to learn all there is to know about commercial leasing in the UK. With this knowledge under your belt, you'll have no trouble finding the perfect office for your business expansion.
Which type of office do I need?
In a city as vast as London, there are plenty of offices to choose from. However, that doesn't mean the first one you find will be the best fit for your business. It's important to be aware of the different office types available so you can select a space that's cost-effective and in line with your company culture and ambitions.
Serviced Office
A serviced office allows businesses to move in immediately and enjoy maximum flexibility. These properties contain everything your company needs to run effectively like furniture, secure wifi and dedicated spaces for working and socialising. This means that everything is ready to go as soon as you begin your tenancy and your single rental payments conveniently cover all utility bills, taxes and other fees too. Unlike a leased office, serviced offices don't leave you tied to an inflexible contract or require a long-term commitment. You'll never be forced to stay on a premises that doesn't serve your business as you'd hoped, as this office model leaves you free to upscale, downscale or give notice as you see fit.
Managed Office
Managed offices are similar to their serviced counterparts, but the key difference is that these are totally bespoke to your business. You have total control over how you want the space to look and what facilities it has. This creative freedom also means you're able to customise the office so it reflects your brand image, whether that's in terms of the interior design or the furniture. Another distinction is that while you may have to share some serviced office spaces with other companies, managed offices are exclusive to your business. Our private floors can even provide you with a dedicated reception area as well as dedicated IT and facilities support.
Leased Office
If you opt for a leased office, your business will occupy that premises on a long-term basis. This is a good option if you're keen to wholeheartedly commit to a space. However, unlike the previous options, you won't receive any benefits and will have to purchase and transport every item for your office. It's also important to note the difference between leases and licences, as the two often get confused. While commercial leasing in the UK ties you to the property for an extensive period of time, a licence is granted in more flexible arrangements like serviced and managed offices. With a licence, you can end your tenancy at any time in line with the notice period.
What additional costs are associated with leasing office space?
As we've said, renting a serviced or managed office means your regular rent payments encompass all the additional fees you have to pay too. This figure also covers the costs of useful extra services such as security, cleaning and IT support. However, this one-stop arrangement doesn't apply to leased offices, so you'll have to account for the following expenses if this is the type you want.
Business rates: This tax must be paid on buildings that aren't being used for domestic purposes. These are calculated based on the property's "rateable value"—its estimated value on the open market as of 1 April 2015.
Service charge: A landlord charges this to cover the maintenance and upkeep of the building or estate. This accounts for things like repairs, insurance, lighting and heating. The lease will outline what can be charged and how the payments will be organised.
Deposits: Your deposit will typically amount to six to twelve months' rent. This money is supposed to pay for any damages or breaches you're responsible for throughout your tenancy. If no issues occur, the full amount should be returned to you at the end of your lease.
VAT: Most commercial leasing in the UK charges value added tax (VAT) at 20%. However, you can claim this back if you're a VAT-registered enterprise.
Stamp duty: This tax is payable on commercial leases with a net present value (NPV) over £150,000, a figure based on the total rent over the lease's lifetime. This is charged at 1% up to £5 million, while you'll pay 2% for any portion above that.
Utilities, fixtures and fittings: Though everything is already included in a serviced or managed office, you have to buy everything you will need in a leased office. This means desks, chairs, extra lighting, refrigerators, coffee machines and much more will come out of your own pocket.
How long are commercial leases in the UK?
There's no one-size-fits-all approach to leases and each will have its own unique terms, but generally speaking, commercial leases for UK offices begin at roughly five years. Obviously, this length can be daunting—five years is a long time in the business world, so who knows whether this particular office will still be appropriate?
It's possible to take precautions by negotiating a break clause, which enables you or the landlord to end the lease early. This will usually come into effect at a certain point in the lease, like after three years, though some landlords may allow you to terminate the lease at any point. Bear in mind that you'll still have to pay stamp duty regardless of any break clauses.
Alternatively, you may be able to leave early if you can sublease the office to another business instead. Nevertheless, this rigid long-term commitment is why the flexibility of serviced and managed offices are often more attractive during business expansion.
Can I negotiate rental costs?
You may be able to reduce your commercial rental costs by negotiating a rent-free period. This usually occurs at the beginning of the lease as it means you can move in faster, which in turn prevents the landlord from paying business rates any longer. A rent-free period also compensates you for any repairs or maintenance work you may need to do before the building is safe and business-ready. What's more, you may not be able to run your organisation or earn sufficient income while you're preparing the office, so a rent-free period would help you with cash flow during the lease's infancy. It's worth mentioning all of the above to your landlord, as well as the fact that a rent-free period is a great incentive for you to take the lease in the first place.
When are rental payments due?
Commercial leasing in the UK usually requires you to pay your rent on a quarterly basis. These dates are traditionally 25th March, 24th June, 29th September and 25th December, though many landlords prefer to collect rent on the first day of January, April, July and October.
How much office space do I need?
The size of your office is a very important consideration as you don't want to waste money on unused space, but nor do you want to under-measure and force everyone to work in cramped conditions.
The law states that every employee needs a minimum of 40 square feet of workspace, however, this only accounts for a desk. In reality, you should be aiming for 100 square feet per person—which also includes the kitchen, meeting rooms and other facilities. Saying that, it is possible to reduce this without being impractical or unfair to your team. London businesses have an average of 70-80 square feet of office space per person because they are more likely to employ space-saving measures such as reducing storage, implementing hot-desking and encouraging employees to work from home.
Dividing the volume of your office by the number of people working there will indicate whether there's enough room for everyone. The amount of office space also depends on the shape of the premises, as some arrangements may give way to tight areas where desks don't fit, and whether you'll adopt an open plan or cubicle style interior. However, don't be too frugal. It's always better to have more space than you need in preparation for your company's future growth.
Where should I look to rent office space?
Setting up in the capital is a savvy business decision for many reasons including prestige, networking opportunities and travel connections. However, simply being in London isn't the be-all and end-all of a great address. The city is divided into 32 boroughs and choosing the right location requires you to pay close attention to what's around the area. For example, your customer base must be nearby as they'll be more likely to turn to a rival if they're easier to reach. Speaking of which, are your competitors also operating in the region? This is motivational and can allow strategic intercompany partnerships to blossom. And, of course, you need to consider those who live and work in close quarters to your potential office. These people will make up your talent pool, so it's vital you're doing business amongst those with the skills and qualities you want from your future employees.
Of course, expenses still need to be factored into your decision making. London is certainly an attractive proposition, but high property costs mean that not every company can afford to move there. Luckily, the UK is home to a number of other bustling business hubs. Manchester, Liverpool, Edinburgh, Liverpool and Leeds are also cosmopolitan, well-connected cities that make perfect sites for organisational expansion, but at a fraction of the cost of London.