What is a virtual receptionist?
16th March 2020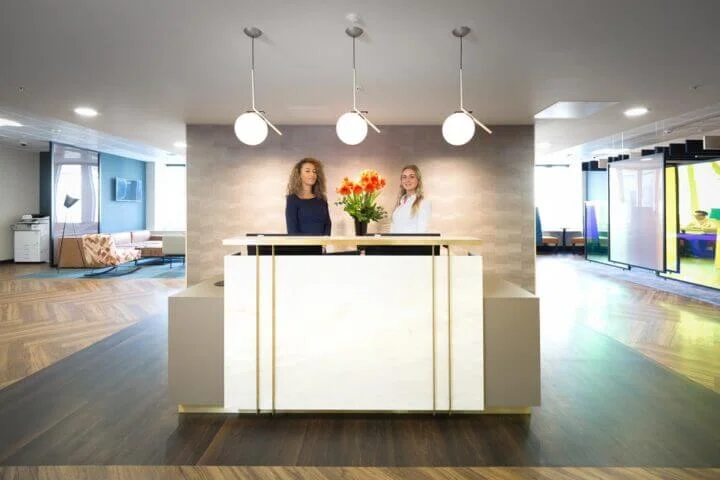 While many businesses rely on their receptionists as the first port of call with customers, clients, and the general public, a large number of companies may not have the resources or physical space to hire one for their office. If your enterprise finds yourself in this position, it doesn't mean your only option is to have rotating members of staff taking up phone and admin duties. Instead, it might be worth outsourcing these duties to a third party, who are known as virtual receptionists.
What does a virtual receptionist do?
Virtual receptionists handle client correspondence on behalf of businesses who do not have their own secretarial staff in-house. They work remotely, handling all phone calls and messaging—including transferring calls to other members of your team—as well as organising your team's calendars, taking orders, and all other basic duties performed by receptionists. Operating from a call centre, a virtual receptionist will be drawn from a trained pool of workers, who will be able to adhere to your business's administrative procedures seamlessly. Most importantly, your customers will be none the wiser that you don't have a receptionist performing these tasks within your office.
What are the benefits of having a virtual receptionist?
As noted above, a virtual receptionist can help your office save both money, space, and time. Rather than hiring a full-time salaried member of staff—who will require a desk, computer, and telephone—virtual receptionists can undertake these duties remotely for a flat monthly charge. And rather than have a single member of staff responsible for taking care of all of these tasks, you will have access to a team of experienced virtual receptionists, who can answer phones at any time of the day. This helps you ensure that not a single call will be missed, nor a calendar left unorganised, making your day-to-day business operations far more streamlined and effective, in a way that is better for your bottom line.
Hiring a virtual receptionist also means that your clients will be able to get in contact with your business around the clock, regardless of office hours, which is ideal for any companies with an international customer base. This means that you will have all out-of-hours correspondence ready and waiting for you when you return to the office the following morning.
How much does a virtual receptionist cost?
Virtual receptionists are far more affordable (and dependable) than traditional receptionists, particularly at early stages of a business's life. This is why we offer them as part of our virtual office package, which also provides you with a prestigious mail forwarding address. Our around-the-clock call answering and forwarding services start at £55pcm each, plus VAT, while we also offer membership to our club space business lounges. This provides a fully-equipped base for any business person on the move looking for somewhere familiar to work for a day.
Get in touch with us today for more information about our virtual office packages and to learn how a virtual receptionist might be the best thing for your business.