Reading Green Park Area Guide
20th September 2022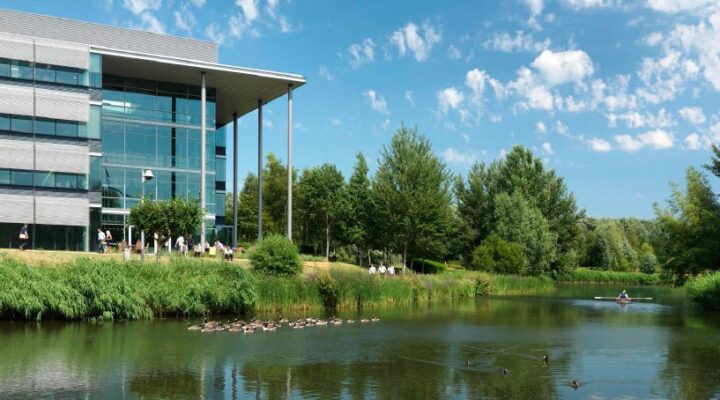 In 1999 when Green Park opened in Reading, organisations immediately grasped the location's connectivity benefits. Being minutes from junction 11 of the M4 meant businesses could be fast on the road to major hubs like London Heathrow. Future-focused occupiers also recognised the park's advantages as a natural haven of wellbeing to reduce stress and enhance productivity. Landmark Reading in Green Park is embedded in the people-centric community, helping businesses of all sizes to create rewarding employee experiences in the uncompromisingly high-quality workspace. Our offices and meeting rooms beside Longwater Lake provide plenty of free parking for employees and visitors.
Green Park Business Park Area Information
Reading is a large university town in Berkshire three miles from the 195-acre business park that lies south of the town. The area is Reading's fastest-developing hotspot, home to extensive housing schemes such as Green Park Village and a new railway station is due to open soon.
It's taken 20 years to develop low-lying farmland into the business park's sustainable and biodiverse parkland of today. The central lake was made to alleviate flooding from the River Kennet and supports a variety of natural habitats for birds, fish, insects and other wildlife. It's a beautiful spot for walking, running or fishing, adding the opportunity for balance amidst the work schedule.
Reading's chief attribute has always been its strategic position outside London, with river and road routes allowing accessible trade with the capital and the West. Wool and cloth were the town's mainstay trades from medieval times until the 17th and 18th centuries, when brick and tile making took over.
By the 19th century, Reading had become synonymous with Beer, Bulbs, and Biscuits – an allusion to its leading employers: Simonds Brewery, Suttons Seeds, and Huntley & Palmers. A few years after the opening of the M4 in 1971, Suttons and Huntley & Palmers closed, and Simonds moved out.
Their departure left room for service firms to move in, creating an IT and technology hub and making Reading a leading player in the Thames Valley – also known as the UK's Silicon Valley. Green Park is not a tech park. However, because Cisco Systems was one of the earliest international occupiers, other technology-based corporations followed.
Green Park is now home to more than 60 businesses covering various sectors, including Virgin Media, Hutchison 3G UK, Bayer, Pierre Fabre Pharmaceuticals, PepsiCo, and small to medium-sized companies.
Reading Green Park Transport
Landmark Reading at Green Park's location is mainly why local, multinational and international firms have flocked to the area. It offers excellent access by road, rail and bus, from Reading to places like Basingstoke nearby and further afield.
Green Park's proximity to junction 11 of the M4 is epitomised by the giant wind turbine that marks its location and is easily visible from the road. From here, it's a short drive along the A33 before you get on the motorway, reaching Heathrow in less than an hour.
Reading's mainline station is only eight minutes away by a regular shuttle bus from the park. But once Green Park Train Station is built (it's due to open soon), you'll be able to reach the centre of town in six minutes and Basingstoke in 20.
Reading Station is the second busiest interchange station outside London, offering routes to London Paddington, Bristol, Manchester and Birmingham. When the final stage of the Elizabeth Line is complete, you can travel east through new central London stations to Abbey Wood without changing at Paddington.
You can also get around the park for free on Greenwave buses.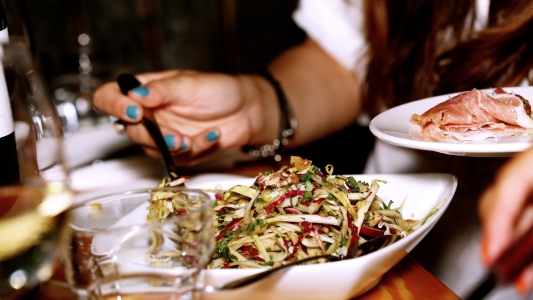 Green Park offers plenty of dining choices, whether you're craving an early morning latte, taking a client to lunch or celebrating a new joiner with an after-work drink. If you want to sample the eateries in central Reading, you can reach the town in 10 minutes.
Café Perk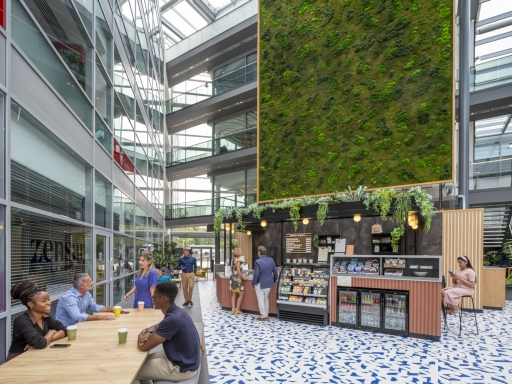 The nearest café to Landmark Green Park is Café Perk. Turn left on Brook Drive, and you'll find this new eatery and deli, which offers breakfast, lunch and snacks in a light, bright setting.
Byte Café
Combine breakfast or lunch with a stroll across to Byte Café on the other side of Longwater Lake, behind our workspace. It's recently been renovated and is open from 8am until 5pm each working day.
WOLF Italian Street Food
Lime Square is a communal point in Green Park within a few minutes of Landmark's offices and meeting rooms. Choose from an inspirational pizza, pasta, and salad menu from 10am to 3pm daily. Or order a platter for a business lunch delivery at Landmark the following day.
Costa Coffee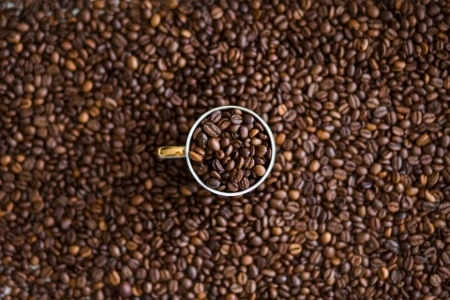 Desperate for a hot chocolate, cappuccino or flat white? Our team can direct you to a shortcut to the Costa Coffee in Reading Gate Retail Park, a 10-minute walk from the centre. It's open until 7pm and offers delivery and a click-and-collect service.
Fidget & Bob
For five-star lunches Wednesday to Friday, Fidget & Bob on nearby Kennet Island is a 16-minute walk from the park or a 4-minute drive. The café has limited seating outside but a considerable choice to take away. Try the breakfast wraps, apple cake, brownies, speciality teas, and coffee. You can always bring your take-aways back to Landmark, and make use of the appliances in the kitchen spaces.
Most people go to the Voco Reading Hotel on the edge of the stadium for business meetings at the bar after work, as it is within easy walking distance. The stadium is also home to The Jazz Café, where you can drink and enjoy live music (not just jazz).
The Atrium Bar, Voco Reading Hotel
For a celebratory cocktail after work with employees and clients or to unwind, the informal Atrium Bar in the Voco Reading Hotel is popular with Green Park people. There's also a dining menu with tasty options if you start to feel peckish.
The Jazz Café
Jazz, yes, but soul, funk, Motown, and RnB live bands are among the line-up at this crowd-pleasing music bar and corporate event venue at the Select Car Leasing Stadium (formerly Madejski Stadium and home to Reading FC). It also serves food and a Grab & Go Lunch on weekdays.
Green Park's owner, Mapletree, ensures plenty to do in Green Park, with much of it outside, as you'd expect. With 450 events hosted annually, there's a strong sense of community. Reading Gate Retail Park is handy outside the park for anything from batteries to a new shirt if you don't want to head into town. The retail park accommodates big UK brands like B&Q, TK Maxx, Currys and Smyths Toys. Here are more of our favourite things to do.
Nature walks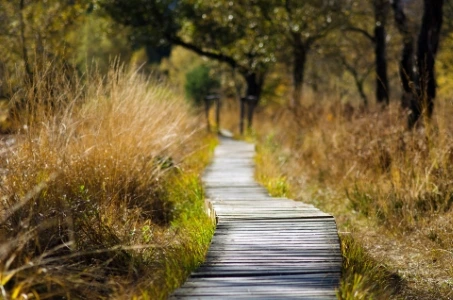 There's nothing better for clearing the head and brainstorming ideas than a walk in the park. We sometimes like to connect to nature on guided lunchtime wildlife trails or wait until the evening for a bat walk-and-talk.
Green Park 10K
Every year, employees in the park (including Landmark's) enter sporting events such as the Green Park Triathlon. The Reading Half Marathon starts here and finishes at Select Car Leasing Stadium.
Boot Camp
Want to keep firing on all cylinders? The park's Boot Camp sessions on Wednesdays and Fridays keep you fit and energy levels high, with hour-long classes for beginners to advanced fitness enthusiasts. Our favourites are circuits and boxercise.
Street Food Festivals
Fancy shaking up your lunchtime menu? No one in the park wants to miss these popular two-hour events in Lime Square, particularly in the summer. Food trucks offering such delights as German bratwurst and pancakes line up to provide different cuisines you can eat in the square or take back to the office. See you there!