National Apprenticeship Week: Advice form one apprentice to another
3rd February 2020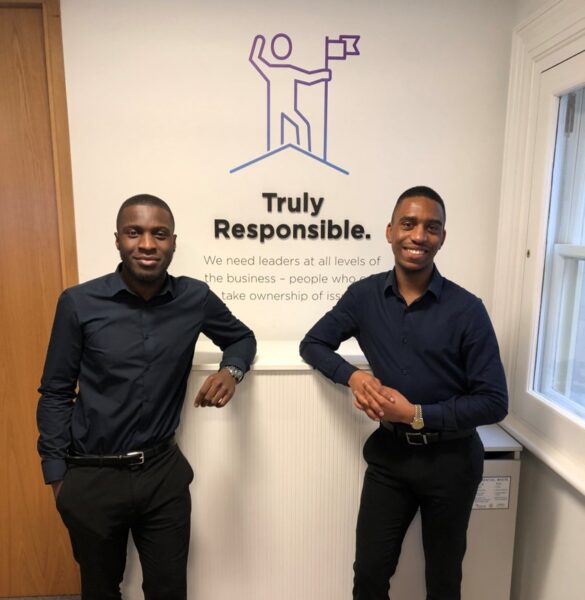 Landmark is a proud supporter of Apprenticeship Programmes provided by LDN Apprenticeships.
Daniel Nwakanma is currently on his Level 4 Network Infrastructure Apprenticeship. The course is 18 months long and once completed he will be accredited by the BSC, British Institute for IT. By the end of his apprenticeship he will be a full-time Systems and Infrastructure Engineer. In addition to his 4 professional vendor certifications from Level 3, he will also take on an additional 3 advanced level vendor certifications. Daniel is due to graduate in July 2020.
Chris Etonde Koyo has just embarked on the Level 3 IT, Software, Web and Telecoms Professionals Apprenticeship. At the end of his course in 13 months' time, Chris will have earned 4 professional vendor certifications and will have the option of either going full-time or completing his level 4 course. At the end of his course he will be qualified as a Infrastructure Technician with an option to progress to a Level 4 Network Engineer. Chris is due to graduate in February 2021.
In honour of National Apprenticeship Week we've asked Chris, who is just starting out on his course, to ask Daniel, who is coming to the end of his, what advice he has to get the most out of his apprenticeship and what it's like working at Landmark whilst studying.
—
CHRIS: What is the best advice you would give to ensure I get the best out of my apprenticeship?
DANIEL: Be confident in yourself! When I first started my apprenticeship with Landmark, like yourself it was my first proper IT support job.  It is easy to put pressure on yourself into thinking you must be perfect, don't! Embrace your mistakes and make sure you learn from failures, then next time you will be better prepared.
CHRIS: What did Landmark teach you and how did they support you on your journey?                         
DANIEL: Being with Landmark for over 2 and a half years has taught me a lot, but what I appreciate the most is living and breathing our company values.
Be Proudly Professional and people will gain confidence in your support skills.
Always be Genuinely Hospitable and colleagues will be the same.
Remain Uncommonly Decent and it will feel more like a hobby than a job.
Be Truly Responsible and you will be given more autonomy.
And last but not least, always Embrace the Best because that's what we are at Landmark!
CHRIS: What has been the best part of your apprenticeship?                                                                   
DANIEL: It would be being able to gain professional qualification to further our career provided by our apprenticeship provider for free. That's more for yourself to enjoy and nothing on student loans 😊
CHRIS: What is the rest of the Landmark technology team like?                                                             
DANIEL: The tech team at Landmark are the best! We will guide you along your journey and help you grow as a professional and person.
You can always approach Andrew Hepburn (Service Delivery Manager) and Luke Andrews (Head of Technical Operations) and feel confident that you will receive the best advice.
CHRIS: Has this apprenticeship broadened opportunities for you career wise?                             
DANIEL: When I first started, I had no idea where exactly I wanted to go in the constantly evolving and fast-paced world of technology. I found I developed an interest in networking and therefore focused my studies to gain networking qualifications.
Two and a half years later, I was promoted to Landmark's System and Infrastructure engineer. If I can do it, so can you!
CHRIS: How were you able to keep up with your apprenticeship studies whilst working full-time?
DANIEL: On the level 3 course you are given a half day every Wednesday to study at our apprenticeship company's head office in Stockwell and another half a day to study at work. It's definitely manageable if you work hard at both. Landmark is a great place to learn and work as we deal with a wide range of technology – you couldn't be doing this at a better place. But most importantly, enjoy yourself as you are now a part of the Landmark family! 😊