Office interiors your employees won't be able to resist – The Space
24th August 2023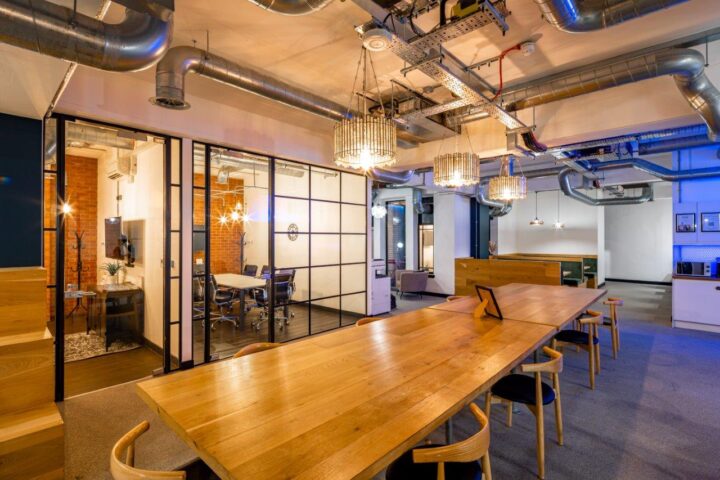 Office interiors are evolving to meet changing workplace patterns. Our sister company, The Space, is at the forefront of this trend with bold, creative interiors at our buildings that meet the flexible needs and expectations of business leaders, employees and organisations.
A new world of work led by hybrid working has redefined how we use the workplace. As many organisations now allow employees to divide their time between home and the office, the need for flexible, productive and comfortable work environments has increased.
We look at why interiors matter through the lens of recent design trends. Discover how the interior designs in our buildings are more than functional spaces – they are adaptable and inspirational, motivating employees, tempting new joiners and helping organisations address talent shortages.
To attract Gen Z and Young Millennials, companies need to provide 'high-functioning workspaces', says Oktra's Future Workplace Report 2023. It revealed that the design of an office would influence the decision of 66% of young office workers in accepting a job.
Activity-based workspaces
The goal of activity-based workspaces is to give people a choice of workspace that best suits them when they are in the office but no longer have an allocated desk. Whether you're working alone or in groups, our work-rest-play interiors at The Space in Liverpool Street get the balance right and foster fluidity between areas.
According to a flexible and hybrid working report by the CIPD, 44% of organisations seek more collaborative space. Liverpool Street's velvet-plush modern lounge area is a prime example of a productive and efficient blend of spaces where you can relax and chat, work at a desk or collaborate at a table – whatever you prefer.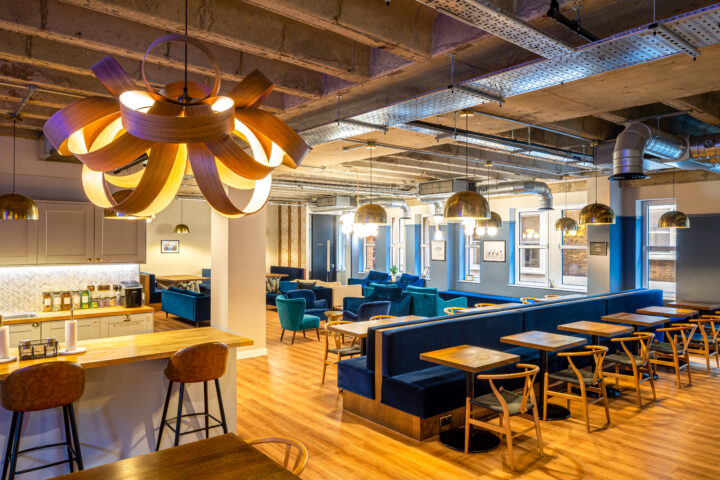 Tailored office layouts
The Space leases entire buildings in London to maintain unique control and flexibility over every feature. It means you can customise your office layout and create space that works for you.
As well as providing a practical desk and ergonomic chair, the interior design includes more open space than a traditional office and contemporary home-from-home comforts that reflect the 'resimercial' trend to mix comfort and commercial space.
Thriving biophilic design
At Landmark and The Space, biophilia has long been a central pillar of interior design in our buildings. A trend report from Clerkenwell Design Week predicts biophilic design (re-establishing our links with nature) will continue to flourish this year because of its many proven benefits, such as enhancing employee wellbeing and improving performance.
Our creative designers take inspiration from colours in the countryside, such as greens and browns, and natural materials like wood. You can see the calming effects of these choices at all our locations. We also make the most of natural light and fresh air, like the relaxing roof terraces at The Space 69 Old Street and Shoreditch.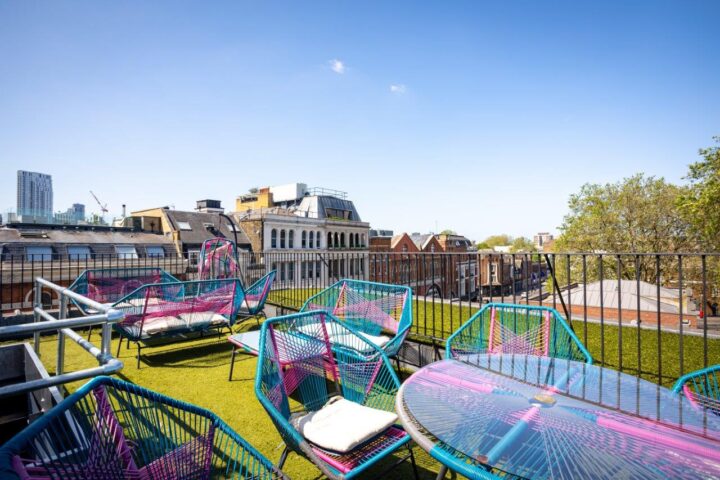 Loft contemporary vs urban maximalism
If you're looking for space that motivates your team, a maximalist design like this patterned, brightly coloured area in our Shoreditch building, below, will undoubtedly get them talking.
The maximalism trend will continue to shape commercial interiors in 2023. However, interestingly, in a recent Landmark/Space Instagram poll, 100% preferred our sleek, loft contemporary style décor in Regent Street to maximalism's 'more is more' mentality. What's your view?
Feature-focused vs industrial chic
When business leaders look for flexible office space, they need interiors that are fit for purpose and align with their organisation's brand identity and culture. In our Insta survey, 60% preferred industrial chic, while 40% liked our feature-focused office interiors.
Industrial chic, with its high ceilings, exposed bricks, pipes and ducts, and vintage style looks, has a lack-of-fuss appeal that suits open spaces like The Space at Holborn – perfect for brands seeking an edgy aesthetic. Meanwhile, the feature-focused design at Mayfair includes elements like a radio, deep colours and a comfortable chair that create a more intimate image.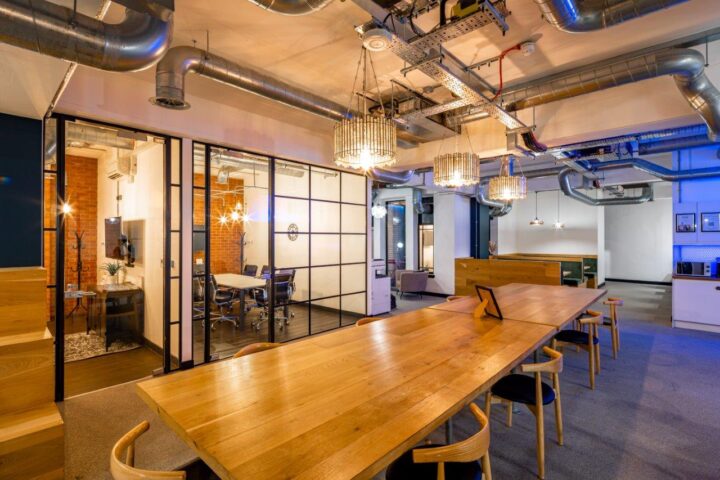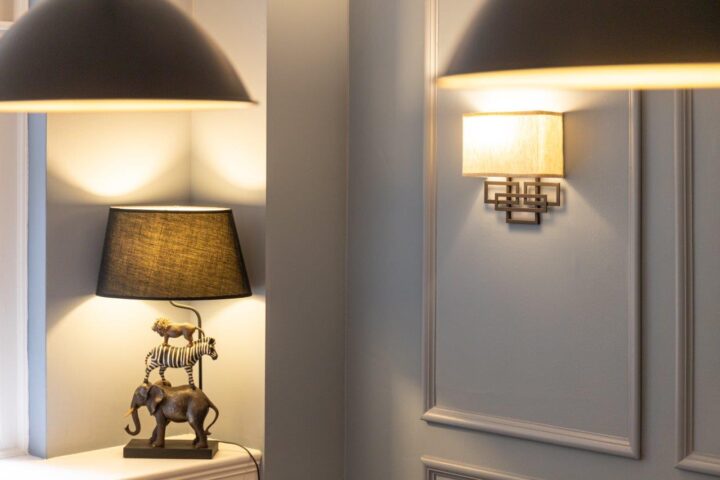 Hotelification
One way to draw employees back to the office and retain them is hotelification. At The Space, it means a blend of hospitality-like services with hotel-style amenities like a welcoming reception and communal area.
At Aldgate, our lounges create an engaged community in marked contrast to working at home. You don't even have to boil a kettle with hot water on tap in our kitchens. Meanwhile, teams at all our locations will provide the premium concierge-type service you'd expect from a five-star hotel – employees can't get that at home either.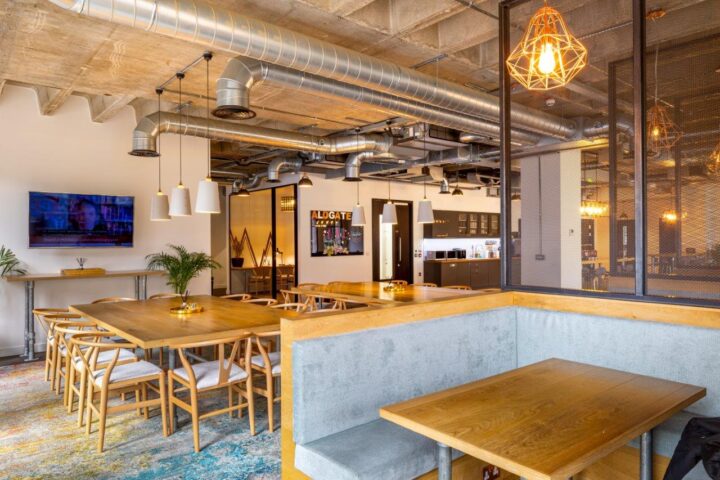 Wellness-focused design
Finally, one of the biggest trends this year is wellness-centric interior design. Organisations seek holistic work environments that support employees' physical and mental wellbeing, but 34% of younger workers say their current workplace doesn't support their wellbeing.
We brief our commercial interior designers to create workspaces that meet that demand, providing many wellness features in a building, such as the views over Green Park and a private terrace at our latest luxury workspace, 117 Piccadilly. But it also includes secure bike storage, showers and changing rooms, giving your workforce opportunities for physical activity. As for mental wellbeing, we've focused on natural lighting, mood-enhancing colours, and biophilia to reduce stress.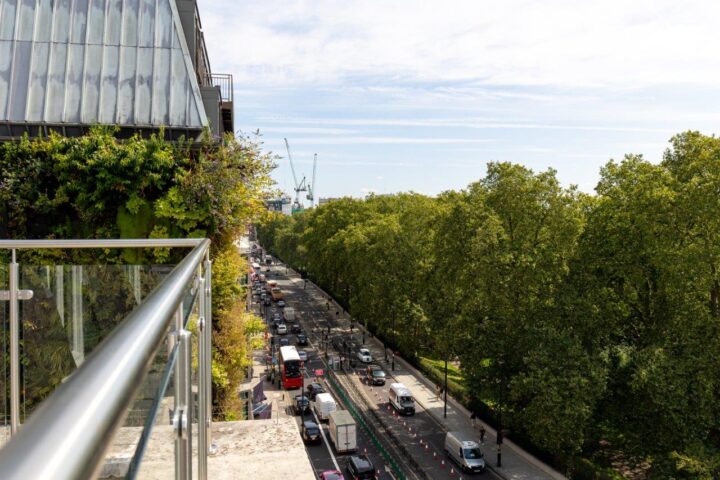 To get a real feel for our interiors, why not book a tour? Click to book or call 020 3993 0259