Landmark hosts a 'Future of work' panel debate in London. Why adopting a people-centric, flexible approach to work are crucial to success
17th September 2021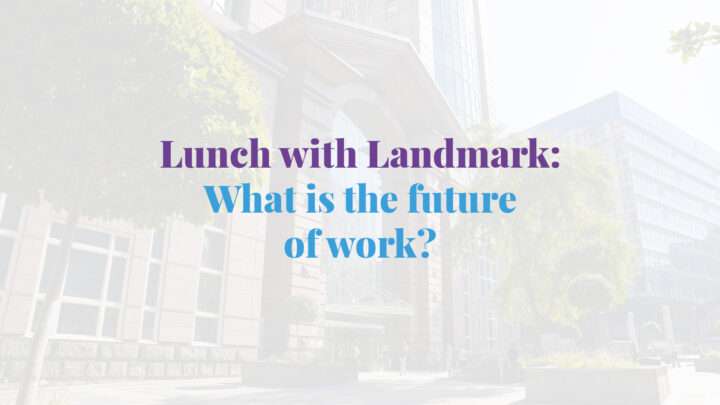 Flexible office space provider Landmark gave clients a glimpse into the future of work with an expert panel discussion. The event, which took place at Landmark's prestigious Beaufort House office in Aldgate, London, focused on some of the pressing issues faced by organisations and the workforce including engaging a remote workforce, adapting to disruptive technologies, navigating hybrid models, and what to expect moving forward.
The panel was emceed by published author and keynote speaker Katie King and featured four experts panellists: Alison Conway, Group Head of Strategic Development at Trust Payments; Rafaat Rahmani, Founder and President of Lifescience Dynamics; Paul Russell, Digital Transformation Coach and Founder of Evenifitwasfree; and David Kinnaird, CCO of Essensys.
Landmark Director Frankie Chrysanthou set the tone for the event with a compelling introduction, stressing that "What is key is adaptability. It's not just the space we work in, but how we work."
Emcee Katie King echoed this, stating: "Whatever level you are at in your company or your career, you have to keep adapting. Don't be frightened of technology and of change. We are all learning as we go along; we adapted to COVID and we must continuously adjust to new technologies. Don't have imposter syndrome. We are all on a journey and it's about mindset. It's about being open to change, bringing your teams with you. We have no choice because we cannot afford to ignore technology like AI anymore."
This idea of learning as you go and sharing the journey with the team was echoed by others on the panel. Two Landmark clients, Conway and Rahmani, were able to provide first-hand insight into their organisations' challenges since the pandemic began. They also shared their plans to direct their companies moving forward. Amazingly, both companies grew their teams during the pandemic, and adopted a people-centric approach to maintain their existing workforce while welcoming new hires into the fold.
For Conway and her team at Trust Payments, the key was to embrace the unknown and to engage teams with openness and honesty.
"I think one of the key successes for us has been maintaining a degree of humility. Saying, 'Look, we're all in this together. We don't know what it's going to look like. We don't have all the answers, but here's our initial plan and what we're going to be doing.' We make sure we regularly touch base. We have an open environment, and we ask questions."
For Rahmani, the key was to try to maintain as much normalcy as possible for all of Lifescience Dynamics' teams across the US and UK. Being an early adopter of Cloud computing and other online platforms helped keep these teams connected to one another during the lockdowns. Also, alleviating some of the pandemic's biggest stress factors surrounding financial security, training, and career progression proved successful in maintaining morale and keeping the family culture intact.
"As a compassionate and human company, we did not put anybody on furlough and we did not freeze any spending. We did not stop any promotions for anyone who deserved one. That inevitably led to some challenges with Finance and HR, but it was the right thing to do. Before the pandemic, we met three times per year as a company. It's things like that that allow us to have that family feel and sense of community as a human company. That enabled us to develop our own customs, rituals, traditions and culture. That is a definitely challenge with remote working."
Yet, both Conway and Rahmani expressed a desire to have their people back in the office, at least part time. For Conway, the original plan was to stay remote after seeing how successful this approach was during the pandemic. But as time wore on, the team began to miss the type of comradery Rahmani described within his own organisation. At Lifescience Dynamics, the safety of staff is the top priority. Therefore, working from the office is encourage when safe to do so, but a hybrid model is in place. Trust Payments has also gradually shifted towards a hybrid model for their team.
As the tech experts on the panel, both Russell and Kinnaird agree that remote working will be here to stay at least in some form. However, new tools such as AI, video conferencing, and VR may end up providing a solution instead of worsening the problem.
Russell shared his vision that technology's impacts in the workspace arena will play out sooner rather than later. "This is the time to really understand it. If we leave it too long, we will probably flip back. When we understand that, the role of technology can really make a difference."
Getting started with our adjustment to advanced tools such as machine learning might be easier than we think. In fact, Russell thinks we already have a strong starting point in our pockets thanks to the smartphone. Our reliance on this piece of tech has grown stronger throughout the pandemic as we now are even more reliant on our phones for everything from proof of vaccination, keeping in touch with family and news feeds. In the workplace, we should expect to see that reliance carry over as we begin using our phones more readily, which in turn will make these devices the perfect segue into more advanced tools.
Kinnaird agrees that we have grown accustomed to the convenience of tech, becoming more comfortable with doing things like seeing our doctor, conducting our weekly shop, and getting an education remotely via our phones and devices. He feels that we have come too far to turn back now: "Some things which are easier, more convenient, and work well remotely are going to stay doing that. Obviously, the pandemic has just accelerated things that were happening anyway."
But where does that leave us for the future? "What will remain constant is the use of data given that we now have much more data available about the workplace. Employers use of data and how data is analysed will therefore be transformational."
The panel was the first of Landmark's 'Lunch and Learn' events. King believes that events such as these are crucial for helping professionals stay current. "Landmark is a progressive organisation bringing us all together to keep learning. I think that's really important from your workspace provider that they are not only giving you flexible workspace but bringing everyone up to speed and adding value to what they do as an organisation and giving clients the opportunity to learn from the brilliant brains in the room."
To hear more from the panellists, check out the highlight video from the event below. To explore Landmark's flexible workspace, visit landmarkspace.co.uk
ABOUT LANDMARK
Landmark is a provider of flexible workspaces across the UK. Landmark offers clients the capability of creating people-centric bespoke workplaces tailored to their needs, because every working day matters.
CONTACT
For press inquiries, please contact Ashley Przybyla at Zoodikers Consulting.
ashley@zoodikers.com
07539 450537