IFRS 16: what you need to know about using serviced offices
9th March 2022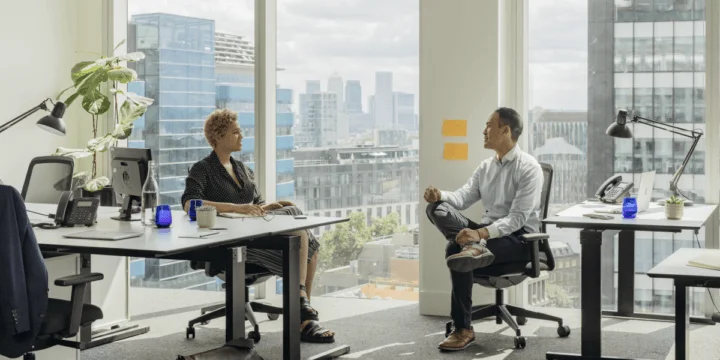 With our lockdown days behind us, many businesses are rethinking their working models and their approach to the workplace. Most organisations have decided not to shed their office space completely in favour of fully remote models, but very few are bringing their staff back to the workplace full time. With a shift in this relationship with the office, many leaders are looking to make smarter use of the budgets they have traditionally allocated to office overhead. For many, a serviced office might just provide the perfect solution without sacrificing on style or functionality.
The Financial Impact of Office Leases
In January 2019, a change from the International Financial Reporting Standards (IFRS) called IFRS 16 came into effect, altering the way businesses must recognise, measure, present, and disclose their leaseholds. Following this change, any lease contracts the company has must be represented on its balance sheets as assets and liabilities. Some of the assets that must be claimed under the new standard include storage units, vehicles, and of course, real estate that is not owned outright by the organisation.
However, there is a notable exception to IFRS 16 to be aware of. Under this legislation, businesses are not required to report leases with a lease term of 12 months or less with no purchase option. Therefore, the use of a serviced office might provide a loophole given that the lease terms are often for periods of less than a year. However, companies wishing to use this strategy will need to ensure that they are comprehensively reviewing their agreements in enough time prior to the notice date to express sufficient intent for moving.
How serviced office space benefits your bottom line
This is a desirable option for businesses moving towards more flexible models of working. With less time spent in the office, there is less of a need for many of these organisations to tie themselves down with long-term fixed leases, especially considering the financial obligations under IFRS 16. Using a serviced office provider such as Landmark allows you to reap the benefits of having a designated workplace for your team without the commitment, making it easy to adapt should the needs of the organisation change or if the business wants to try a different approach.
Beyond circumventing IFRS 16, serviced offices provide various other financial benefits. For example, Landmark spaces are all-inclusive and come ready to use, requiring no set-up cost from the business for things like furniture, broadband, meeting room tech, and so on. The space provider shoulders the costs and responsibilities of facilities management, and even covers personnel in key roles such as security, reception, cleaning, and maintenance. Having these areas included in the flexible lease can add up to major savings depending on the organisation. These conveniences don't require a sacrifice of style, with Landmark offering its clients the ability to design their own workspace to suit their needs. So whether that means a focus on collaborative spaces or a branded reception area, our team is happy to help do whatever we can to assist your team with making every working day matter.