Hybrid working will help break the gender bias
9th March 2022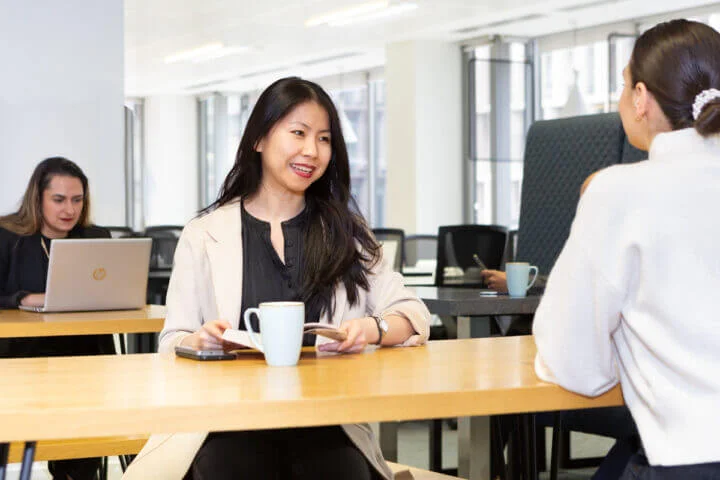 Yesterday marked International Women's Day. After two years from the government issuing work from home guidance, we're heading back to the office. 2022 looks very different to the beginning of 2020 and with the cost of living increasing on an almost daily basis and childcare difficult and expensive to secure, flexibility in the workplace is of paramount importance. And that starts with the physical workplace.
Returning to the office has been a major point of contention for many, but not for the reasons that you may think. After two years of working at home, many office workers want to get back to collaborative spaces and out of their homes. Remote working has ensured that families have a better work-life balance and juggling the roles of home working, childcare and home schooling has been tough.
This year's theme for International Women's Day is to #BreakTheBias, imagining a world that is gender-equal, diverse, equitable and inclusive. That starts in the workplace. Hybrid working allows everyone to balance their lives so that we can create a more equal society.
According to Gartner, forty-one percent of women workers said they would leave their job if they got a pay cut for working fully remotely, and 33% would quit if they got a pay cut for working partially remotely. Work satisfaction and compensation are the top two factors keeping women at their organisations.
Now that businesses are asking their people to come back to the office, it has never been a better time to rethink the workspace – and that includes a comprehensive hybrid offering. At Landmark, we pride ourselves on the workplace technology that allows businesses hybrid working.
Our new signature office space in King's Cross shows what the future of hybrid working should look like. We know what can be accomplished working at home, but we also know that collaboration needs to be the reason that people come into the office. We are equipping our meeting rooms with the right technology so that those who are in the office can collaborate with those working from home.
The office needs to deliver value for not just executives, but the entirety of the company's workforce. A more collaborative approach to the needs of your people at the office should be at the forefront of every leaders' mind. Landmark is helping facilitate this by using artificial intelligence, in partnership with The Curve AI.
Our new tool, powered by Cognito, allows employees to provide feedback on the office and generate workplace designs tailored to individual needs to ensure the right atmosphere, design and environment for all staff.
For too long, the focus has been on the choice that women should make regarding their careers and having a family. But the onus should be on what companies can do to ensure that women are supported in the balancing act between work and home life. We're proud that 75% of Landmark's workforce are women, so we are acutely aware of what companies need to do.
Hybrid working is here to stay, and it is one of the best ways to support those with families as well as help teams weather the current squeeze on the cost of living. Research shows that when there are more women in the workforce, better corporate decisions are made through a more diverse set of views and a wider amount of lived experiences. Having the right office space that facilitates a happy team through hybrid working paves the way to #BreakTheBias. International Women's Day provides a moment to reflect and think about how your workspace can support the future needs of your people. At Landmark, through our flexible service offerings, we are supporting women so they don't have to choose between a career and a family on International Women's Day, every day.