12 surprising ways a serviced office reception team can help you
11th November 2022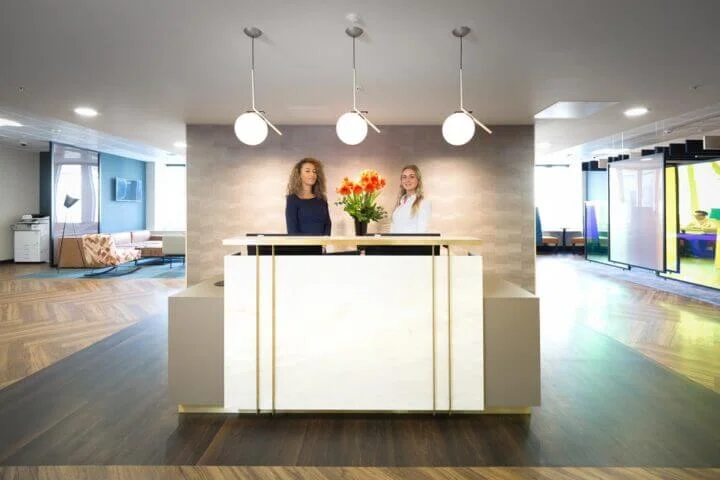 Our cheery Client Service Assistants (CSAs) and Client Relationship Managers (CRMs) are often the first faces people see when they come to Landmark. But the reception team do much more than greet you with a friendly smile and tell you when a guest has arrived.
As Landmark's valued representatives, our CSAs and CRMs always present the best image and leave an excellent impression on you, your clients and other visitors. But have you ever wondered what else they do behind the scenes?
Here are the top 12 services that our multi-tasking reception teams can take care of in your building and many other Landmark locations (prepare to be surprised).
1. Getting the environment balance right
Some like it hot. Others want air conditioning that has their colleagues yearning for a woolly jumper. Either way, it's hard to concentrate if your working environment isn't at a balanced temperature. One call to our reception team, and they will soon have your workspace at just the right degree to please everyone.
2. Now, where did I put that pass?
It's a worry when you mislay the access or membership card the team gave you when you joined. At every Landmark location, reception can help you feel safe, providing temporary visitor day passes when you can't find your card. Basic security is a key part of their role, including checking in and registering every guest.
3. Tip-top repairs and maintenance
One of the advantages of renting a serviced office at Landmark is that businesses eliminate the many costs associated with facilities management. When there's a maintenance issue like a broken tap or a flickering lightbulb, you don't have to deal with it. Refer the problem to reception, and they'll do the rest.
4. Help with storing your bike and stuff
Cycling industry research points to savings of £750 a year (£1,400 in Greater London) if you cycle to work. No wonder 67% of us have started two-wheel travel or are thinking about it. But where will you keep your bike? Some Landmark locations have bike storage – ask reception how much it costs to reserve a space. They can also assign you a locker for your bag (whether you cycle or not) for a small fee.
5. Relax while we fix that connection
While most of our tech is plug-and-go, not everyone is tech-savvy and help is always at the ready. Nothing is more frustrating than booking a meeting room and you can't get the videoconferencing or audio-visual equipment to sync. With guests arriving in 10 minutes the added time pressure doesn't help, but you know who will? Reception (there'll be a phone in the room). They can assist with basic IT and network support. And if they can't, they'll know someone who can help.
6. Keep your guests fuelled
You have booked a meeting room for two hours. It runs over lunchtime, so you'd like to offer your guests refreshments and food. Our reception teams can organise catering, so your meeting goes without a hitch. From tea, coffee and biscuits to delicious breakfasts and lunches for all dietary requirements, ask to see our menus – costs on request.
7. No time to visit the dry cleaners?
When you're busy writing a report or your day is filled with meetings, you don't have time to take clothes to the dry cleaners, especially when they are some distance away, or there is a queue when you get there. In some of our buildings, our concierge services include dry cleaning. Ask your reception team if they do and how much it is.
8. Support services that save you the trouble
Landmark support is available throughout your stay, whether you're with us for a few hours or days or have a permanent office. You'll find the team ready to support you. They can organise services like printing, photocopying, business cards, binding and laminating for an extra fee. They can also quote for franking, couriers, packages dropped off and signed for, deliveries to your office or mail holding while you're away.
9. Book a cab to the airport (or anywhere)
You're running late and need a taxi to get you to the airport or across town for a business meeting with a valued client. We make it hassle-free. Call reception and ask them to book a cab from a trusted provider for a small fee. Simple.
10. Feel a connection with nature
Our concierge service includes looking after office pot plants, flowers, and office furniture. Creating a biophilic link to nature enhances commercial spaces, reducing stress and absenteeism and improving wellbeing. Some of our centres have outdoor spaces for restoring energy (when the weather behaves).
11. Confidential waste removal
Sometimes an office shredder is not enough for peace of mind. When you need confidential waste disposed of securely, like documents, hard drives and products, ask at reception. They'll tell you the costs of organising their removal and destruction, saving your data from getting into the wrong hands.
12. Where can I find…?
An impressive restaurant to take a client to, the closest tube/train/bus/metro stop, or the best cocktail bar to toast your colleague's birthday. Whatever information you or your visitors need about local services, our reception team are here to help.
And that's not all.
We could easily extend the list to include services available at some Landmark locations but not all, like discounted stationery orders, organising headshots with a professional photographer and first-aid training and portable appliance testing.
For more details, talk to your reception team.