Do your best work at our outdoor spaces and rooftop terraces
2nd August 2021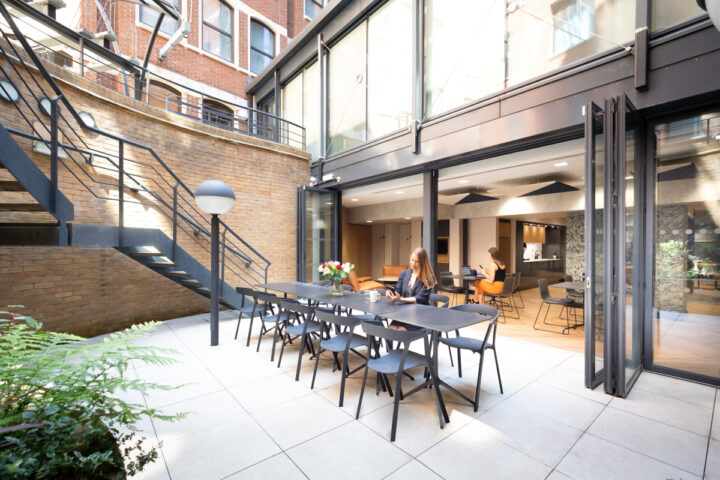 If you're back in the office but missing your garden, access to outdoor space like a rooftop terrace could be just the ticket for improving your wellbeing and that of your employees.
Human beings are drawn to nature and benefit from it in many ways, as we saw during the pandemic when people could only exercise in their gardens (if they had one) and discovered or rediscovered the beauty of their local parks.
Our renewed appreciation of nature confirmed what biophilic experts have said for years – outdoor spaces are good for you. The presence of greenery helps us to relax and feel restored. Natural light maintains our alertness, while views of nature lead to less stress and increased focus.
At Landmark, before the pandemic, clients wanted to see natural biophilic elements inside our buildings, such as potted plants in the offices and views from windows. Not surprisingly, we also see rises in bookings for corporate events on our rooftop terraces and outside space in the summer.
But now, companies navigating new ways of working post-Covid are increasingly using outdoor spaces not only as places to entertain clients but also as a way of supporting and improving employees' health and wellbeing. They know they're onto a winner if they can offer employees outdoor space they'll love and that's productive as well as healthy.
All our outside spaces are tailored for business use, just like our indoor workspace. They include a choice of workspaces with tables, desks or sofas, and access to business-class Wi-Fi, free tea and coffee, and support from our hospitality teams.
Landmark has 9 attractive roof terraces, gardens, and outdoor spaces in London to help individuals and teams work at their best while restoring their energies. But to keep it simple, we've focused on four locations.
Aldgate
The roof terrace at Aldgate is above par and not just because of the impressive views over the City of London. It has a mini-golf course – adding an element of stress-busting fun to any lunch hour or a talking point at a client event.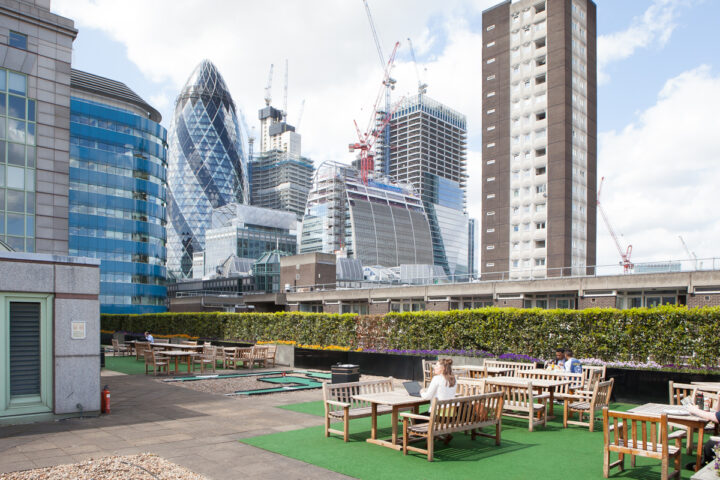 Alfred Place
A 'secret' garden terrace tucked away in a central atrium lies behind the doors of this quirky building near Goodge Street. It makes a terrific open-air meeting room. You can easily fit 12 people at one long desk or split tables up for a training event. There are also sofas for breakout groups or to sit comfortably with a laptop catching up with emails.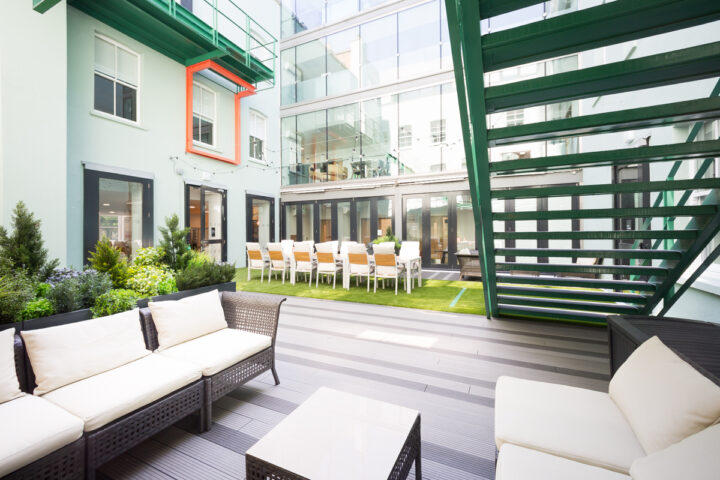 Bevis Marks
Lush plants, comfortable sofas, and breath-taking views of Canary Wharf, the City and Tower Bridge lift the 16th-floor roof terrace at Bevis Marks out of the ordinary. The vistas alone are guaranteed to boost inspiration and creativity, and with a glass roof, you're protected from the elements while you work.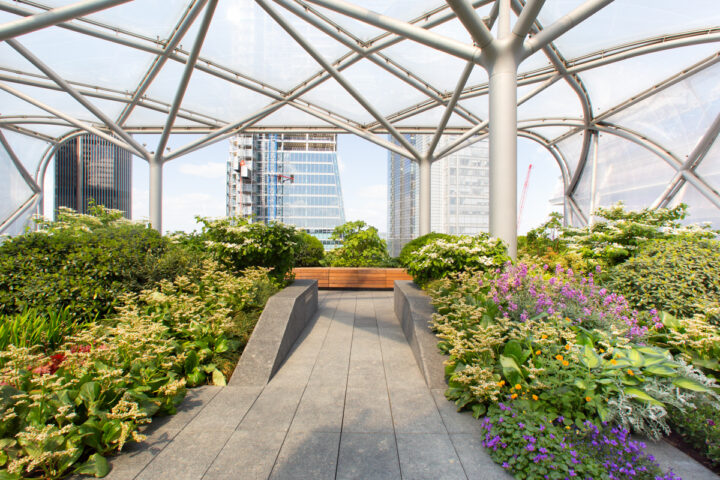 Victoria
You'll find beautiful hanging baskets and flowers in our Victoria building, which enhance your connections to nature, but for the sun worshipper, nothing compares to the energising outdoor terrace. It's south-facing, which means it's a real suntrap and is a great place to sit and relax and refocus on work.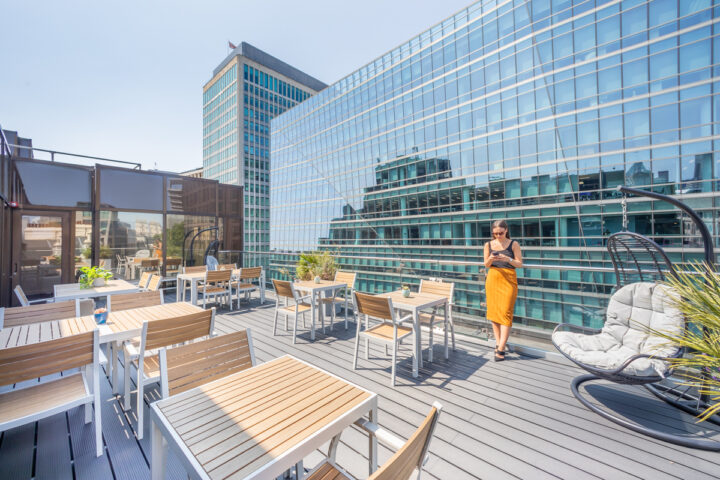 So, how do you gain access to our open spaces at Farringdon, Dover Street, Newman Street, Park Street, and Old Broad Street?
Anyone can book one of our nine roof terraces and outdoor spaces for a meeting or to hold an event, launch or client entertainment, adding catering services if required.
If you're a Landmark Office client or a Club Space member with a London pass, you can also work for free at any of the six outdoor locations with Club Space – Victoria, Farringdon, Newman Street, Aldgate, Bevis Marks, and Alfred Place.
Take advantage of our outdoor terraces and join our Club Space