Landmark's Clean Start
Get access to COVID-19 Risk Assessments for each of our locations:
Our Clean Start plan
Landmark are actively exploring solutions that are going to help our existing and new clients work as safely as possible…we feel it is a chance to work with you on what the future looks like and can be a positive thing, in a way it's chance for a CLEAN start.
The crisis has shone a light on how we use our built environment and interact with others, making us reassess what is 'clean' and what is 'safe'. As we come out of lockdown, our priority for our clients is to restore confidence in our facilities and, in the short term at least, that will mean creating an environment that supports social distancing and helps changes in behaviour.
With this in mind we wanted to share with you what the CLEAN start approach covers and what we are doing now before you return and what we will be doing when you come back into our centres.
Landmark are part of the OCS group who have been cleaning for 120 years, working with customers in sectors including Healthcare, Professional Services, Destinations and Venues, Government, Manufacturing and Aviation.
Whilst we have been open throughout the pandemic, we are currently running pre-return checks for our centres. Landmark see we have two parts to play, one in the preparation of clients returning to our centres and two the ongoing cleaning and hygiene of our spaces.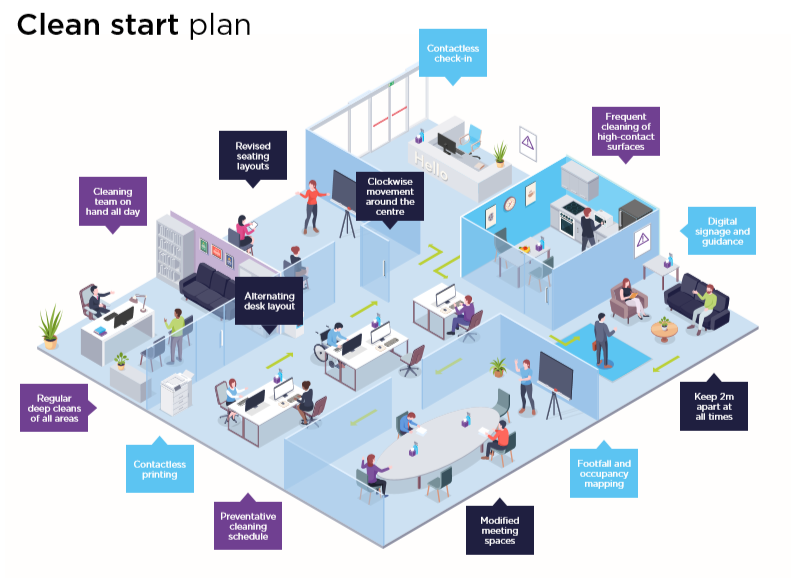 Right now, we are preparing our centres to ensure a hygienically clean workplace, focusing on vehicles of spread such as door handles, lift buttons and washrooms.
When you return what you will start to see is an increased focus on daily cleaning of touchpoints. Maintaining frequent cleaning of high-contact surfaces such as door handles, stair rails and hand-dryers will create a safer environment for returning employees and clients and help to rebuild confidence.
We want to make your cleaning team visible by having them on hand throughout the day so that they can be reactive, focusing their efforts on areas of high footfall and vehicles of spread. This means reserving more intensive cleaning for out of hours.
The way we interact with each other and move around our centres has been designed to make sure that clients and our colleagues can be as productive as possible whilst remaining safe.
Based on government guidance Landmark is committed to providing a safe environment for colleagues and clients. The way we are approaching this is:
Landmark will work to reduce the risk of transmission by implementing and updating processes and enable social distancing by managing capacity
Partnering with our clients to enable them to practice social distancing within our buildings.
Providing tools and education/guidance to colleagues and clients to enable them to keep their personal environment clean and minimise the risk of transmission
As we approach each area and space the main considerations we see revolve around what risk each area carries and how we do all we can to make each of them as safe as possible.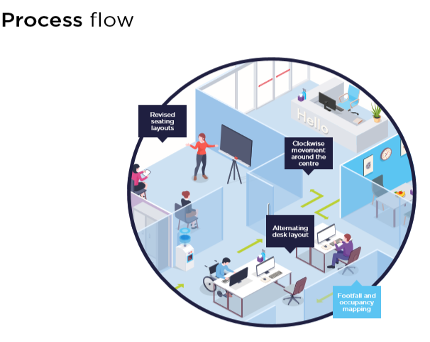 High Risk Areas:
These are spaces and surfaces that are shared / used by many people throughout the day (i.e. lifts, entrance door, reception).
Increase the frequency of cleaning
Promote social distancing using signage and guidance
Providing the appropriate equipment to work in these environments
Medium Risk Areas:
These are spaces and surfaces that are shared with smaller groups of people throughout the day. (i.e. meeting rooms, kitchen, printers)
Increase frequency of cleaning / implement cleaning after use practices
Reduce capacity and add buffer seating to promote social distancing
Provide hygiene solutions to enable people to disinfect after use
Low Risk Areas:
These are spaces and surfaces used by one individual throughout the day (i.e. workstation)
Guidelines for clearing surfaces after use
Enhanced cleaning to target disinfection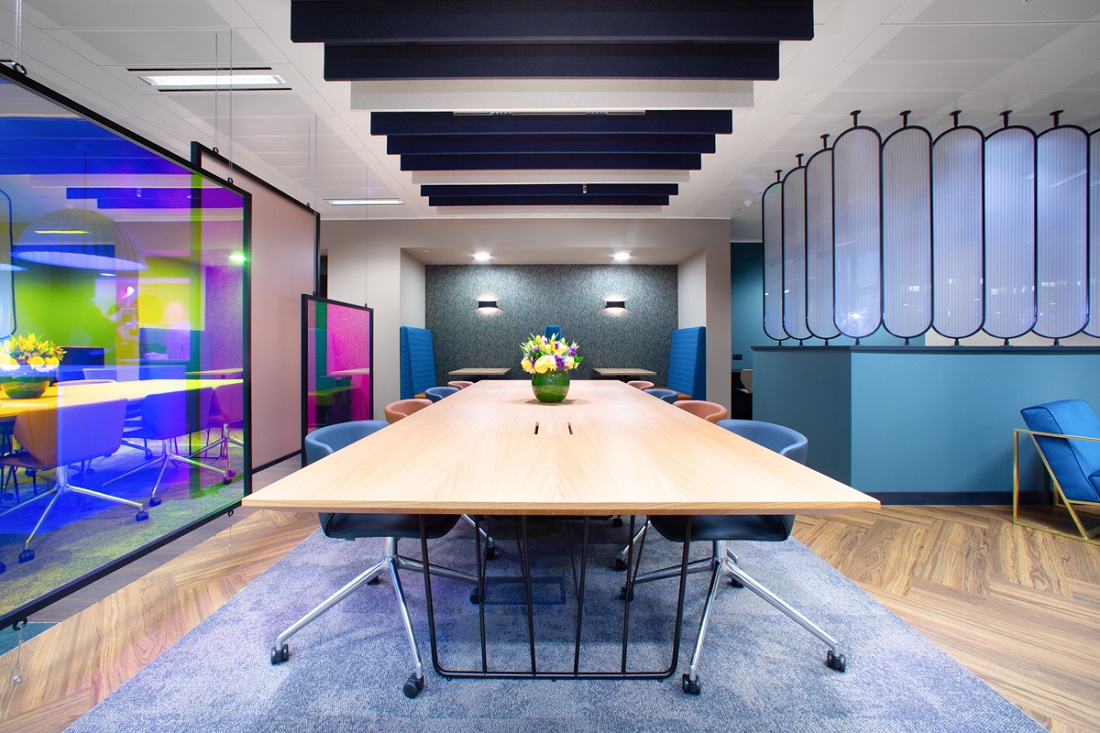 The way we interact with and use the spaces in each of the Landmark centres will change. Common breakout areas, meeting rooms and office space needs to be reconfigured.
Common areas that we have set out clear processes for:
Implementing 2m distancing and reallocating excess seating.
We have reduced maximum capacity and implemented checkboard buffer seating pattern. Reallocating seating adjacent to entrances.
Implementing 2m distancing and reallocating excess seating. Considering implementing staggered break times.
Reception / Club Space: Implementing 2m distancing for seating by reallocating furniture where possible, otherwise we will use signage to indicate seats required as a buffer.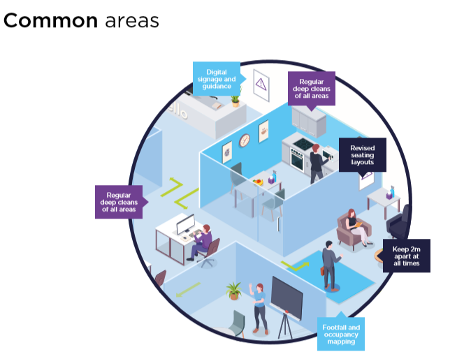 Use of Technology
The way we use and utilise our technology solutions will make every touchpoint for the client and our colleagues safer. We understand that Technology will play a big part in providing a better experience forward and ensuring that the environmental and physical space provided by Landmark is as safe as it possibly can be.
We are looking at several ways in which we can harness todays technologies to ensure your return to work is as smooth and reassuring as it can be, some of these technologies may include:
Digital Signage
Thermal Scanning
Footfall and Occupancy mapping
Contactless Printing
Contactless Check-in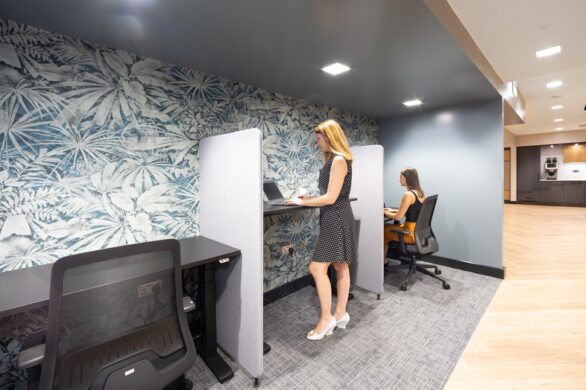 Need help? Chat to an expert!
No matter what kind of office you need, we have an option for you. Chat to one of our experts today and we'll help you on your office space search – free of charge, no obligation.