Why on-site support is vital for every meeting
11th April 2023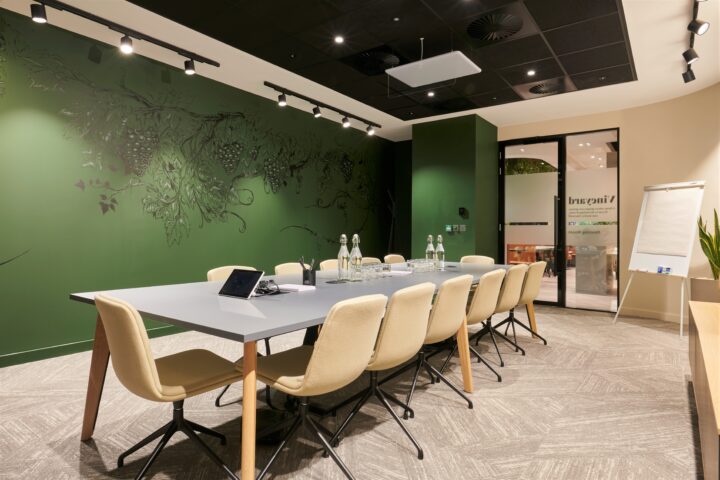 Even the best-planned meeting can unravel due to changes in circumstances or connectivity issues. But when meeting organisers and hosts book a customised meeting room at Landmark, they can relax knowing a genuinely hospitable, professional support team is on-site to deal with every eventuality.
Our highly engaged support teams keep meetings running smoothly, minimise disruption and downtime, and ensure all participants focus on the tasks in front of them. Here's how issues arise and the benefits of an on-the-spot team.
A friendly face to check guests in and out
With a team on the premises, you don't have to take an employee away from their work to give your guests access to the building and the meeting room. We will welcome them and provide everything you need to make your meeting a success.
Craig Mills, client experience manager for Landmark and Space, says: "We create a hospitable space that feels warm, inviting and safe – somewhere you want to go – not just the fundamentals like a table and chair."
The team will also deliver refreshments, allowing you to concentrate on chatting with your guests and presenting. Then, when the meeting is over, they'll check out your guests, answer any queries about where to catch a bus, train or cab, and clear the room up afterwards.
Tackling technical problems quickly
One of the biggest frustrations that meeting organisers encounter is glitches with technology in meeting rooms, such as laptops failing to connect to the projector or the internet, the sound not working, or a room being too hot or cold.
Without an on-site team, you might need to come in early before the meeting starts to locate equipment, hunt for the WiFi password, check compatibility or turn on the aircon or heating. If you don't, you risk delays and make your organisation look sloppy.
The on-site Landmark team removes the frustration. They are responsible for inspecting our meeting rooms regularly and ensuring the equipment is maintained, so you can arrive, plug in and get started. If there is a technical glitch, they can deal with it promptly or escalate it to the building manager, and we can adjust building management systems to turn heating up or down.
Craig adds: "Landmark makes the experience different – it's easy and hassle-free. Our teams are engaged and supported to deliver outstanding customer experiences."
Managing meeting room booking mishaps
If a booking system manages bookings inadequately, several logistical issues can arise, causing inconvenience, delay and disruption that leaves meeting organisers with their heads in their hands.
Some classic examples of mismanaging a booking include:
Double-booking two groups in the same room simultaneously delays the meeting start time.
Underestimating the room size or layout required leads to discomfort for your guests and a lack of productivity.
Our online booking platform does not allow double bookings. So even if there's a provisional booking of the same room by two companies, one will be rejected when the other confirms the booking.
Also, our most of our support teams come from the flexible workspace, hospitality, leisure, fitness and retail sectors. So, if you're a Club Space or Office client who books direct, they'll know the right questions to ask you to prevent such problems from happening.
Even in the unlikely event of a double booking, being on-site means the team can add spare chairs to a room (if capacity allows), book additional space for you or change to a room with another layout if there's one available.
Dealing with unforeseen circumstances
When you have booked the best room with the desired layout in a convenient location, unforeseen issues can still happen and be hard to handle without support.
Sudden staff absences may mean you must run a presentation and quickly get to grips with unfamiliar technology.
Your boss decides to reschedule the meeting, sending you into a tailspin.
A get-together due to end at 12 runs over until 2pm, but you didn't order lunch, or you ordered without realising two guests are vegan.
The meeting next door is getting louder and interrupting your train of thought.
Your support team at Landmark can help you connect to the internet and give a smooth presentation. They can also accept last-minute or out-of-left-field requests. Our catering supplier is very flexible, and our site managers have the autonomy to pop out and buy items for you from a nearby vendor.
Book your meeting room: Book a Meeting Room – Landmark (landmarkspace.co.uk)