Meeting Room Layouts: How to choose the best setup for your meeting
30th January 2020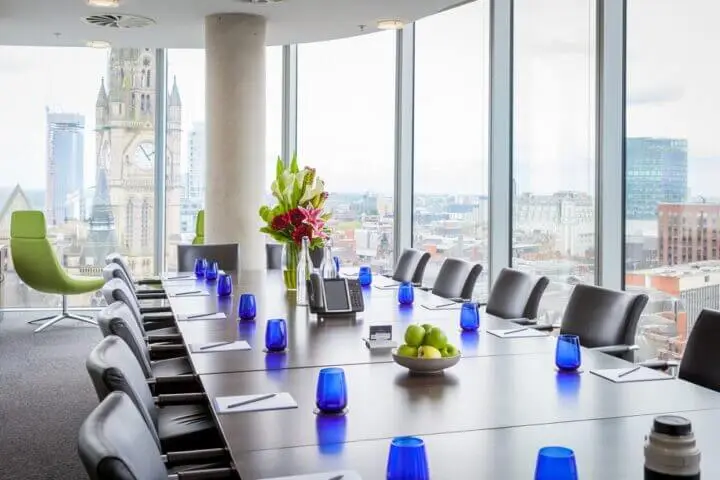 There are several things that can make or break a meeting. Having your presentation rehearsed and ensuring attendees engage with the topics being discussed are arguably the most important factors, but the layout of the room is actually just as important. If your audience is seated in the right way, they will find it easier to meet the objectives of the meeting and won't be left feeling uncomfortable or disengaged.
Choosing a suitable meeting room layout depends on the type of meeting you'll be hosting and what you want attendees to take away from it. Is it an in-depth training session that will cover the entire day, or a quick assembly to point out a few company changes? Each style lends itself well to different purposes, which is why we offer a range of room styles here at Landmark. To help you understand the different seating plans available, we've put together this guide.
Boardroom Layout
What is a boardroom-style meeting room?
Much like Alan Sugar's office in The Apprentice, the boardroom layout consists of one large table that everyone sits around. The shape of the table doesn't necessarily matter, but it's usually either rectangular or oval. This can either be used when there is one authoritative person making an announcement, or if you want to encourage a discussion between attendees.
When is a boardroom setup suitable?
For meetings of around 10 to 20 people, boardroom layouts are ideal. You don't want to have too many attendees involved, especially if there is a level of discussion required, as it could get very noisy very quickly. This is also a good choice if you're making an announcement, as it keeps attention on you before naturally leading to a dialogue or Q&A session.
Round Table Layout
What is a round table meeting room?
Also known as a banquet, dinner, or even dinner-dance layout, round table meeting rooms consist of circular tables surrounded by chairs. These can typically seat between eight and ten guests per table, which allows them to communicate as a group. As each chair faces in, there isn't usually a 'head' of the group and full attendee engagement is encouraged on topics that might require vulnerability or personal connection.
When is a round table setup suitable?
This layout is ideal if you're planning a meal for your attendees, as it gives them the space required to sit and eat while talking amongst themselves. With everyone facing each other on their own tables, it naturally instils a clique mentality, making the layout great for networking sessions where people mingle in small groups around different tables. This is also a good layout to encourage some friendly competition between the groups. Circle layouts can include a single table, seating around 8 guests, or you can choose to have several tables within a room to make space for others.
Cabaret Layout
What is a cabaret-style meeting room?
This style looks a little like the round table layout, except there aren't chairs on one side of each table. All the tables will be set out in this way in order to point towards the focus, much like at a cabaret theatre. This kind of table layout is also known as half-rounds.
When is a cabaret setup suitable?
With or without a stage, cabaret layouts are great for presentations, lectures, and product demos, and usually reserved for congregations of 25 or more people. The setup allows you to draw focus to a presentation or speech, but also facilitates discussion between attendees should it be required. Having the chairs clustered around one side of the table also makes it easy for delegates to make notes without being hampered by uncomfortable seating arrangements. This layout is also perfectly suited to award ceremonies, where you might also serve food and refreshments.
Theatre Layout
What is a theatre-style meeting room?
This seating arrangement features rows of chairs facing the front area of the room where a stage would be. Aisles are cleared in the middle of the room, along with space on the sides to ensure everyone has easy access to and from their seats. As this meeting room layout is not usually tiered, attendees sitting towards the front will have a better view than those at the back. Depending on the size of the room, you may require a microphone and PA system to allow those at the back of the room to be able to hear what the speaker has to say. In some cases, you may choose to have a screen at the front to accompany your presentation.
When is a theatre setup suitable?
Theatre setups are ideal for meetings where presentations, product demos or announcements need to be delivered to a large number of attendees. This layout style does not allow for much note-taking as users don't have much to rest on other than their laps, while it's also difficult to facilitate any kind of discussion between attendees, as everyone will be facing the same way in rows. However, theatre layouts do allow for efficient question and answer sessions between speakers and attendees.
Booking a Landmark meeting room
Here at Landmark, we offer premium rates on all of our meeting and conference rooms. We offer all four of the above layout styles. Just let us know what type of meeting you're planning, and our expert team will have everything set up before you arrive.
We can also provide notepads and pencils for your guests, as well as still or sparkling water. Let our team know if your meeting is scheduled to start early in the morning, and we can even provide breakfast for your attendees. For events that will last the day, we offer lunch and snacks from a full menu. Get in touch to book your meeting room today.