Landmark King's Cross is a Window to the Future of Work
22nd June 2022

Landmark Space, the flexible workspace provider and leading player in the UK's commercial real estate (CRE) market, has officially opened its flagship building in King's Cross known as 'The Lighthouse'. Formerly a Victorian clock tower or even a camera obscura, the Lighthouse has been given a new lease of life by Landmark as a sleek new workspace with a tasteful modern design and fully serviced facilities. The Lighthouse has already grabbed the attention of a wide array of business sectors across London as the workspace boasts an impressive opening 62% occupancy rate.
Gemma Foord, Chief Revenue Officer at Landmark, said:
"The brand-new Lighthouse on 1 King's Cross Bridge will illuminate the Great Return to the office for UK companies under four key pillars: flexibility, wellbeing, collaboration, and sustainability".
The role of the office in the future of work remains an active debate and in a March 2022 poll, only half of Londoners said they would prefer to go back to the office if asked to do so. Landmark's new hybrid working options are showcased in the Lighthouse, including offering clients unprecedented flexibility in their contracts and hosting Landmark's Club Space, whose members can rent workspaces across the city and the country for as long as they want to suit their company's needs.
The pandemic blurred the distinction between professional and personal lives, making it harder for people to switch off in the evenings. Landmark is championing the restoration of a healthy work-life balance by offering a return to the office that does not sacrifice the comfort of home. The Lighthouse was built with user feedback in mind and replaces makeshift home studies with elegantly furnished workspaces; cluttered kitchens with a cosmopolitan café and bar; and a confined room with a Mediterranean-like rooftop terrace.
After two years of video calls, Landmark wants to bring colleagues together over coffee instead of a computer screen. Its workspaces have been designed with the aim of restoring collaborative discussions and a vibrant company culture after the isolation of the pandemic. Companies even have the chance to design their office layout and customise their experience according to their company's style and needs through Landmark's unique artificial intelligence (AI) tool called Cognito.
Landmark has doubled down on its commitment to sustainability and a low-carbon future. The Lighthouse boasts a BREEAM sustainability rating of 'very good' and an EPC A efficiency rating – the highest possible and well beyond the Government's minimum requirements of EPC C by 2025. On top of this, Landmark has promised that the Lighthouse will send zero waste to landfill. Landmark is also forming a positive relationship with the local community through initiatives like its Student Art Campaign – a competition for students of the nearby Central Saint Martins university to win prizes worth thousands of pounds to have their artwork displayed in the offices.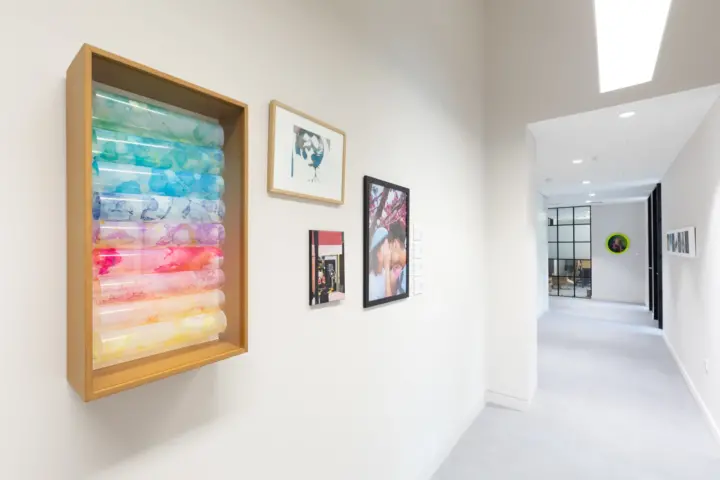 Landmark's flagship King's Cross workspace is more than an office: it is a blueprint for a healthy and sustainable future of work, and it is something that companies across London and the UK should watch closely.
Note to Editors
Landmark Space is a serviced office provider with 44 offices across London and the UK. Landmark offers private offices, meeting rooms, Club Space, virtual offices and private floors. Having adapted and reformed its business model throughout the pandemic, Landmark has helped shape the debate on some of the most topical issues affecting the UK's commercial real estate sector, from the role of leaders in the office to dynamics of hybrid working.