King's Cross art supplants the weather as a conversation starter
12th July 2023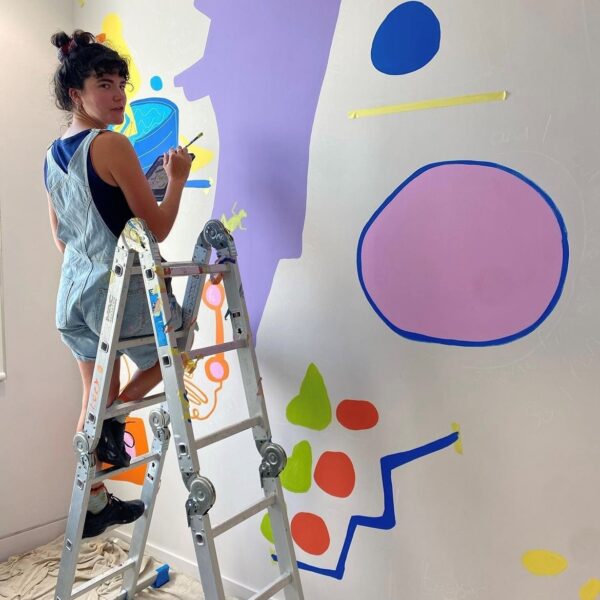 It may be Britain's obsession, but the weather is no longer the hot topic at Landmark Lighthouse King's Cross. Instead of using mundane wind-and-rain talk to kickstart conversations, you, your guests and your colleagues now have a more imaginative icebreaker – stunning artwork.
Chasing The Light Studio and Landmark Space have collaborated for a second time to bring together hand-picked and emerging artists to create a sense of creativity, inspiration, productivity and harmony in the workspace.
Having successfully created a lush woodland theme at Landmark Victoria Orchard Place, Chasing The Light curator and film-maker Maya Sanbar and Vestalia Chilton, co-curator and independent public art adviser, turned their imaginations and expertise to our flagship King's Cross building known as 'The Lighthouse' because of its unique nautical rooftop turret.
We gave Maya and Vestalia (who is also founding director of Kensington and Chelsea Art Week) an open brief, and they gave each floor a theme that works in dialogue with the building's architecture, history, the surrounding area and the people who use our space.
Vestalia said: "Our curation focused on being kinder to our natural environment and on supporting the circular economy: commissioning local artists to create bespoke art, using local framers and encouraging the use of recycled and sustainable materials as much as possible."
Over two weeks, each artist created a bespoke statement installation, drawing fascinated comments from office clients, meeting room guests and coworking space clients – even before they finished the artwork.
Maya said: "When we were on-site, people stopped us to talk and ask questions. They were curious about what was happening as we changed their environment. It inspired people on the fourth floor watching us do the mural to want to know what we were doing on the third. One CEO had never been to the third floor but went to look. It made people want to travel through the building more."
The unique building and area inspire the art theme
The Victorian building was constructed in the late 1800s, possibly as an oyster bar, hence the lighthouse, and lay derelict for over 20 years until 2016. It is Grade II listed and sits on an island between Gray's Inn Road, Pentonville Road, York Way and Euston Road, opposite King's Cross mainline station.
So, you can understand how the lighthouse and the island inspired the artistic sea elements, while the proximity to King's Cross and the Regent's Canal led to travel as a theme.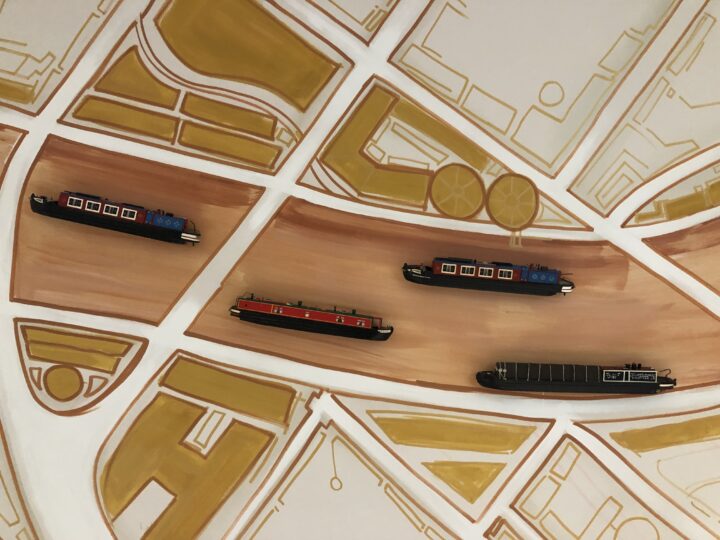 "The Lighthouse is a unique building on an island in Kings Cross. It was very exciting to work on this site and bring together a community of local artists to transform and inspire visitors," added  Maya.
Introducing the artists and their work
On the ground floor, one of the first things you see is a screen showing King's Cross rail departure times. So, Spanish artist Roman Lokati created a beautiful sculpture representing travellers and movement. The metal cut-outs viewed against the window do not block the light, as you can see through them.
The ground floor also includes a mural of a lighthouse by Barny Durham, inspired by the building's tower. Then, the theme moves to happiness and creativity. The ceramic wall installation in the coworking space is by Debbie Carne of Alijoedesigns. Debbie transforms vintage China plates with thought-provoking but humorous images – raising a smile and creating fascinating topics of conversation while you're having a coffee or lunch.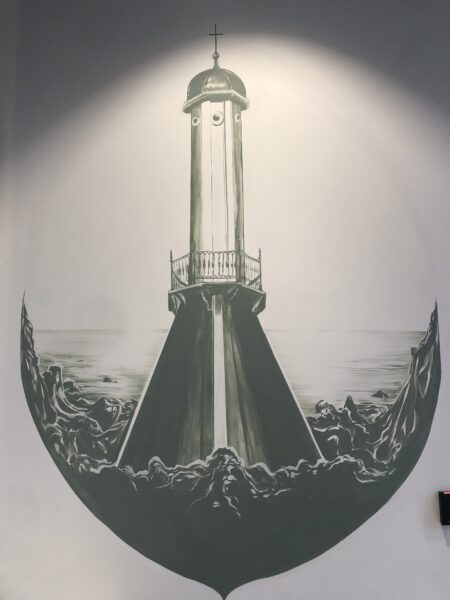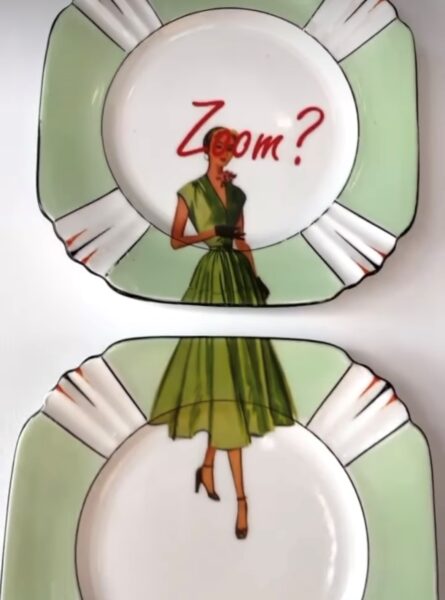 On the first floor, the theme becomes nautical – Travel the World and the Seven Seas – exemplified by Barny's Durham's double mural of King's Cross with its canal and canal boats bringing it all to life.
The other side of the first floor takes up the historical theme with nostalgic posters of cities you'd visit by train, while giant circles along one of the corridors make you feel like you're in a boat looking through the portholes.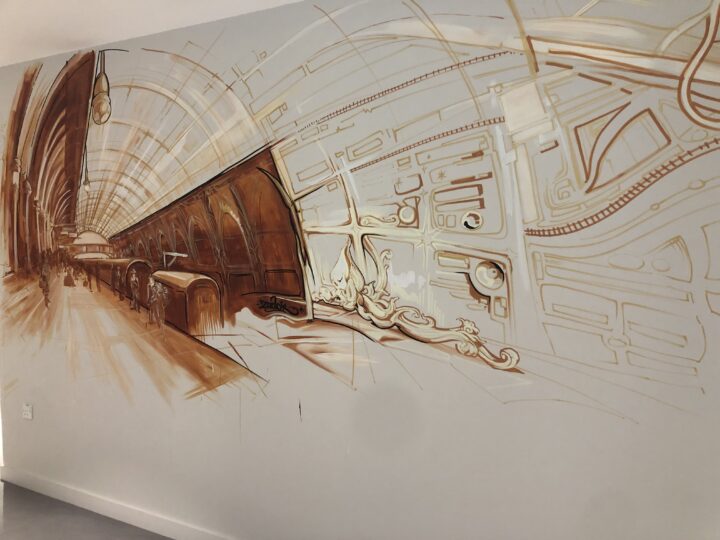 A big nod to the East End greets visitors to the second floor, where the theme is King's Cross Heritage and the Poetry of London. Artist Lucy Oates created a mural based on Cockney rhyming slang with text provided by Landmark project manager Charlotte Stewart, whose family are Londoners. The words are a mix of enlarged, then small, and hidden, or read right to left or top to bottom, creating a story. It inspires you to sit in the coffee area and think about language, how we speak today and how the East End communicated.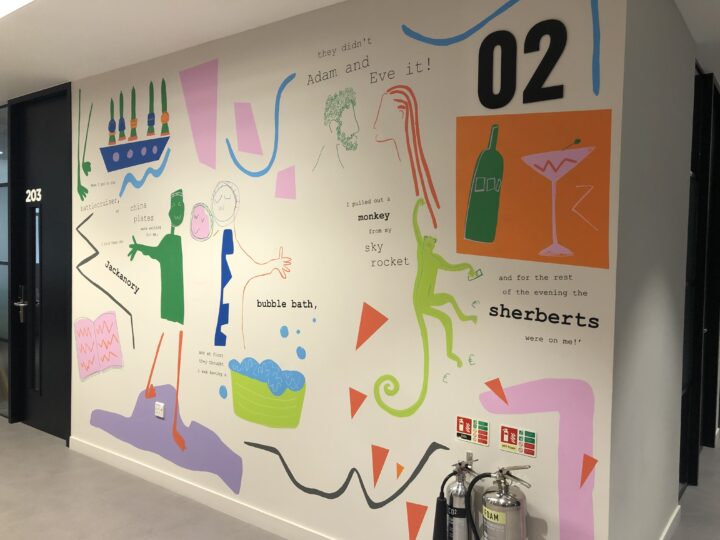 Along the corridor, cut-out flowers by Sam Wadsworth pay tribute to London's flower markets – another subject to get you talking. Then, as you go up to the third floor, the theme changes to Golden Threads and Mathematical Symmetry by Debbie Smyth.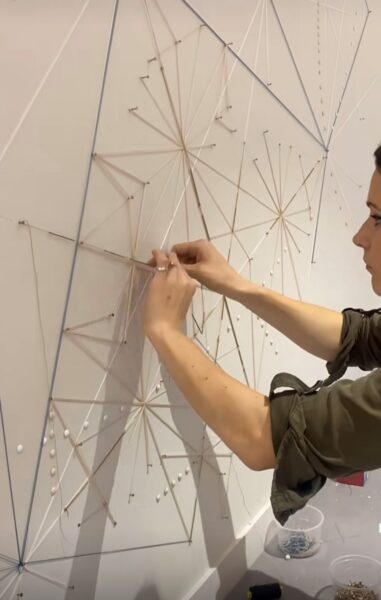 The lighthouse floor (fourth) includes a mural of a diving woman by Marina Renee Cemmick and maritime ropes created as a railway track for the Adventures of the British Isles theme.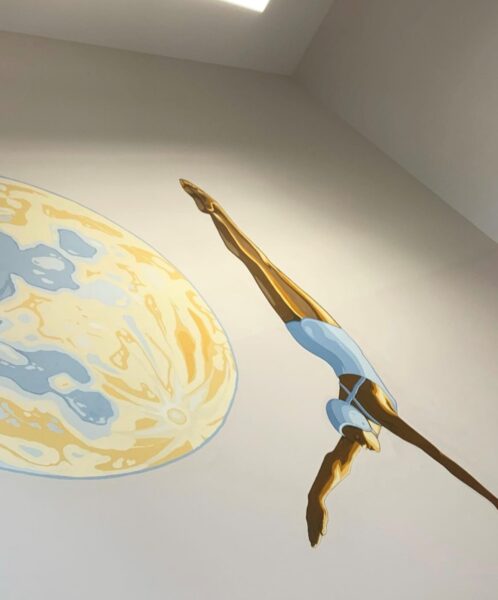 How can art in the workplace help business?
Our newly curated art at Landmark Lighthouse King's Cross is not only pleasing to the eye; it can also provide a distraction that encourages community, communication and engagement.
These are cornerstones of successful business but you need the right tools to help you make a positive impact. We have created a stimulating environment to support you in two ways. First, our zoned coworking space, kitchens, collaborative space, offices and rooftop terrace provide physical connection.
Second, art in the workplace is a conversational icebreaker and topic that prompts further discussion. It creates the inspiration you need to introduce yourself memorably, fill awkward pauses in conversation, and stimulate discussion and debate without resorting to a humdrum subject – like the weather.
Come and see the artwork for yourself. Book a viewing or work from our co-working space for the day by getting in touch with our team. Head to our webpage to enquire.