How to make your workspace as productive as possible
13th September 2021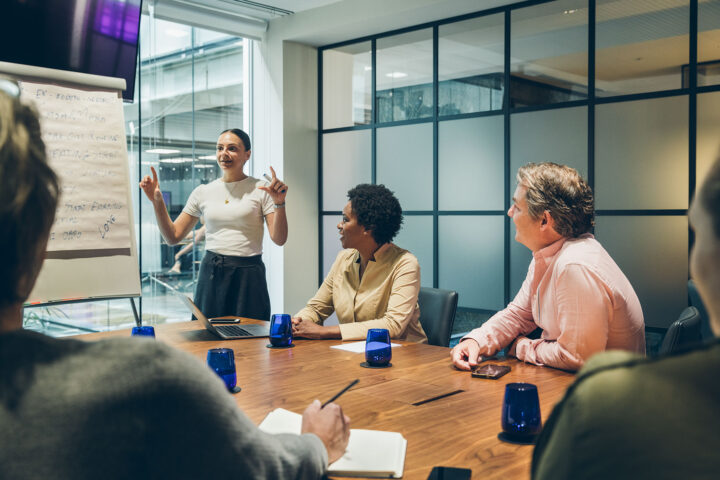 How you work is as important as where you work if you want to enhance your productivity. With our zoning approach, you can work wherever your mood takes you.
One space to be productive four ways
Choosing a workspace that suits your way of working is the best way to boost your productivity, but where can you find one place that supports how you work? Introducing Landmark's co-working space.
With hybrid working becoming commonplace, you might have worked in a hotel, a café, or co-working space, as well as home and the office. Each has its merits when it comes to specific tasks, but they don't tick every box.
For example, a bustling space like a café might suit an informal lunch with a supplier. But it isn't the best place to talk about a new product you want to keep under wraps. And while some co-working space has an attractive laidback vibe, it's often too noisy when you need to focus.
That's why we divided our co-working Club Space into four zones, using different design devices like partitions, glass panels, furniture, and colour palettes. Overall, you gain a range of spaces where you can work in ways that suit you best and spur your productivity.
And, unlike a café, home or hotel, the atmosphere at Landmark is always professional, so it won't dent your image. There's no sound of a dog barking at each doorstep delivery, hungry children crying in a café or a coachload of happy tourists arriving at the reception. (By the way, we love dogs, children, and holidays, just not while we're working).
How would you use our zones?
We put a lot of thought into how people work and what businesses want before coming up with our four zones and how you can use them. Visit one of our buildings and ask the team to point them out, although you'll probably guess!
Social zone
The liveliest workspace is our social zone, including a lounge and tea/coffee hub for spur-of-the-moment chats and networking.
Collaborative zone
In our high-energy zone, you'll feel part of a community working with others around a communal table where you can think creatively.
Private zone
Sometimes, privacy is essential. So, as the name suggests, we designed this zone as a quiet place to focus on solo tasks and get them done on time.
Meeting zone
No two meetings are the same, so we've provided various forms and informal meeting rooms to build relationships and discuss business without fear of being overheard.
When you don't want someone listening in to your calls, you can also use our soundproofed pods or ask our hospitality team to find you a room that's not being used. They are always delighted to help.
All our office clients automatically get access to our Club Spaces across London and the UK, but you can also a choose standalone membership. Discover the best membership package for you.