How the office can help our mental health
20th May 2022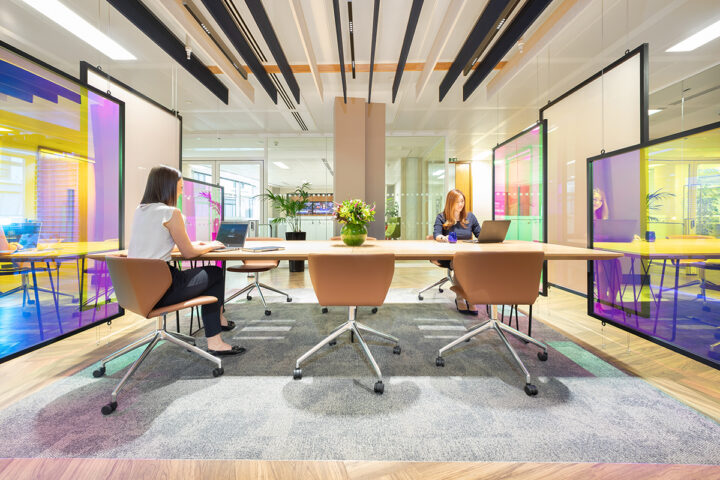 We have lived through an acute health crisis for the last two years with the Covid-19 pandemic. But with lockdowns, working from home and the constant worry of transmission, we have also been living with an exacerbated mental health crisis too. Stress Awareness Month last month got us thinking – what can the office do to help our mental health?
Stress Awareness Month raises awareness of the causes and cures for our modern stress epidemic. This epidemic, coupled with the global coronavirus pandemic, has presented a number of challenges for both employers and employees as we also navigate both the return to the office and the changing nature of work itself. Whilst the pandemic has certainly reinvigorated the debate about wellbeing at work, at Landmark we are seeking to continue this conversation, even as life starts to return to 'normal', whatever form that may take.
Mental and physical health are directly linked, and it is a positive sign of the changing times that we are able to talk about our mental health without the fear of a stigma that existed just a few short years ago. Considering how much working from home has blurred the lines between professional and personal time, it is hardly surprising that our place of work and the corresponding culture affects our wellbeing. According to the charity Mind, 60 percent of employees say they'd feel more motivated more likely to recommend their organisation as a good place to work if their employer took action to support mental wellbeing.
That's why at Landmark we have launched a number of programmes to support our staff and their wellbeing. For example, this includes colleague 'MOT' sessions which include regular health checks. We are pleased to have a newly introduced Employee Assistance Programme (EAP) partner, which includes face to face counselling and support for families. Additionally, we have introduced a new benefits provider – Wrkit – who have a whole module dedicated to wellbeing and run regular information sessions. To accommodate the changing nature of work and life demands, we have increased flexible working request approvals by 100% to support work-life balance.
But that's not all. We also have a number of initiatives in the pipeline. These include colleague nutrition sessions, the introduction of a Health Cash Plan for all employees. To help colleagues support each other and their loved ones, we will also be providing Mental Health First Aider Training. As a token of our appreciation for our employees' hard work and dedication to Landmark, we plan to increase annual leave with length of service.
At Landmark we are proud to support our own employees, but due to the nature of our services, we understand our added responsibility in supporting employers and their companies through our range of workspaces. Our workspaces place wellbeing front and centre to ensure we are contributing the wellbeing of all our clients and their employees. Our unique offerings also accommodate hybrid and flexible working models as we understand that finding the right workplace model is also key to wellbeing, allowing people to prioritise what works best for them, as well as boosting overall productivity.