How biophilic design at Orchard Place nurtures business and employee wellbeing
10th May 2023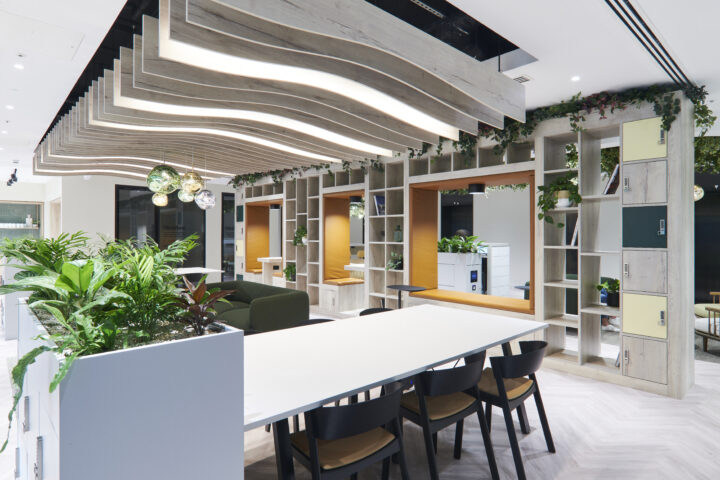 Businesses and their employees will bloom at Landmark Victoria Orchard Place where we've taken the power of biophilic design to new heights. Biophilic design is about designing interiors and buildings to improve connections between people and nature. By focusing on wellbeing, nature, sustainable materials, noise reduction, and hybrid working, you have all you need to attract and retain staff and grow.
Workspace that enhances mental and physical health
Biophilic design has gained increasing attention for its power to enhance wellbeing and productivity and support physical health, such as improving indoor air quality with plants and reconnecting people with nature, which we've lost because of our increasingly urban lifestyles.
Our interior designers promised a "feeling of calm within nature" when this new workspace opened, and wow, have they delivered. You'll see biophilic connections to nature everywhere, from the plants, colours and light to the materials and patterns used throughout these extraordinary, shared spaces, offices and meeting rooms.
Lush plants connect people to nature
During building tours, when visitors arrive at reception on the first floor, the Club Space immediately takes their breath away. Its many shared spaces and zones for hybrid workers feature lush plants draped from ceilings and bookshelves and springing up in pots that cleverly double as zone dividers. Moreover, sunlight pours in from windows and lightwells, and natural materials like wood on the floors and furniture add to the feeling of serenity.
As the design team explained: "By incorporating hanging biophilia, it gives the sense that visitors are surrounded by greenery, which allows a respite in such a busy city and is an ideal environment to focus. The journey throughout the space is softened using organically shaped curved walls with a calming colour pallet inspired by nature."
The natural colour scheme continues in the fully equipped meeting rooms, which you can book by the hour for training, collaboration and other meetings on an ad hoc basis.
Themed meeting rooms to suit every business goal
The five meeting rooms at Orchard Place host from 2 to 20 people. Every room includes state-of-the-art AV technology for reliable, immersive in-person and video-call meetings, and luxury high-end furniture for comfort.
Named Woodland, Arboretum, Vineyard, Meadow and Orchard, the rooms are reminiscent of outdoor spaces and the restorative power of nature. The earthy, green and brown accented walls, artwork and potted plants, with soundproofing to keep noise at bay, create feelings of community and wellbeing, leading to a more productive meeting.
Evidence that biophilic design works
Now, you may think all this adds up to is a beautifully designed space where you and your employees feel more at home. But it's much more than that. Numerous studies have shown that biophilic design in the workplace has a positive impact, reducing stress, increasing productivity, and making people feel happier.
For example, research in the UK and the Netherlands found that enriching an office with natural elements boosted employees' creativity by 15% compared to having no connections to nature. So, imagine how the offices on the first and second floors of Orchard Place, with their natural views and access to daylight, will improve everyone's mood, leading to enhanced wellbeing and better performance.
Government statistics for 2021-2022 show the UK lost 17 million working days because of work-related stress, anxiety and depression. Yet, studies show exposure to natural elements like plants and sunlight is linked to reduced stress, improved mood and higher productivity levels. For example, in the US, employee job performance increased by 16% at a new HQ building with green features.
Would you like to tap into the potential biophilic design can bring to your business? Then, book a tour of Orchard Place Search Results – Landmark (landmarkspace.co.uk) or book a meeting room: Office Rentals | Rent Workspace | Co-Office (upflex.com)