Dress up for Christmas Jumper Day 2022 and raise funds for charity
8th December 2022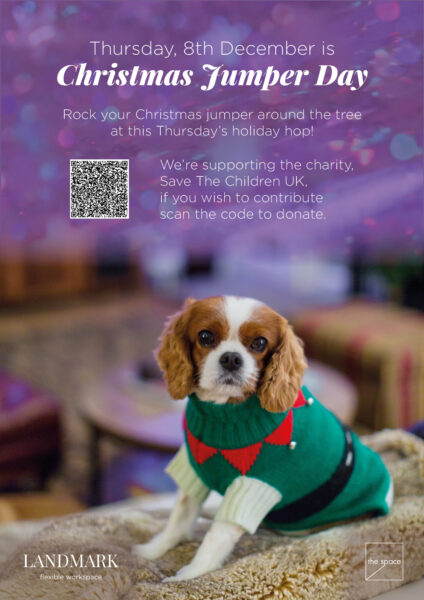 If you like nothing better than dressing up on fun days for a good cause, here's a date for your diary – 8 December, Christmas Jumper Day. It's when we invite you to don a festive woolly for our chosen charity, Save the Children, scanning the code to donate.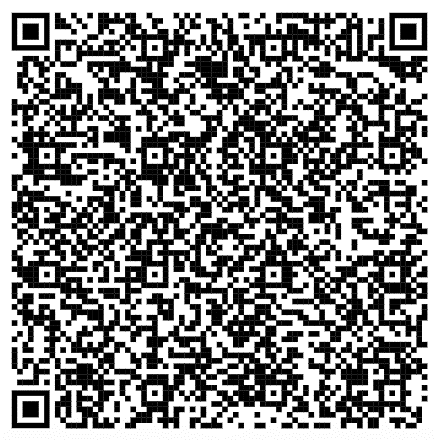 Looking for inspiration before the day? Here are five popular Christmas jumpers ideas to bring festive joy to our workspace.
Go animal-print festive jumper
Surprisingly, it's dogs and not reindeer that top Google's search terms this year, which makes our gorgeous Cavalier King Spaniel cover dog a furry trendsetter.
If you're a dog lover, why not unleash the season with a personalised Christmas sweater featuring an illustration of your friend on the front? Or go arctic animal: find a festive jumper festooned with a penguin, polar bear or sea lion.
Make it a movie-based Christmas woolly
We all know 'the best way to spread Christmas cheer is singing loud for all to hear'. Spring into the festivities like our pooch and dress like Buddy for the day.
If Elf isn't your bag, shop around for your favourite movie Christmas jumper. Break the ice before a meeting by maintaining that Die Hard is a Christmas movie, hence the Nakatomi Plaza 1988 sweater.
Always room for a funny Christmas jumper
If you don't want to offend anyone at Landmark on Thursday, it's wise to avoid offensive, rude Christmas jumpers but funny slogans – no problem.
From 'Dear Santa, it wasn't me' to the classic 'Dachshund through the snow' (there's that dog again), we're sure you can warm the atmosphere in your office, meeting room or Club Space with a laugh-laden slogan.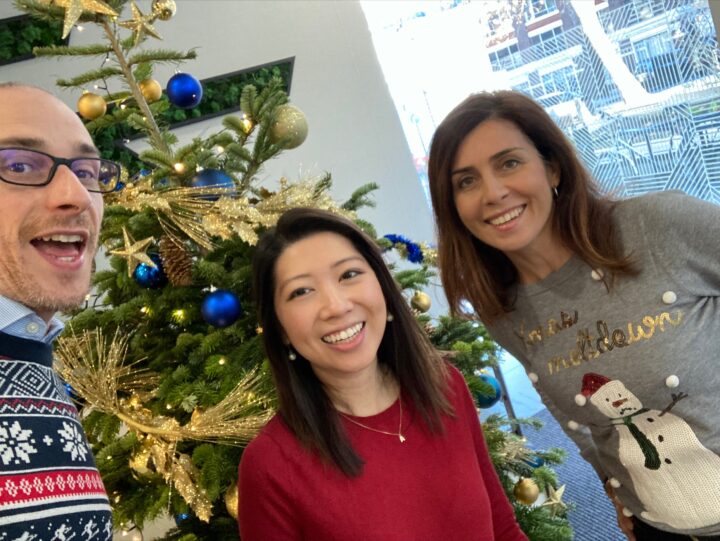 Channel your Mr Darcy
Of course, you could always take a leaf out of Mark Darcy's book in Bridget Jones's Diary and wear an ugly jumper on Christmas Jumper Day.
We know people who love nothing better than choosing an appalling Christmas sweater to make their colleagues cringe. You know who you are!
Pick a sports-themed Christmas sweater
Many football clubs are already on the Christmas gifts bandwagon, so you'll never walk alone for footie-themed Christmas jumpers. We also found sweatshirts and pullovers for basketball sports lovers, rugby, bowling and skiing.
You'll tick all the boxes this year if you also make it a sports retro Christmas jumper (another high-performing search choice).
We want everyone to have festive fun on #christmasjumperday, so if you want to decorate an existing jumper with tinsel rather than buy a new jumper, we'd love to see it.
Most importantly, the day is an opportunity to contribute to an amazing charity that wants to use the funds raised to help children in Kenya. Whatever you donate on Thursday 8 December, the UK government has promised to double – giving you twice as many reasons to wear a festive sweater at Landmark and help us raise funds for Save the Children.