Artistic vision creates a calm, productive work environment at Orchard Place
24th May 2023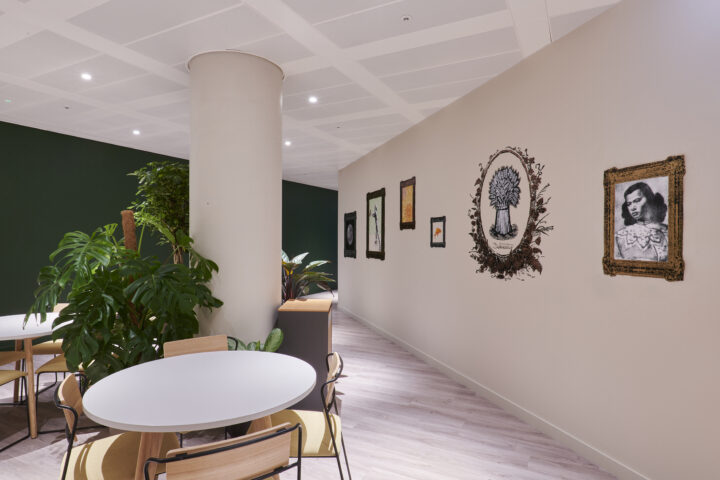 Choose to work or meet at Victoria Orchard Place and experience a visual feast of thoughtfully chosen artwork in the communal spaces and meeting rooms.
Striking bespoke murals decorate the walls in the corridors and other communal areas, accompanied by a diverse range of exciting paintings and artworks hung around the building to create a calm, productive and engaging workspace for you, your colleagues and your visitors.
The positive impact of workplace artwork
So why have we invested in workplace art? As an article in Work Design Magazine puts it: "On individual and collective levels, workplace art can boost morale, creativity and productivity, while also reducing stress."
Numerous studies demonstrate the positive impact of art in the workplace on people:
Experiments conducted by Dr Craig Knight, a specialist in the psychology of the working environment at the University of Exeter, found that people working in offices 'enriched' by art and plants were 17% more productive than those working in spaces that weren't – and remained just as accurate.
According a study by the University of Texas in Dallas, when researchers installed art in a workplace, three-quarters of employees said they experienced new conversations and sources for discussion with their colleagues.
Harmonious surroundings
The artworks in Orchard Place perfectly harmonise with or playfully interact with the building's serene, 'biophilic' interior design. Whether you are there for a private meeting, enjoying a coffee, collaborating in a break-out area or shared workspace, or making your way to Orchard Place's pleasant south-facing roof terrace, you will benefit from the positivity that the art and its surroundings bring.
To ensure we had the right art in the right place, we collaborated with Chasing The Light Studio and curator and film-maker Maya Sanbar and curator Vestalia Chilton, founder of Kensington and Chelsea Art Week.
We've benefited from Maya's wealth of experience and knowledge thanks to a chance meeting at our Portman Street building in London. She introduced herself to one of our senior managers, having overheard him talking about art in workspaces. We later invited Maya to curate Orchard Place and she now works closely with us cataloguing all our existing artworks and curating new projects.
The art they selected follows themes of woodland, sustainability, elegance, nature, flora and fauna alongside urbanism and city life. Established and rising UK artists created the art and will benefit from showcasing their impressive work at Victoria Place.
A brief guide to the artists and their displayed work:
In each meeting room, you'll find Barney Zadok's beautiful, semi-abstract and flowing, nature-themed works capturing woodland and countryside in striking monochrome brushstrokes.
Stencilled on the walls on various floors and spaces are the witty, playful and detailed artworks of London-born Leon Sessix, better known as Dotmasters. Inspired by street art, they include his cheeky life-size Rude Kids images and amusing Swinging Monkeys – some of whom appear to be playing among the building's living interior foliage. Victoria Place also boasts an original collaboration between Dotmasters and Barney Zadok, depicting a life-sized stag in woodland.
A pair of captivating landscapes by Stefano Pallara hang side-by-side to create an impressive, almost panoramic vision. The Italian-born London resident's work often features identity, introspection, mindfulness and freedom themes.
It's hard to miss the vibrant, dynamic abstract painting with its shards and splinters of colour created by artist and sculptor Roman Lokati. Based in his studio just 30 minutes away, he recently resided with iconic British fashion designer Paul Smith.
Ten of Londoner Guy Gee's remarkable paintings in the form of giant stamps from around the world can be found at Victoria Place, capturing a sense of travel and geography.
Elsewhere, the geometric shapes, curves and dots in several works by Fiona Grady use light, colour, shape, surface and scale to create a sense of transformation and impact, reflecting Victoria Place's geometric architecture.
A vibrant, hole-punctured crimson red artwork from North Londoner David Oates is taken from his Vampire series, exploring the illusion of depth created by art on flat surfaces.
Finally, we have Nourish by Maya Sanbar, a powerful, thought-provoking and highly relevant piece of writing on a long stretch of wall, exploring how we all need to nourish ourselves physically, mentally and emotionally.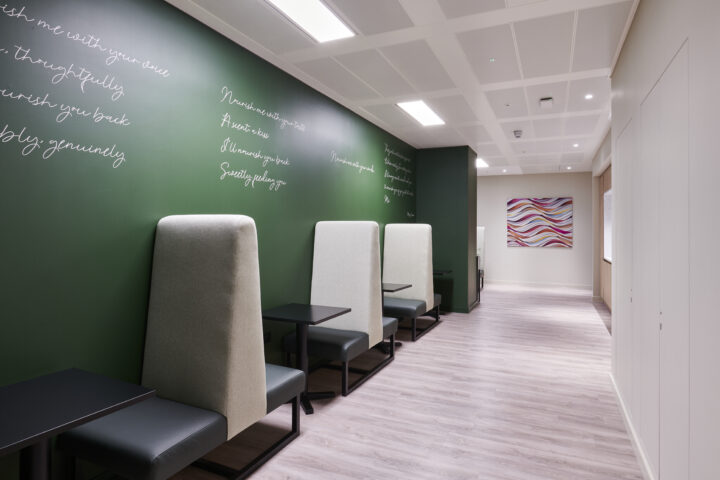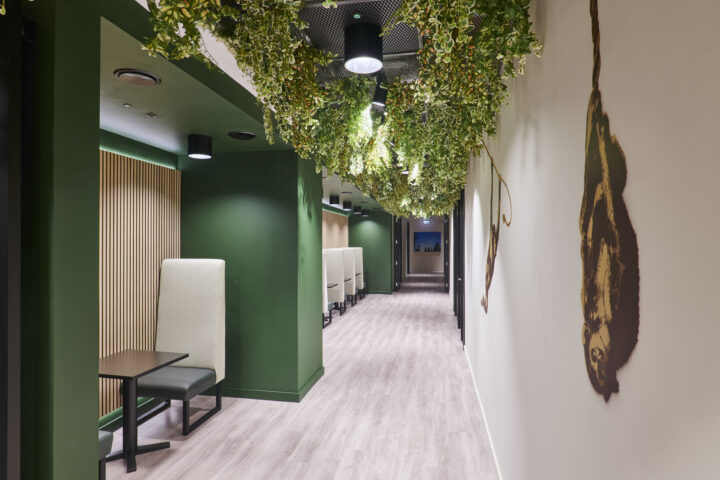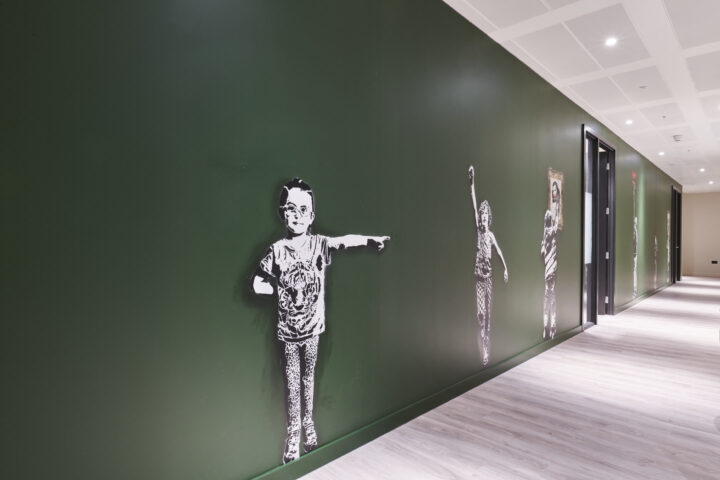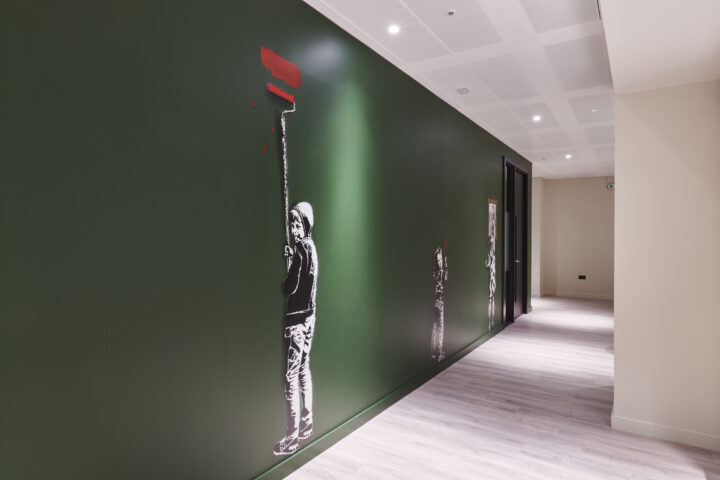 The thinking behind the choices:
The challenge was how to help people work better, in a way that makes them think differently and more creatively to make visiting the building an enjoyable experience, to make it a desirable destination.
If you'd like to experience the fantastic art in Orchard Place, why not book a tour or try out one of our meeting rooms or zoned private and collaborative workspaces? Head to Orchard Place