Nab yourself an office with green room to grow. 117 Piccadilly, Mayfair.
22nd May 2023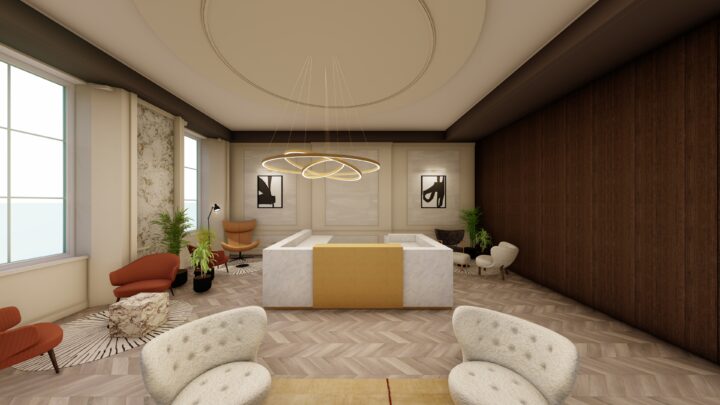 Many studies have shown that looking at green spaces through a window at work contributes to our health and wellbeing. Letting your mind wander reduces eyestrain and stress, restores vigour and calms fatigue. So, imagine how relaxed, cheerful (and productive) your workforce could be settling into 117 Piccadilly, where the views over London's Green Park from every floor offer a respite from the busyness of central London.
As our lives are increasingly dominated by concrete and technology, gazing out of a window onto treetops or lush greenery can benefit productivity and overall mental health. The natural light and views from 117 Piccadilly will rest your eyes and help you to revitalise, refocus and gain a new, creative perspective on work.
Getting out of the office and reconnecting with nature can also kick stress and anxiety into touch – and for this, distance is no excuse. Green Park's serene trees and grassland are so close to the building that taking a refreshing walk in the park is, well, a walk in the park.
We discover the inspirational, mood-enhancing advantages of Green Park and three other well-known parks and gardens, creating a chain of linked green spaces within a short walk of the flexible workspace at the Space.

Green Park
You don't have to set a reminder to take a screen break when Green Park's trees are directly in your sightline!
One of London's eight Royal Parks; it takes just moments to leave your desk and cross the road to 40 peaceful acres of trees, grass, fountains, statues and memorials. We guarantee you'll return to work with fresh ideas!
• To see and do: Hire a park deckchair, visit one of the memorials, fountains or statues, or walk along Constitution Hill.
St James's Park
We wouldn't want your team simply sitting at a desk all day, why not stretch your legs by walking south through Green Park until you reach St James's Park. If you take a direct route from Piccadilly and along The Mall, you'll be there in 10 minutes.
First in the chain of Royal Parks that sweep from east to west through Green Park, Hyde Park and Kensington Gardens. At 57 acres, it is only slightly bigger than The Green Park, but it is famous as the backdrop for many London landmarks, such as The Mall and Horse Guards Parade.
• To see and do: Admire the flower beds at Buckingham Palace, watch the resident pelicans, get off the tube at Westminster and walk to work, and soak up the views from the St James's Café.
Hyde Park
According to the Greater London Authority, London has 3,000 parks of all sizes, covering almost 18 per cent of the city. The Space at 117 Piccadilly is near the largest Royal Park – Hyde Park.
Take a right outside the building, and reconnect with nature after a short, seven-minute walk. Retreat to Hyde Park's 350 acres of green space and relax from the city's frantic pace.
• To see and do: Visit the Diana Princess of Wales Memorial Fountain, recharge by the Serpentine Lido, hire a bike or join a horse-riding club.
Kensington Gardens
Walk from Piccadilly and cross Hyde Park to the Serpentine Bridge. In 25 minutes, you'll experience the magic of Kensington Gardens – the inspiration for JM Barrie's Peter Pan, the fictional boy who never grew up.
As well as the recently restored Peter Pan statue, the Gardens are noted for their places of remembrance, including a children's play area in memory of Princess Diana. You can easily while away a lunch hour. It covers 265 acres and was once the private gardens of Kensington Palace.
• To see and do: Visit the historic Albert Memorial, reset your mind at the Italian Gardens, explore Kensington Palace, and get gardening tips from volunteers at the Allotment Gardens.
Remember, there are only 5 office spaces at this location – don't miss out and enquire now!
Book a viewing here.