8 unusual ways to use a meeting room
22nd November 2022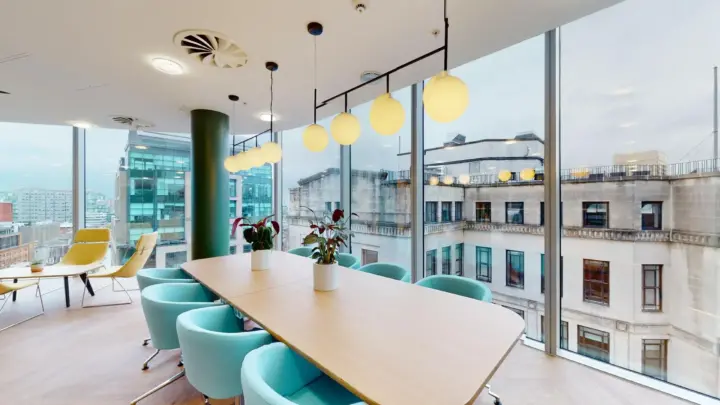 You might be surprised to discover that Landmark's versatile meeting rooms are more than just booked for board gatherings, team briefings and one-to-one interviews.
Here are some unusual and creative ways our customers have used our 100-plus meeting rooms across London and eight other UK cities. Perhaps you'll be inspired to invent another way to use our flexible meeting space.
1. TV and movie making
Many of our buildings enjoy dramatic views over city skylines and natural light, so it's no surprise that television and film crews shoot dramas and news reports in our meeting rooms.
If you're a filmmaker, you can see why Chancery Place in Manchester is popular. It has stunning views over the town hall and floor-to-ceiling windows for maximum light. Netflix and the BBC have shot films and TV series here, most recently Everything I Know About Love and The Stranger.
Organisations other than big TV/film producers can use our meeting rooms, too. Victoria hosted new doctors whose short biographies were filmed before they joined a hospital.
• Try Bevis Marks, St Paul's, and 110 Bishopsgate in London for other media-friendly rooms with views, light, aircon, LCD TV screens, AV and WiFi.
2. Photo sessions
Movie and TV producers aren't the only ones who seek out natural light. Our rooms are excellent backdrops for photographers to take still shots of business owners and their teams in a professional environment, particularly for websites and social media.
With our high-speed WiFi, photographers can easily download hi-res pictures while getting the next shot ready.
• Among our many photogenic centres, you might want to check out New Cavendish Street Fitzrovia, Canary Wharf, and Bristol.
3. Product and press launches
Public relations teams and marketers hire our meeting rooms for product and press launches. Our spaces are adaptable, air-conditioned, have WiFi, and are close to transport networks. Even better, if you're time-poor, you can access them 24/7.
The Mars marketing team used our Manchester Spinningfields centre for two months for product marketing and to launch its confectionery. Each of our centres has a kitchen where you can clean up props (or grab a hot drink, of course).
• For centrally based meeting rooms for PR and marketing teams, look at Cavendish Square in London, Edinburgh Centre, Manchester Spinningfields and Leeds City Centre.
4. Podcast Recordings
Why does a Landmark meeting room make a great place for your podcast? Podcasters need spaces that are quiet and face away from the street but have soft surfaces like a carpet to ensure the sound doesn't echo.
The carpeted meeting rooms at Landmark Dover Street regularly attract podcasters because they have built-in acoustic barriers and face internally. You can also book a meeting room from an hour upwards, which makes a meeting room ideal for a short podcast.
• Other quiet meeting rooms suitable for podcasts: Tottenham Court Road, Cavendish Square, and Leeds City Centre.
5. Award ceremonies
If you want to celebrate the talent in your organisation, we can open up many of our spaces to create an exclusive venue for award ceremonies.
In September, we cleared the top floor of our new King's Cross location and opened the rooftop terrace to give the winners of our Landmark Student Art Prize their prizes and host an after-party.
• Exciting London meeting rooms with indoor and outdoor space for award ceremonies: Aldgate, Alfred Place, and Newman Street.
6. Parties (meeting rooms are not just for Christmas)
Canapés, anyone? Whether it's a team member's birthday, a business win, a launch or client entertainment, you'll find a meeting space that fits at Landmark – plus delicious breakfast, lunch and evening menu options.
Our nine roof terraces and outdoor locations have seen many successful celebrations. However, you can also find some spectacular climate-controlled indoor spaces for ultimate comfort, with views providing plenty to discuss to get the party going.
• Hold your party overlooking the harbour at Bristol City Centre and the City of London rooftops from Old Broad Street. Landmark Tottenham Court Road also has a stunning atrium.
7. CPR training
One of the more unusual requests from a healthcare client was, 'can we use your meeting rooms for cardiopulmonary resuscitation (CPR)'?
The client wanted a room for CPR training and preferred private carpeted ground-floor space, like our meeting rooms in Reading Green Park. In addition to the comfortable space, there's tea and coffee on tap, and you won't have difficulty parking, as there are plenty of accessible no-fee car-parking areas outside the centre.
• Other comfy, accessible venues for CPR training include Milton Keynes Central and Milton Keynes Pinnacle.
8. Pop-up shops
Are you looking for a venue for a pop-up shop? We have the perfect all-year-round space, including light and airy meeting rooms, spacious atriums, and summery outdoor terraces to sell your ideas.
Our centres are in easy-to-find locations across UK cities and are used by diverse businesses, from single freelancers to global corporations. It makes them ideal places to test the market for workspace and office products or to sell gifts that businesspeople are too pushed for time to shop for.
• Alternative places for a pop-up shop: Canary Wharf, Victoria and Gresham Street in London, or our regional centres.
Whatever you're using our best-in-class meeting rooms for, there's something for everyone: spectacular views and light, bright rooms for film and TV production, photography and marketing. Acoustically sound, closet space for podcasters. Outdoor event space for parties and celebrations.
There are sure to be many more uses we haven't thought of. If you have an unusual idea for a meeting room, try us. You never know.